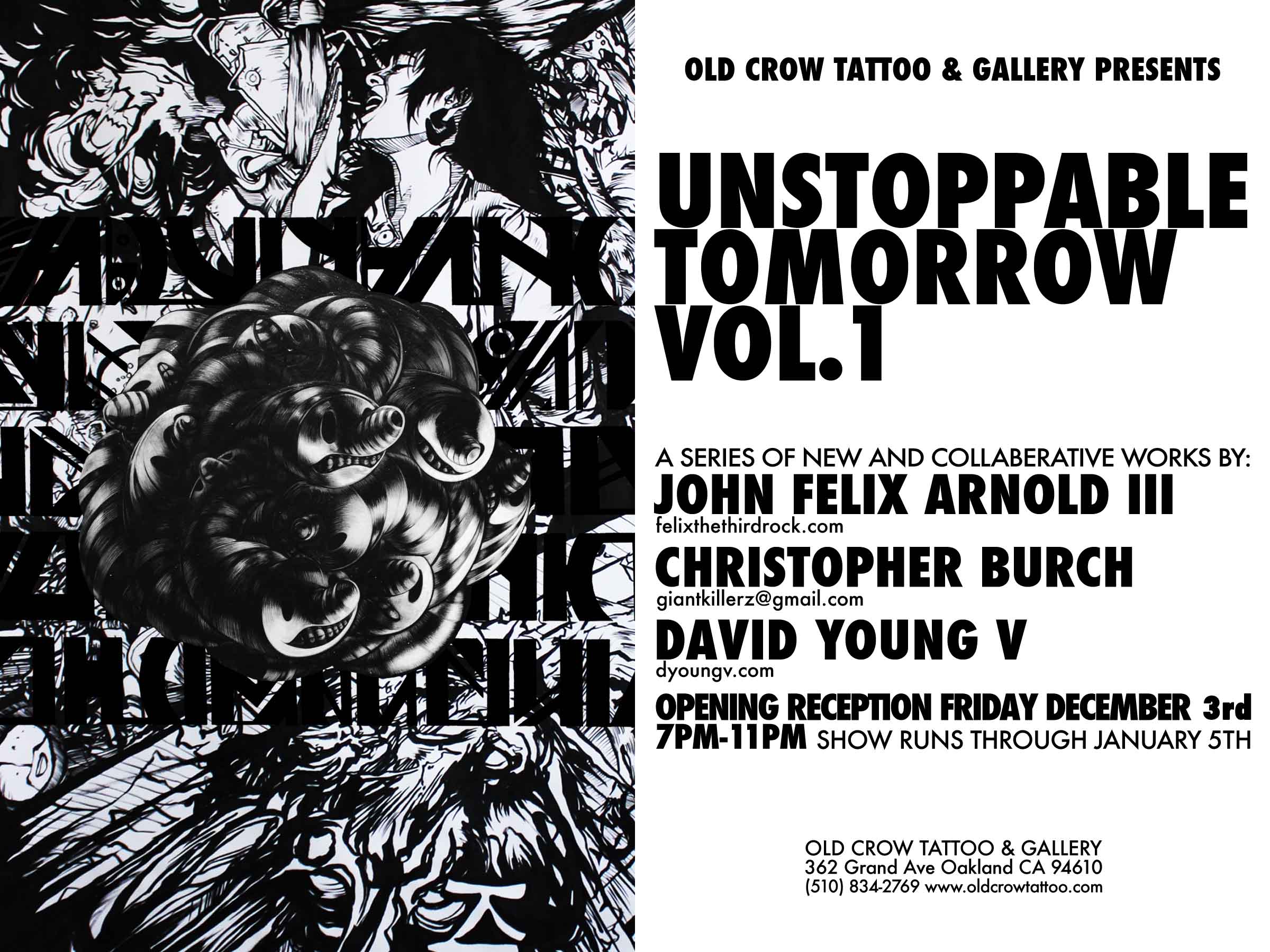 Thanks to the good people at Warholian for this awesome video trailer for Unstoppable Tomorrow Vol. 1!!!  Music produced by yours truly.  They did a killer job of compiling everything, and I look forward to working with them in the future!
Vimeo has great playback so here is the piece, with a condensed version of the press release.  If your click the links underneath the video it will take you to the Vimeo Page that the video is embedded in and will also give you access to links for other Warholian videos like the Bad Dads opening night video piece.  Awesome! Warholian you guys Rock!
http://vimeo.com/16836970
<iframe src="http://player.vimeo.com/video/16836970" width="400" height="225" frameborder="0">Unstoppable Tomorrow Vol. 1 - Featuring Artists John Felix Arnold III, D Young V, Christopher Burch - Old Crow Tattoo & Gallery from Warholian on Vimeo.
Unstoppable Tomorrow Vol. 1, an exhibition of new and collaborative works by John Felix Arnold III, Christopher Burch, and David Young V. Unstoppable Tomorrow Vol. 1 expresses the need for collaboration and the sharing of ideas to create a platform for creative survival. This event is highly anticipated as it marks the artists' first show together since the closing of Babylon Falling in 2008. It will showcase a multi media explosion of new work, at the heart of which lay collaborative efforts in drawing, painting, installation, and sound. The work for this show confronts the idea of an inevitable reset of society, depicting future events that bring this about, and illustrates members and events within this new society itself. An opening reception will be held at Old Crow Tattoo and Gallery in Oakland, CA on Friday December 3rd, 2010 from 7-11pm and the exhibition will run through January 5th, 2011.
All three bodies of work exhibit an intense sense of cataclysm, hope and drive in the face of dark new beginnings, rebirth, reuse, and evolution through adaptation and creative thinking. The show will be set in an installation depicting this future world, much like that of a history museum display. Unstoppable Tomorrow Vol. 1 is a fully collaborative, mixed media event where all three artists converge as would be survivors of this afterworld to tell their story of what happened, what is happening, and how they perceive it through their distinct visual languages.
Music by John Felix Arnold III Video Edited by Michael Cuffe of Warholian.com
For more information please visit oldcrowtattoo.com/ felixthethirdrock.com/ dyoungv.com/