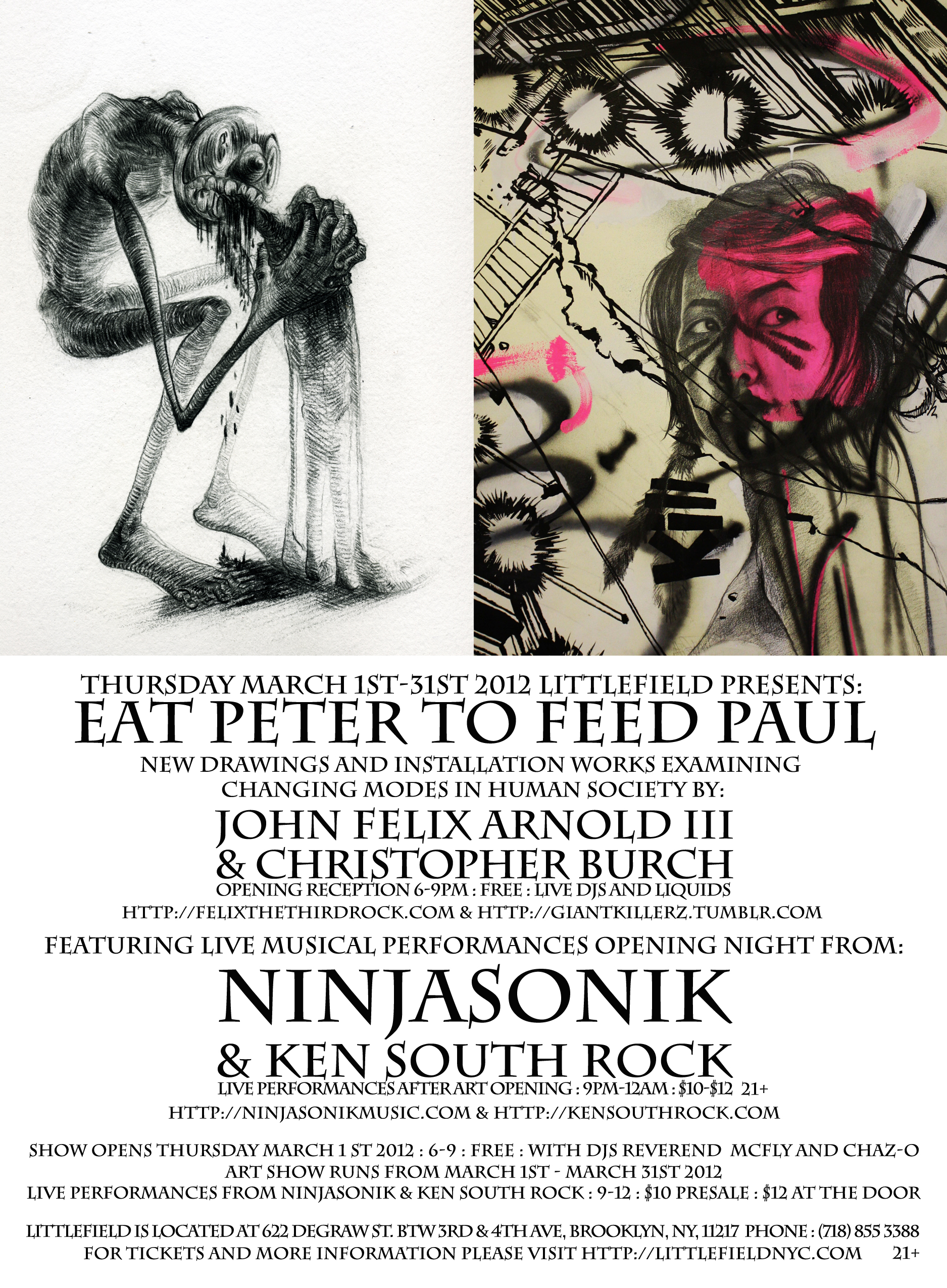 So I am officially flying to New York on February 23rd to get ready for my latest artistic endeavor, "Eat Peter to Feed Paul".  One of the sickest artists I know and have the privilege of working with and also being good friends with, namely Christopher Burch (who is currently doing a residency with the Luggage Store), is joining forces with me to storm my old stomping grounds of Brooklyn, NY.  We are coming to the amazing venue known as Littlefield in the Gowanus neighborhood ot the Kings County Burrough, and we will be joined by amazing musical talent from long times friends and musical collaborators Ninjasonik and Ken South Rock (whom I am going on tour with in Japan in the summer)  This is my first posting about this on my blog, so know that you will be seeing a lot more material and progress once I am on my way.  Keep in touch;)  Below is a link to the Official Press Release and a Brief Description of the show and concept behind it.  I'm ready for Pizza, Pastrami, and Yakitori Taisho! It's on.
Eat Peter to Feed Paul PRESS RELEASE
PRESS EVENT INFO
"Eat Peter to Feed Paul" @ Littlefield : Brooklyn : NY
Thursday, March 1st, 2012
New Works by John Felix Arnold III & Christopher Burch : Live Performances by Ninjasonik & Ken South Rock
Art Opening Reception 6-9 with Food and DJs Reverend McFly and Chaz-O : Free
Performances from Ninjasonik and Ken South Rock : 9-12 : $10 Pre-sale/$12 at the Door : 21+
Art Show runs from March1st-31st
Thursday, March 1st, 2012 Littlefield is proud to present "Eat Peter to Feed Paul", a two man show by Bay Area based artists John Felix Arnold III & Christopher Burch that will feature musical performances and collaborations from New York based bands Ninjasonik and Ken South Rock.  It is the two visual artist's first show in New York together and promises not to be forgotten.  For Arnold this is a bit of a homecoming, marking his second time showing in New York since he moved to the Bay from Brooklyn in 2006, and for Burch, being from St. Louis originally, this a new opportunity to branch out closer to his roots.  The two will be exhibiting new drawings and mixed media works in their respective styles.  The works deal with the changing role of human beings within a high paced technology saturated society where we are rapidly losing our grasp of anything reflecting a spiritual way of being and many are quickly becoming "self sacrificing parasites" within their own circles of living without even realizing it.  They will also be composing an installation within the art space to guide the viewers through the show reflecting the push and pull and intensity of the present world we live in, using found objects to cut the space up into different frequencies of comfort and un-comfortability while viewing the 2-D work. After the show reception musical cohorts and collaborators Ken South Rock and Ninjasonik will be performing live in Littlefield's amazing theatre/ music hall space with a live painting collaboration from the two Bay Area artists as a full on art and music explosion.  These two amazing forces of musical energy will bring the audience to climactic celebration of being alive through their powerful styles and relentless sound.  The subject matter of their audio tour de force is extremely relevant to our present day existence and inspires a lust for life that that really brings a conscious ear to an energy that society needs to be impregnated by.