It has been a minute since my last post.  Coming back from the most amazing, life changing trip to Japan, literally having traveled back in time and being mega jet lagged for days, going back to work immediately, moving into my new studio in Oakland, suddenly getting new freelance work and having my calendar fill up with shows for the year in a week left me a little claustrophobic for minute. But alas things are rollin'! So yes Japan was amazing!  I have already started planning next years trip out there and now it is a matter of writing proposals and finding sponsors.  The next one will be bigger and better, and have a larger more thunderous community voice of artists behind it.  I haveta say I truly miss waking up and having my ritual 7/11 Chicken Karage Yakitori (Fried Chicken on a stick) and my little Boss coffee drink to get me going, but not weigh me down, haha.  So yes many amazing connections were made, many friendships were established and strengthened, and we really have a new family out in Nihon that I look forward to building with till the end of days.  We raised about $800 for Ashinaga which is awesome.  It feels good to help the next generation of young artists, engineers, teachers, etc.  Here are a few photos of our experience!  Also an article about this will be coming out in Dig In Magazine soon so look out for it.  Tracy Jones from Microscopic Giant who lives in Tokyo now and was kind of the catalyst for the decision to make this trip and art show series happen put together the article.  Big Ups to Tracy Jones and Natsumi for holding it down in Tokyo through natural disasters, weddings, and me coming out there to visit.  Here are some photos as promised, for more photos of Japan and a more personal photolog of my travels and exploits throughout my life please check out my new sister site http://felixthethirdrock.tumblr.com . Most of the photos below are of the Live Performance I did with Ken Minami from Ken South Rock on Sept. 20th, with some added extra classic shots from the trip.  Look out for another, bigger collaborative series next year with Ken South Rock!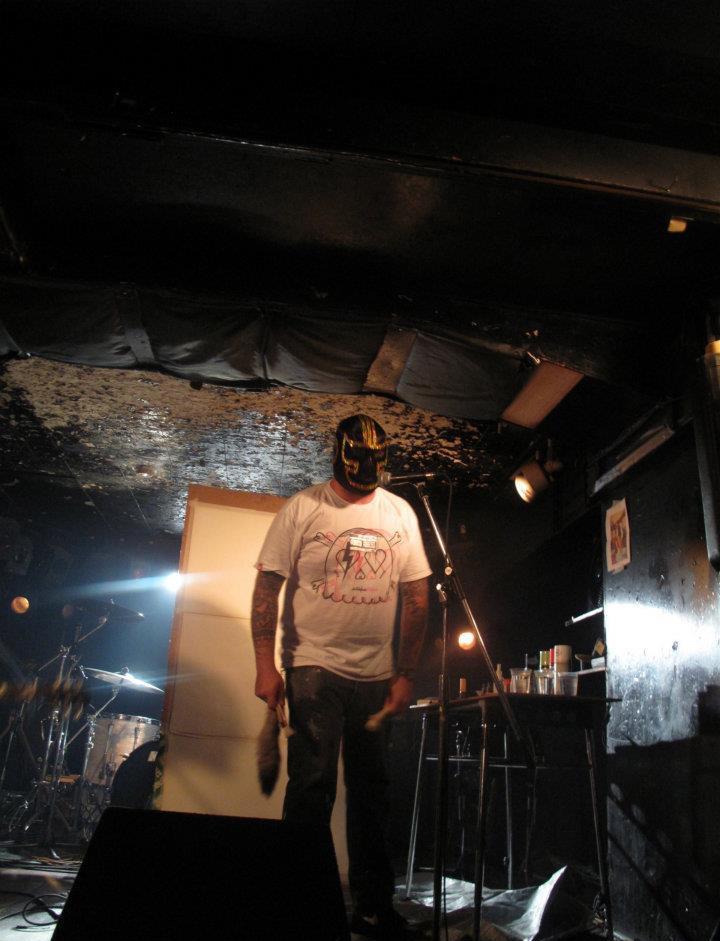 Masked Felix Ready to Rock!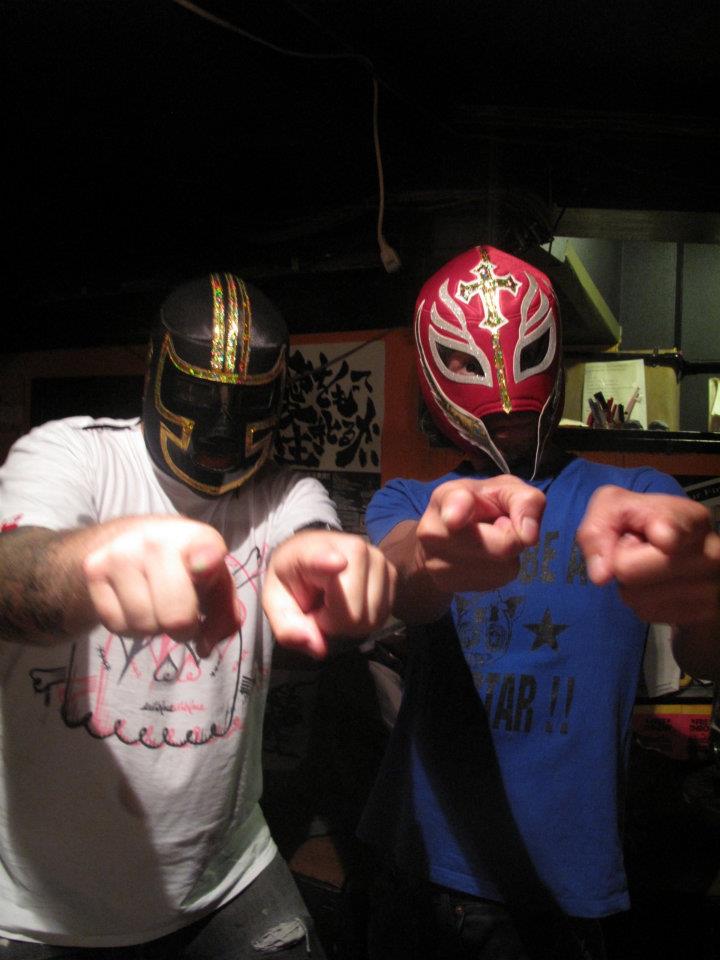 Ken and I before the show.
Wailing!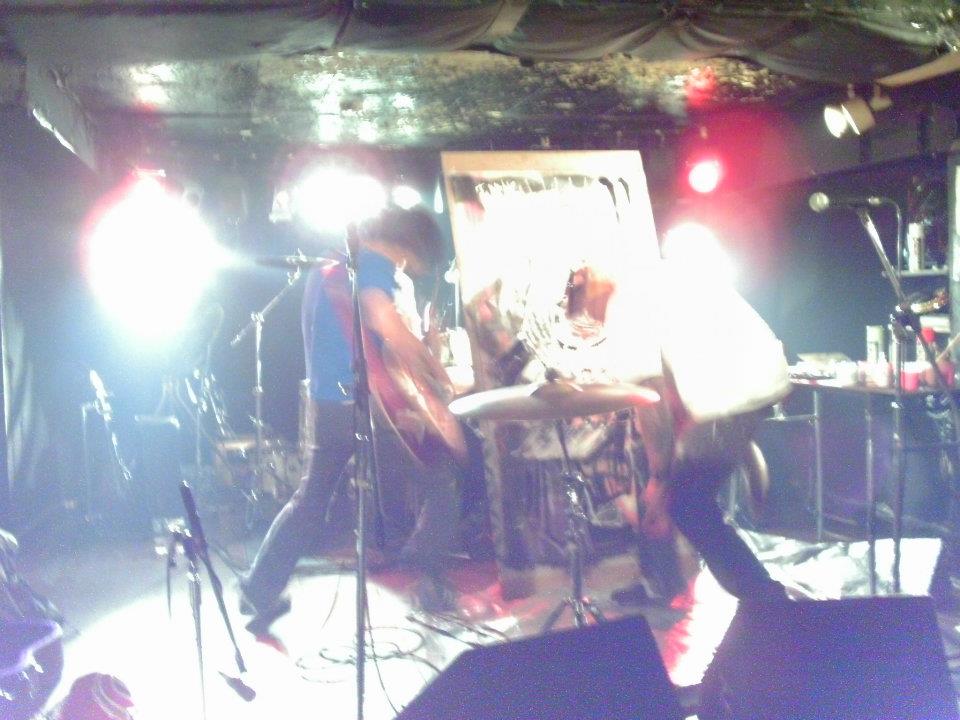 Full Swing! Painting away while Ken Rocks out!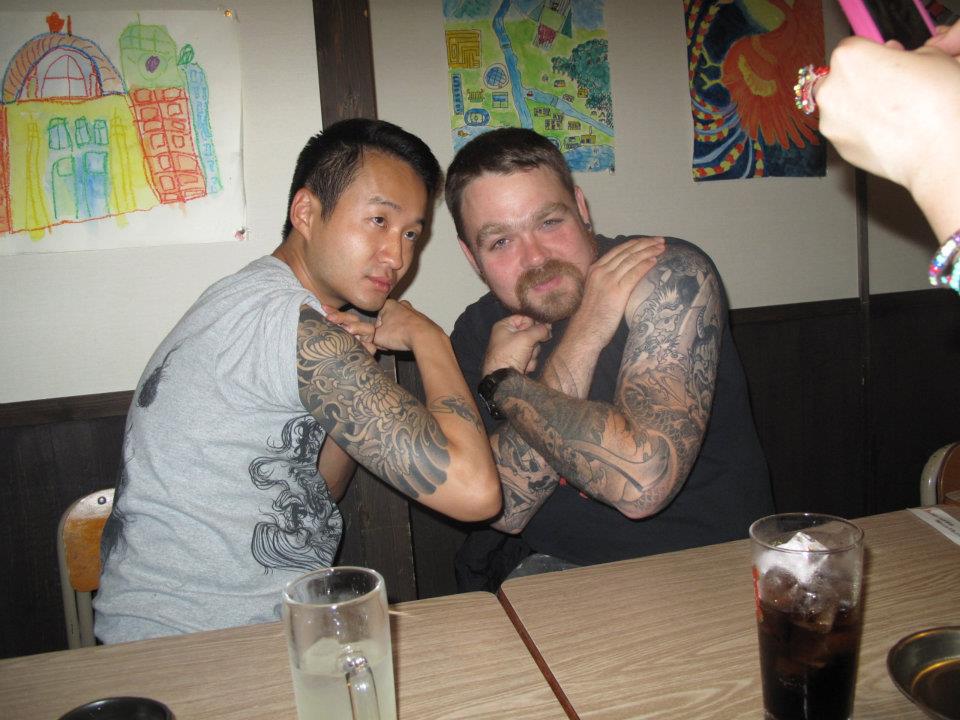 Yoshitake Kogure and I showing off our grown man ink.  Was great to reconnect with this guy!  TWNY 4 Life.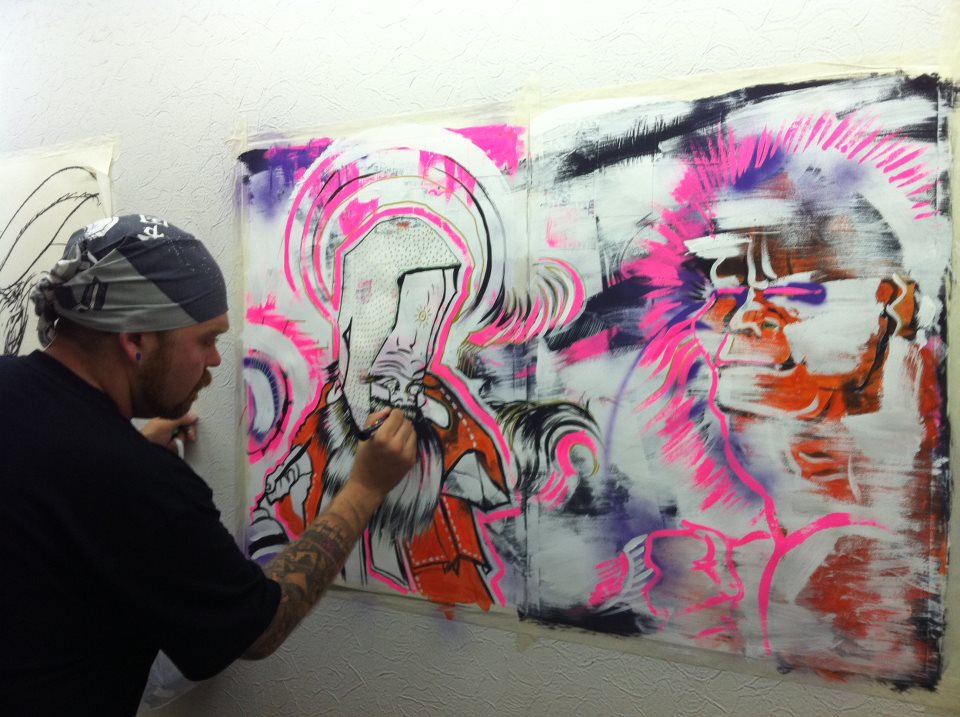 Live painting at the last event of the trip, Art for People at Bar USA.gi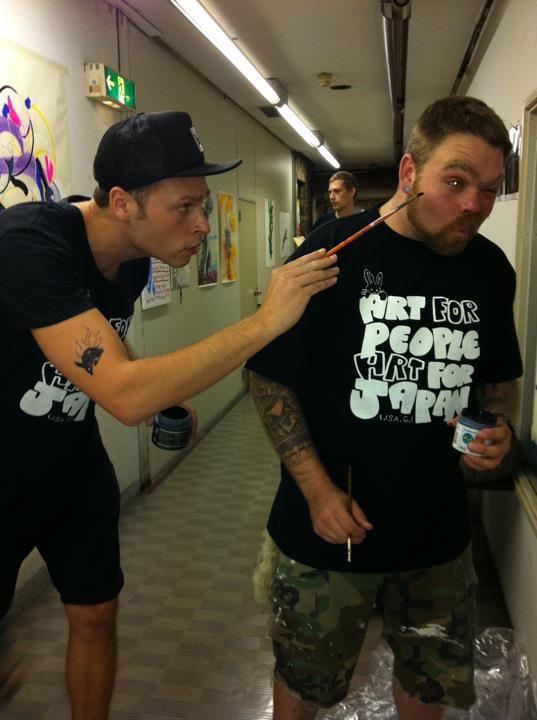 Isaac Schulz giving me a touch up!
Posca Markers are literally the best ever!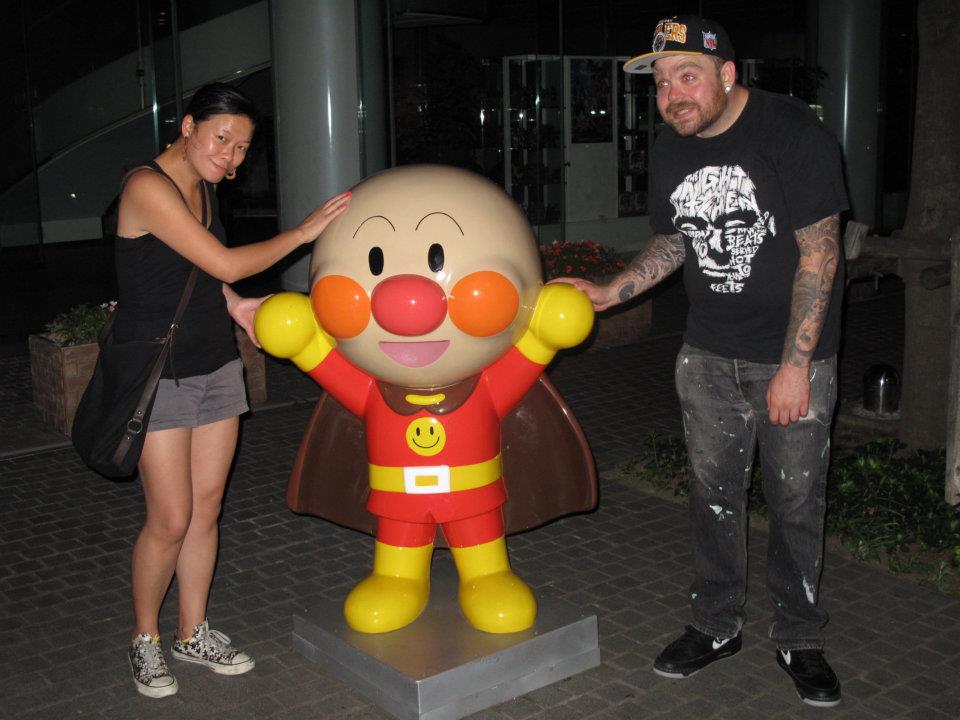 Anna and I got to meet Anpanman!
First night in Tokyo we went to a 200 year old restaurant and this elderly couple next to us on the tatami floor were really, really into my tattoos.  They were incredible and I don't think I could have asked for a better first night and experience in Japan.  They apparently had spent the whole day at museums looking at Edo period Japanese prints and were super stoked to suddenly see one of the artists' work (Kuniyoshi) all over my arms.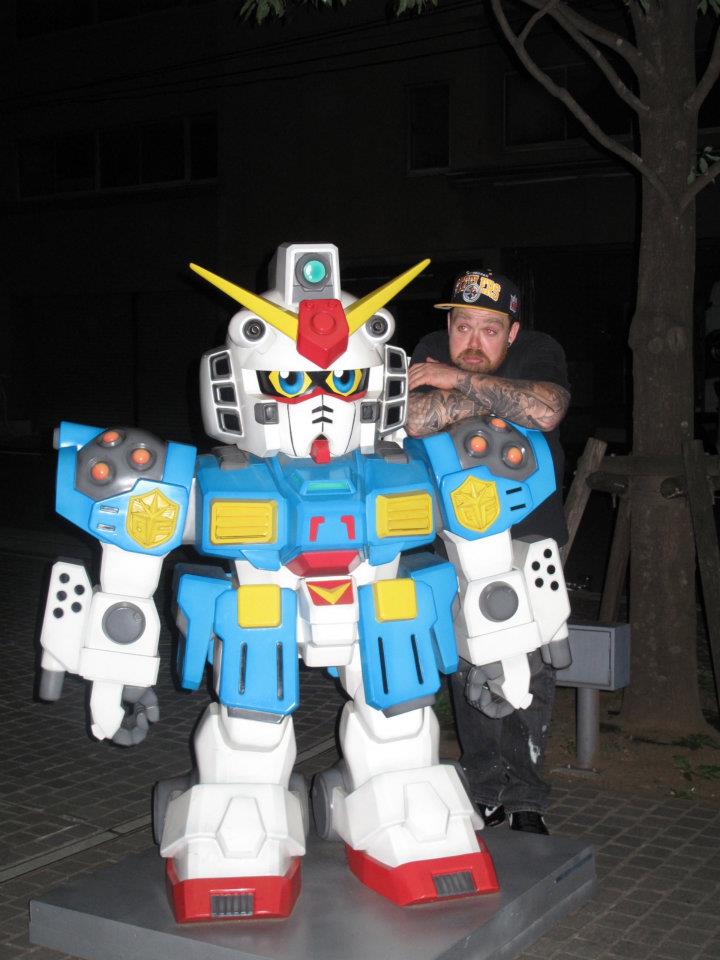 Yes I a Gundam Fan.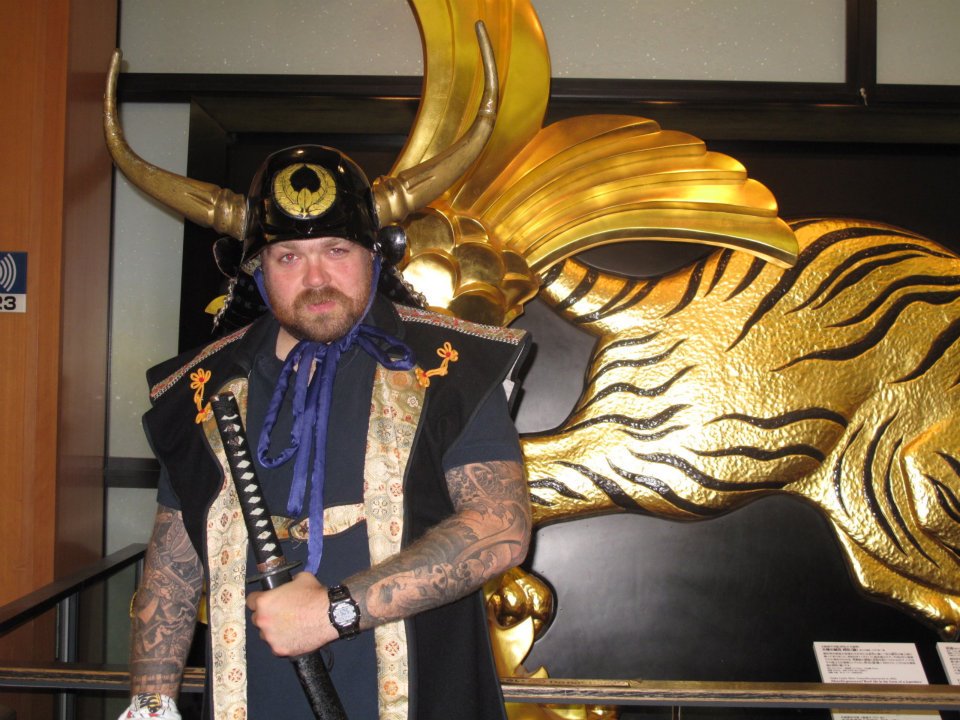 And yes when I went to Osaka Castle I had to dress up like a famous Samurai Daimyo!  Yes I am a mega dork and nerd out on pre Meiji Era Japanese Military History.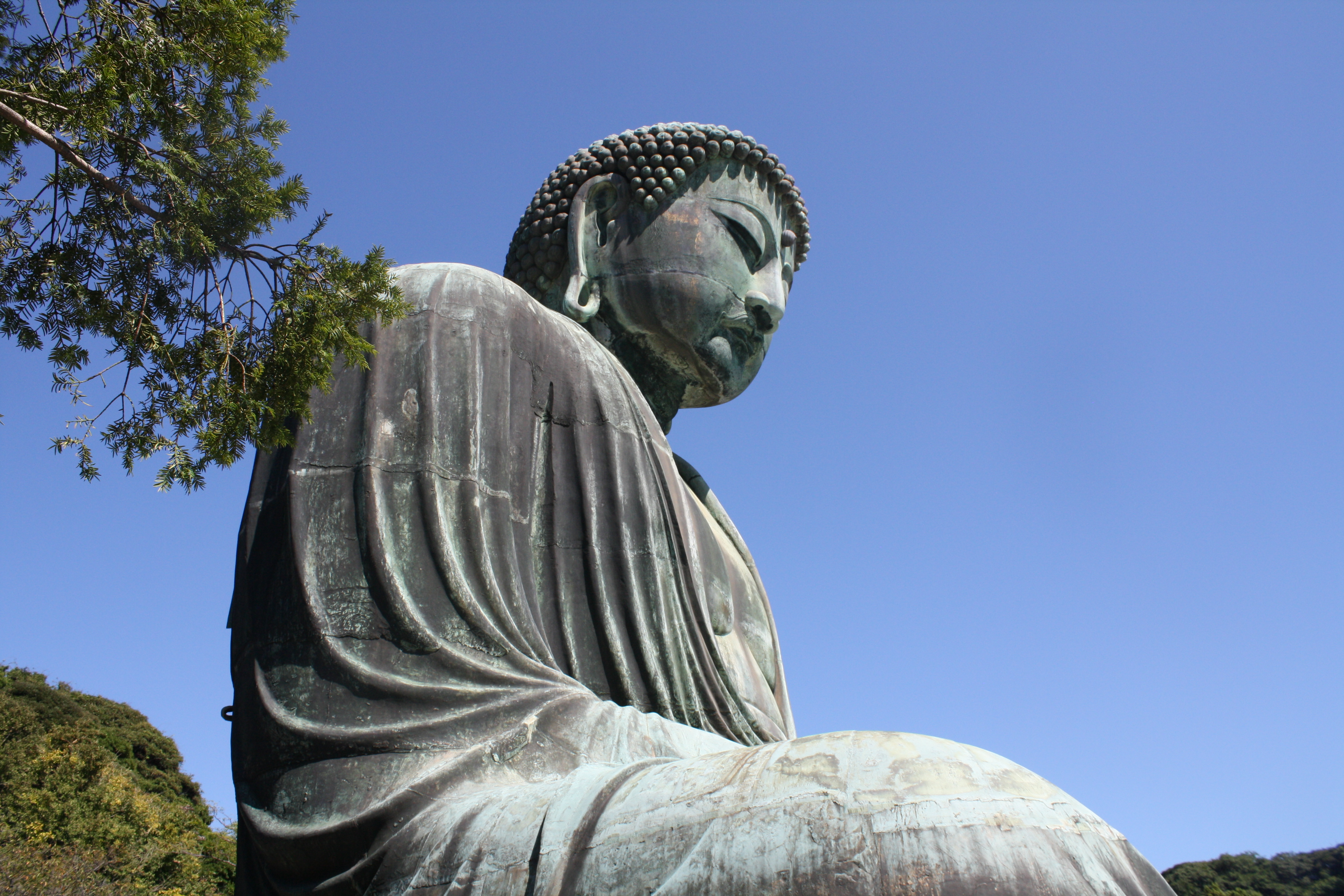 This is called the Daibutsu, it is one of the largest Bronze sitting Buddha statues int he world.  It is in Kamakura which is a very very important part of Japanese History on spiritual, developing, and military levels.  It was absolutely beautiful!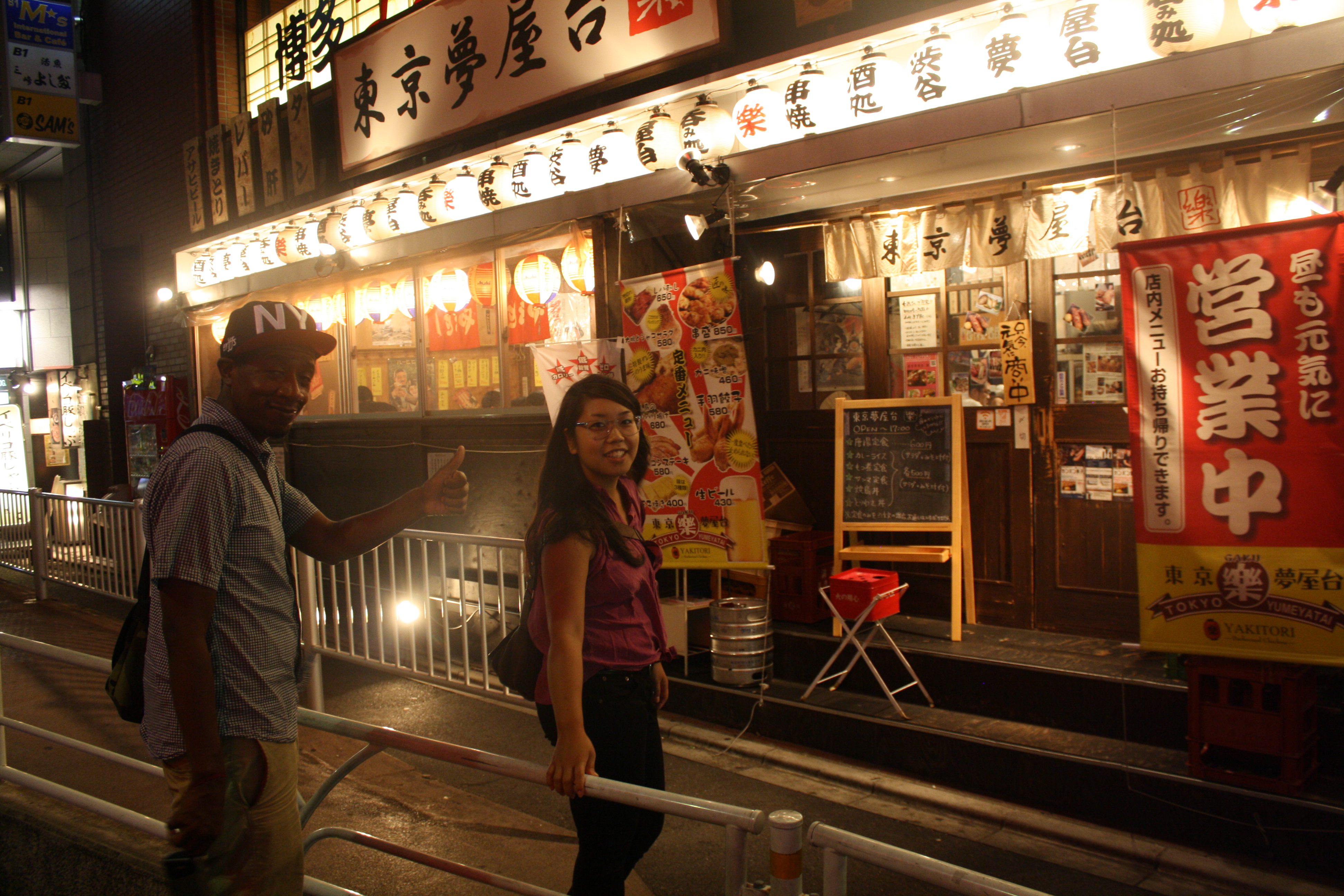 Mikiko And Alani taking me to a dope hole in the wall Izakaya Spot in Shibuya where we talked about Fukushima, Art in Japan, and building on new projects for the future.  Was awesome!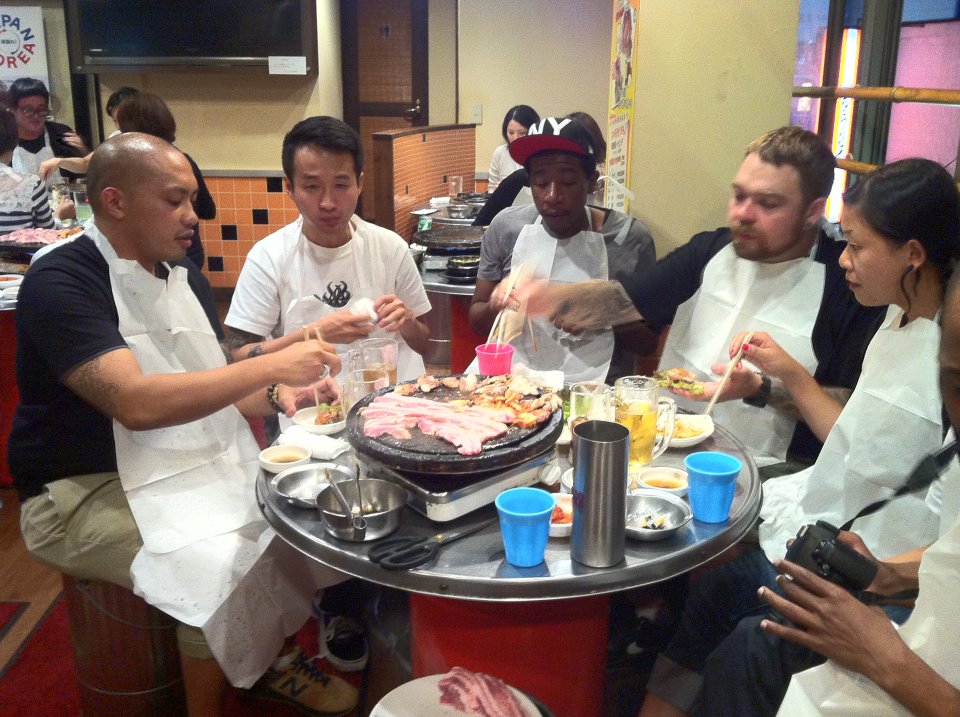 This was our last dinner in Japan!  Look at this crew, an international conglomeration of  insane artists that should probably be committed yet are out making international voices.  This was probably the thickest cut bacon I have ever eaten, so awesome!  Did I mention the food was worth moving to Japan for?  It is!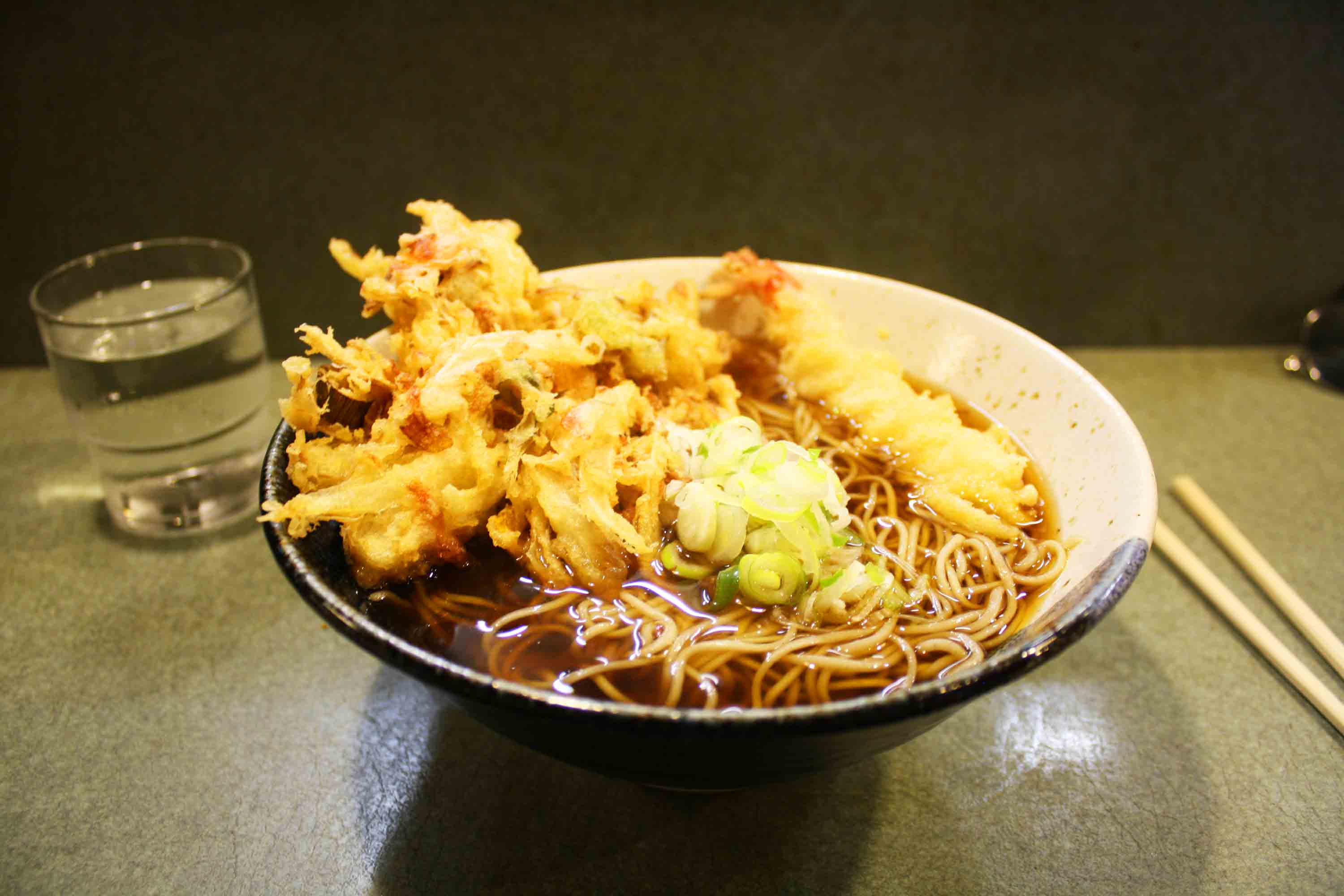 Worth Moving For!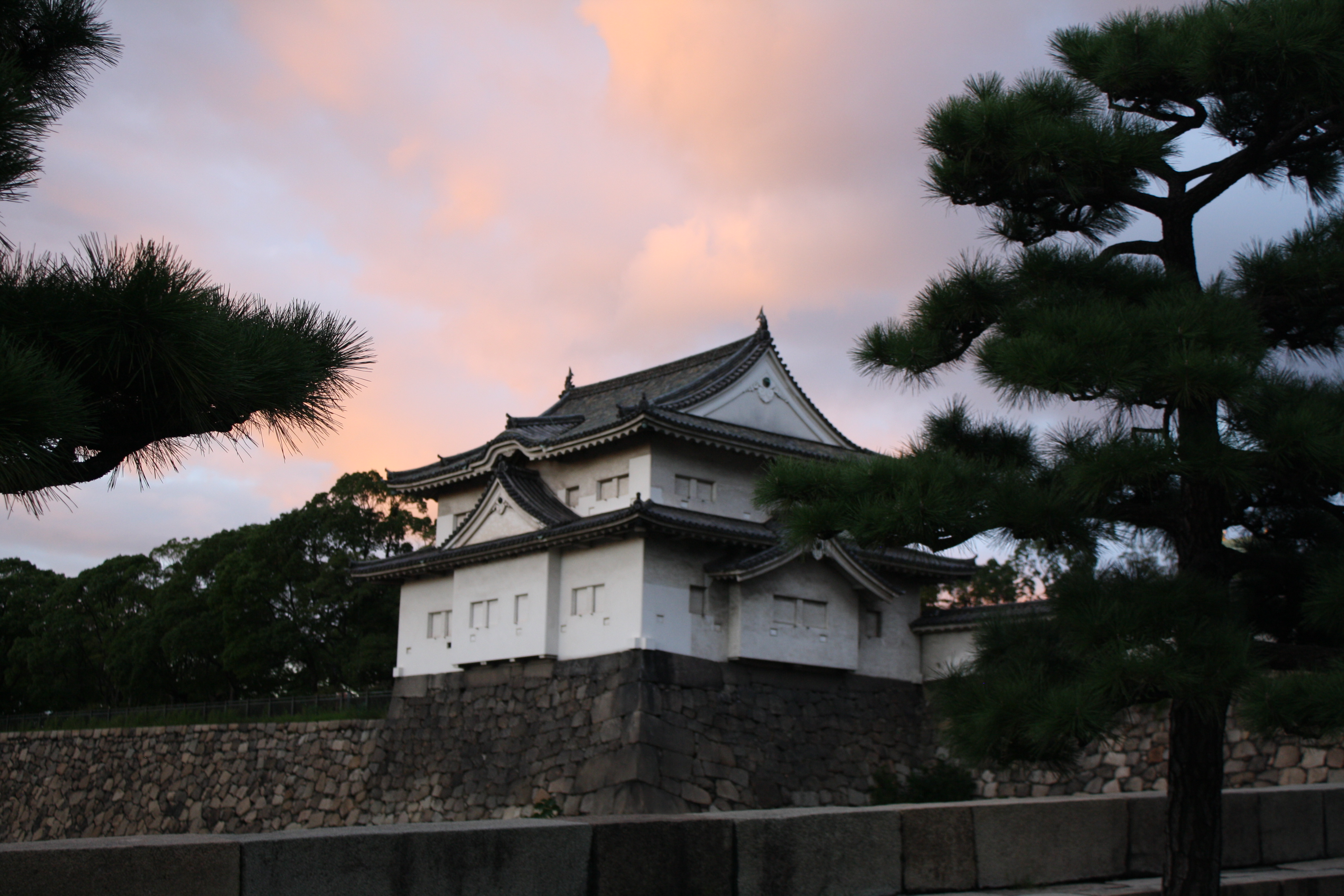 This is the exterior guard tower at the wet moat of Osaka Castle at Sunset.  I don't have much more to say other than I miss Nihon.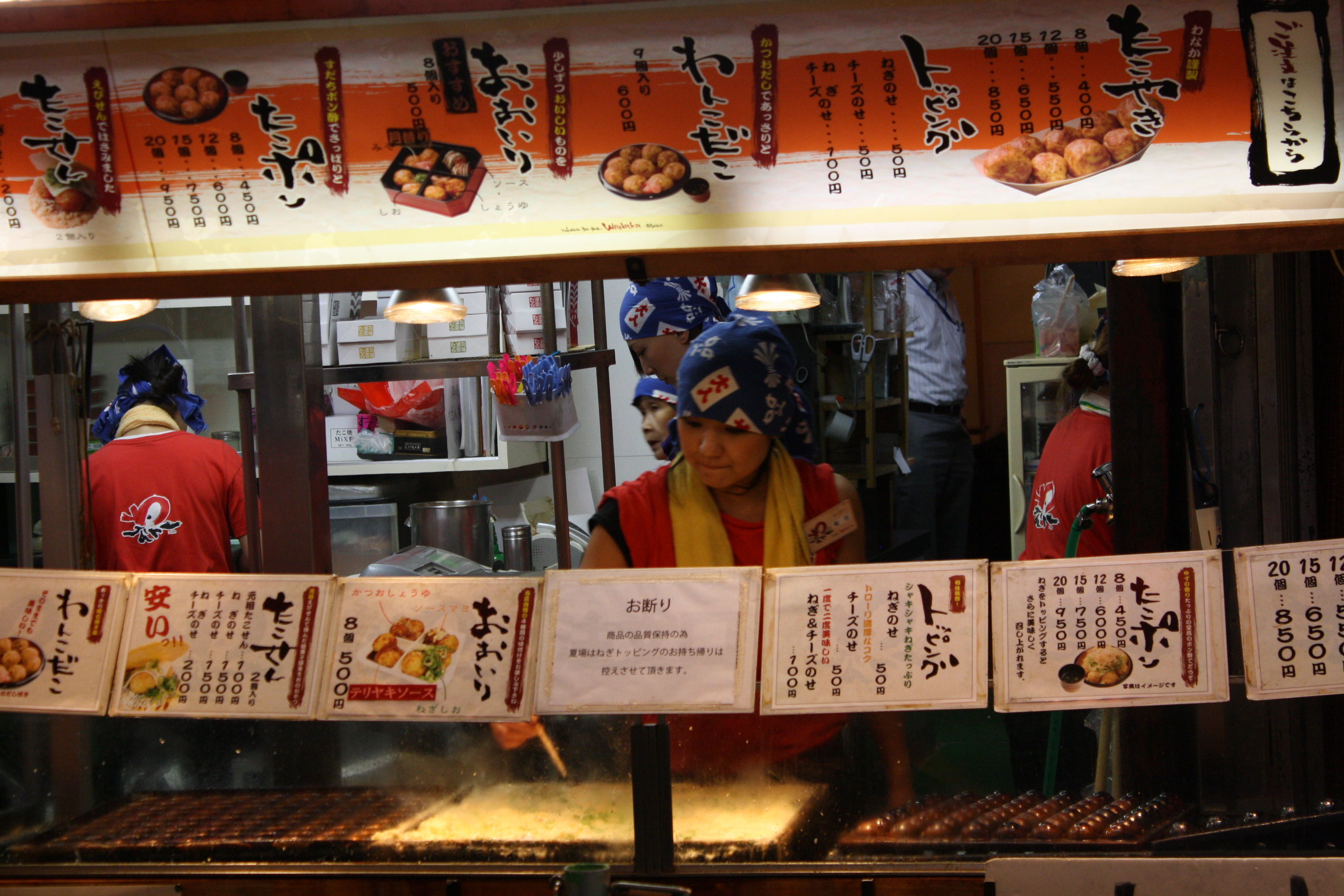 Takoyaki Girl, Osaka, Dotonburi at night.
Okay so enough of Japan.  Check my Tumblr as stated before for more photos and nostalgia.
The end of the Year is coming up fast and 2012 is already off with a bang.  Nov. 11th at D-Structure I will be int he Someshine Art Show the Greg Moreno, the mastermind behind Someshine Clothing has organized.  Myself and other Someshine artists will be rocking the Lower Haight with this show.  I will be back and forth between New York through November and December working on a new Gallery (more to come on this) and collaborating with some really awesome artists out there.  February has something big sooking but I can't really get into it quite yet.  March I will be having an art show in Brooklyn at an awesome space called Littlefield NYC  and we plan to have Ninjasonik and Kid Codec performing live at the opening.  Then it is serious grind time because in July I officially have a solo show at Old Crow that I am extremely excited about!  I have been working with them for a long time and am honored to rock a solo show there.  It's going to be a monster year, I am sure there will be many unexpected ups and downs, additions, and surprises so I will be sure to keep you in tune.  Till next time...Love-Felix