Spes-Lab Gallery Presents : John Felix Arnold III X Koutaro Ooyama aka Mon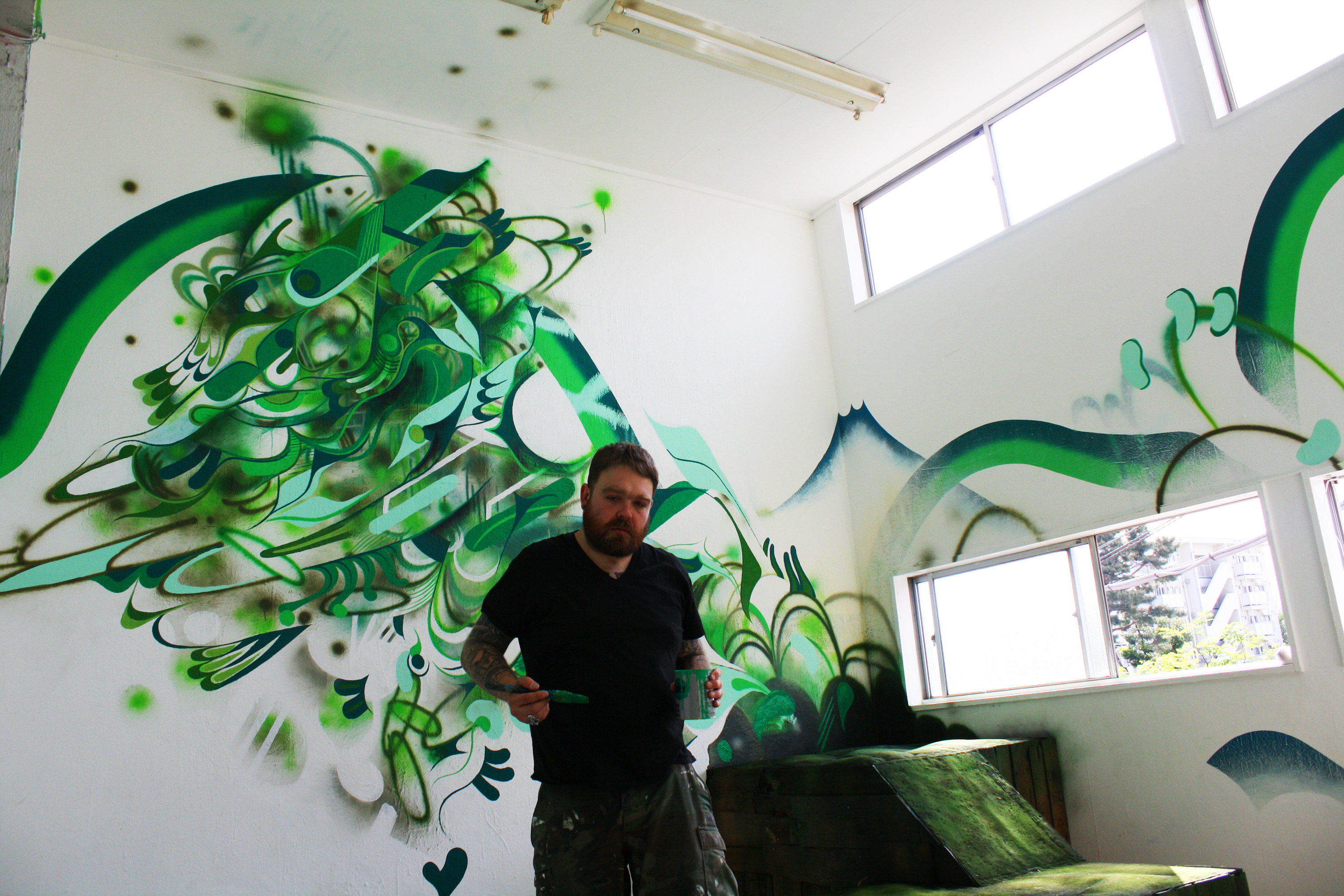 Bright On Time
"Bright on Time" is a collaborative Residency Project from John Felix Arnold III (USA) and Koutaro Ooyama aka Mon (Japan).  The opening of the exhibition is the culmination of three weeks of intense thinking, work and collaboration between the two artists.  Transcending language and cultural barriers the two artists have created a beautiful, fully interactive, and multi disciplinary environmental installation.
The piece utilizes the entire gallery space, in which you are invited to sit, lounge, stretch out, and relax on the sculptural structure, floor, anywhere.  Enjoy the collaborative painting that wraps around the whole room, and zone out to the atmospheric sound work that will fill the space. Viewers are invited and encouraged to enjoy the Moss (Koke') pillows that have been hand crafted, and enjoy a state of introspective calm and creative relaxation inside of a world that is inspired by Japan's Koyasan Mountain and the idea of the ancient meeting the future to create a multi layered present.
The project provides the viewer a world in which you can have a moment away from the hyper activity of Tokyo to reflect and enjoy peace of mind and interaction with the artwork and one another.  We encourage interaction, conversation, comfort, and any activities that one may feel inspired to enjoy in the space, so that you the viewer will become part of the artistic statement and larger piece rather than simply a "viewer".  Please come and become part of our world.  The artists will be at the event to entertain any dialogue and questions you may have and the night will be aurally graced by sound work made by "Felix" and "Mon".  Drinks and snacks are also available and we anticipate a strong reception and party.
Reception and Party Begins at 7pm and goes until ?
Spes-Lab is located @ Mita 2-3-20 2F, Meguro-Ku, Tokyo, Japan 153-0062
Any press inquiries are welcome.  This event is free.
Here are images of production of the event...