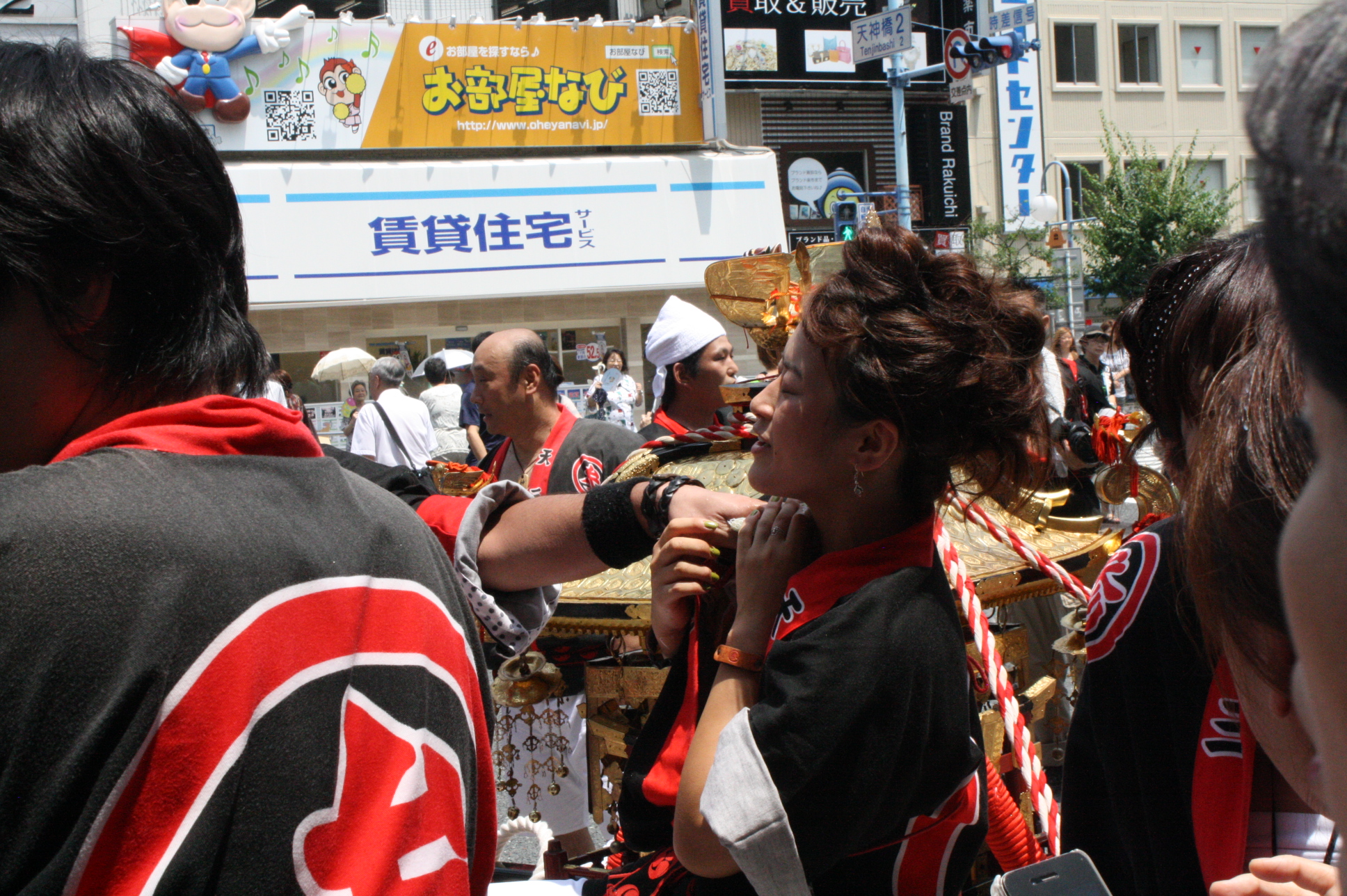 Beautiful Lady at the festival in Osaka in traditional clothes doing the damn thing.
To continue on with the amazing trip to Japan I recently had the honor of experiencing, here are more photos of the hard hitting band I was with, Ken South Rock.  They are in Taiwan right now reaching out to a whole new audience, and I heard from drummer Adam Amram that they are loving it!!!  So as stated in my last blog post, we went from Tokyo to Kamisuwa to Gifu to Nagoya to Osaka to Kyoto and then I came back to Tokyo to begin work on a new project for the latter half of my journey.  So here we go, hold on to your hats, Ken South Rocks Hardest!!! We Started off in Tokyo in a rad neighborhood called Shimokitizawa at a place called Club251, from that moment on it was madness.  My jetlag felt like a long lingering acid trip for the first four days, which made the whole thing even weirder.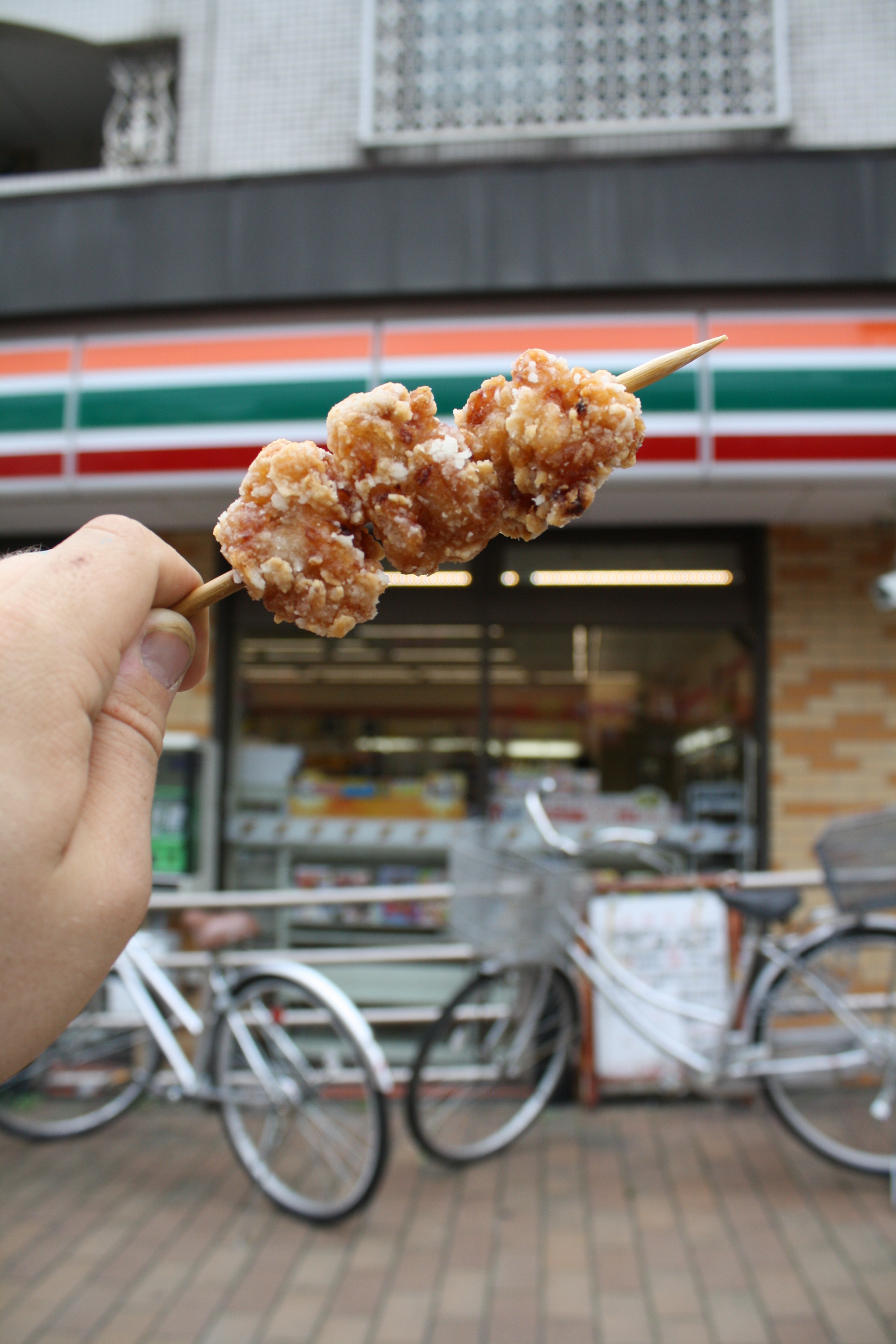 Chicken Karage on a stick from 7/11, early in the morning before we embarked to Kamisuwa.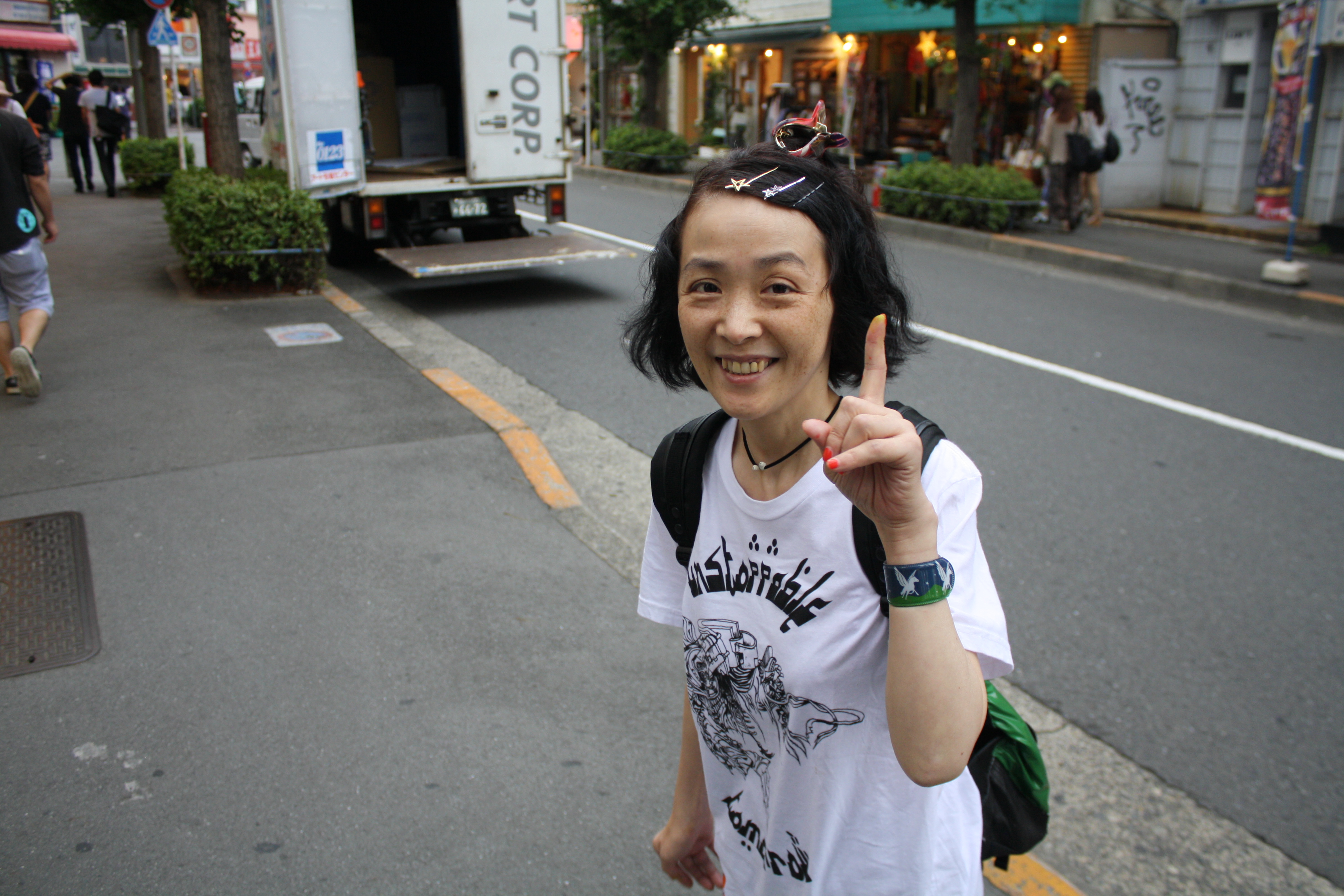 Chiaki "Cheese" Minami!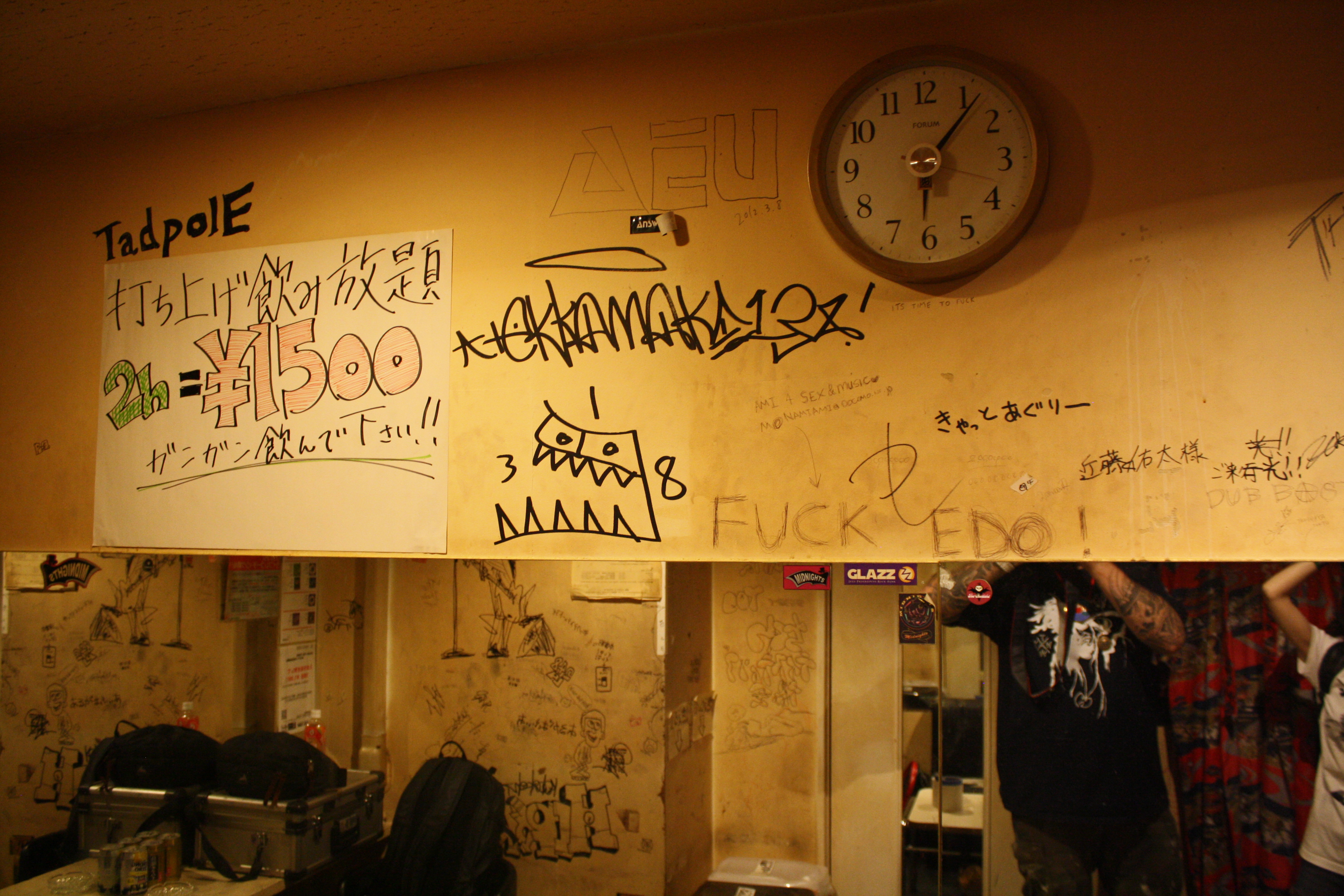 The Green Room at Club 251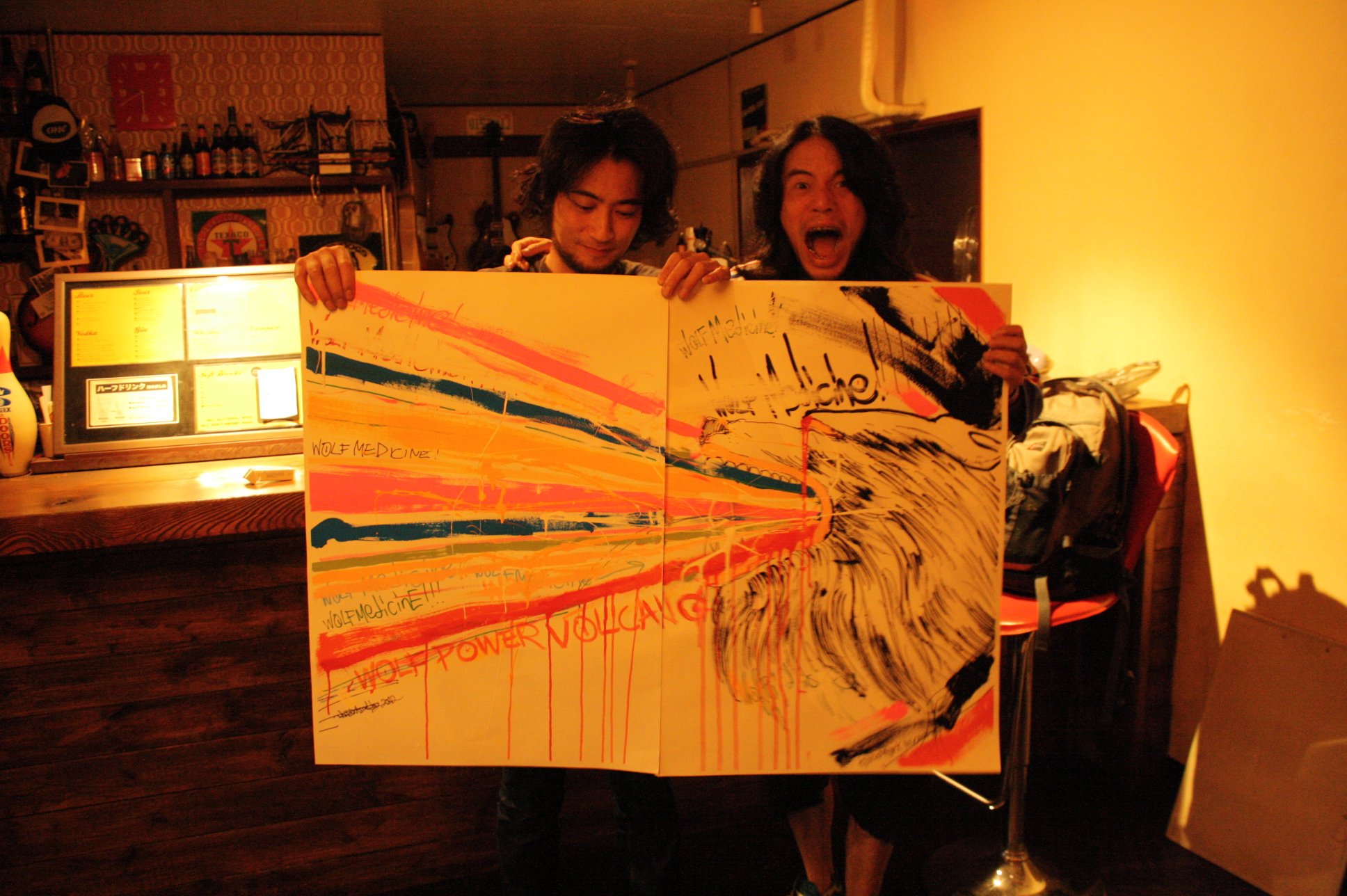 Ken and the owner of Doors live house holding up my Wolf Power painting from our performance in Kamisuwa.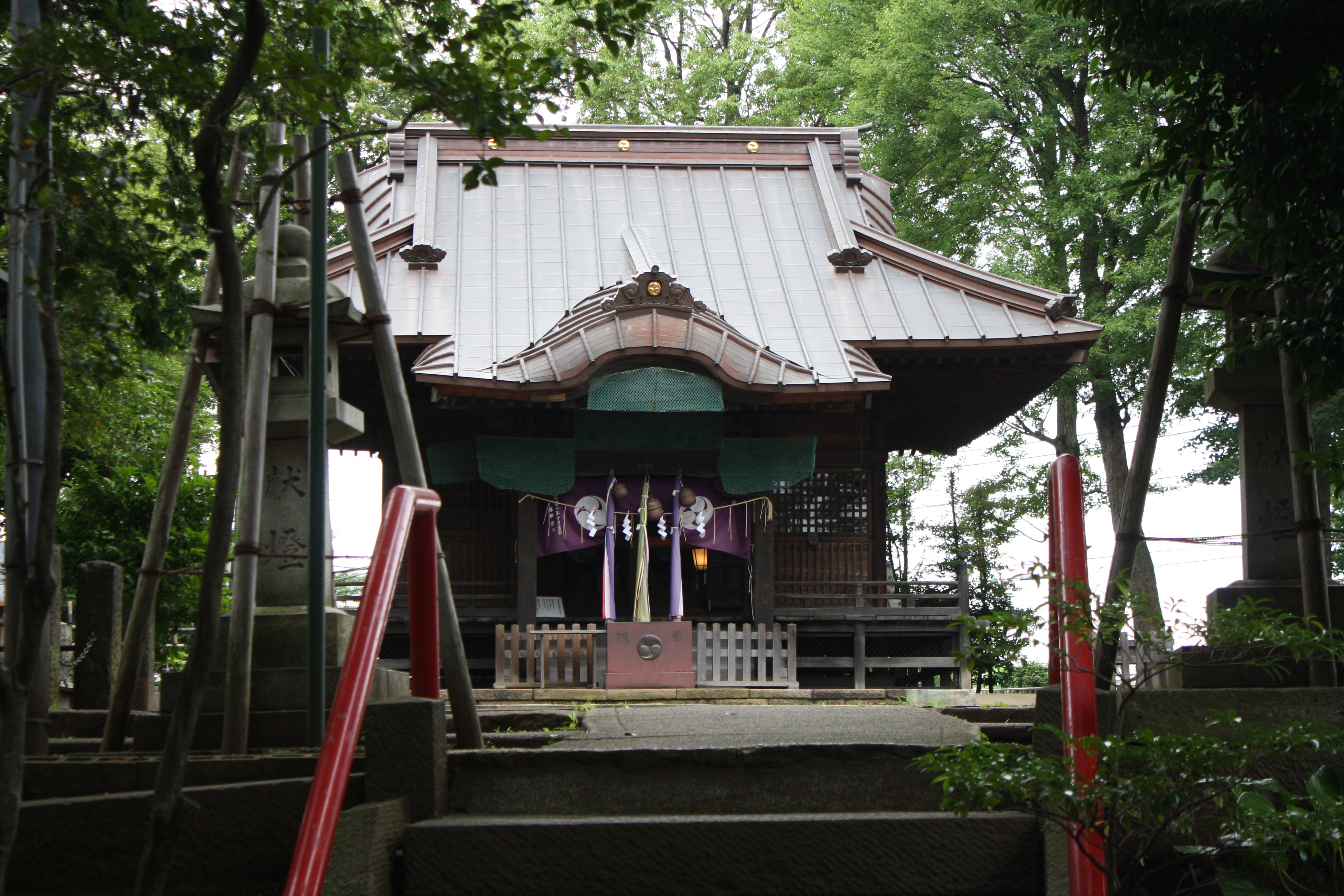 Temple near Shinjuku Tokyo the morning we left Tokyo.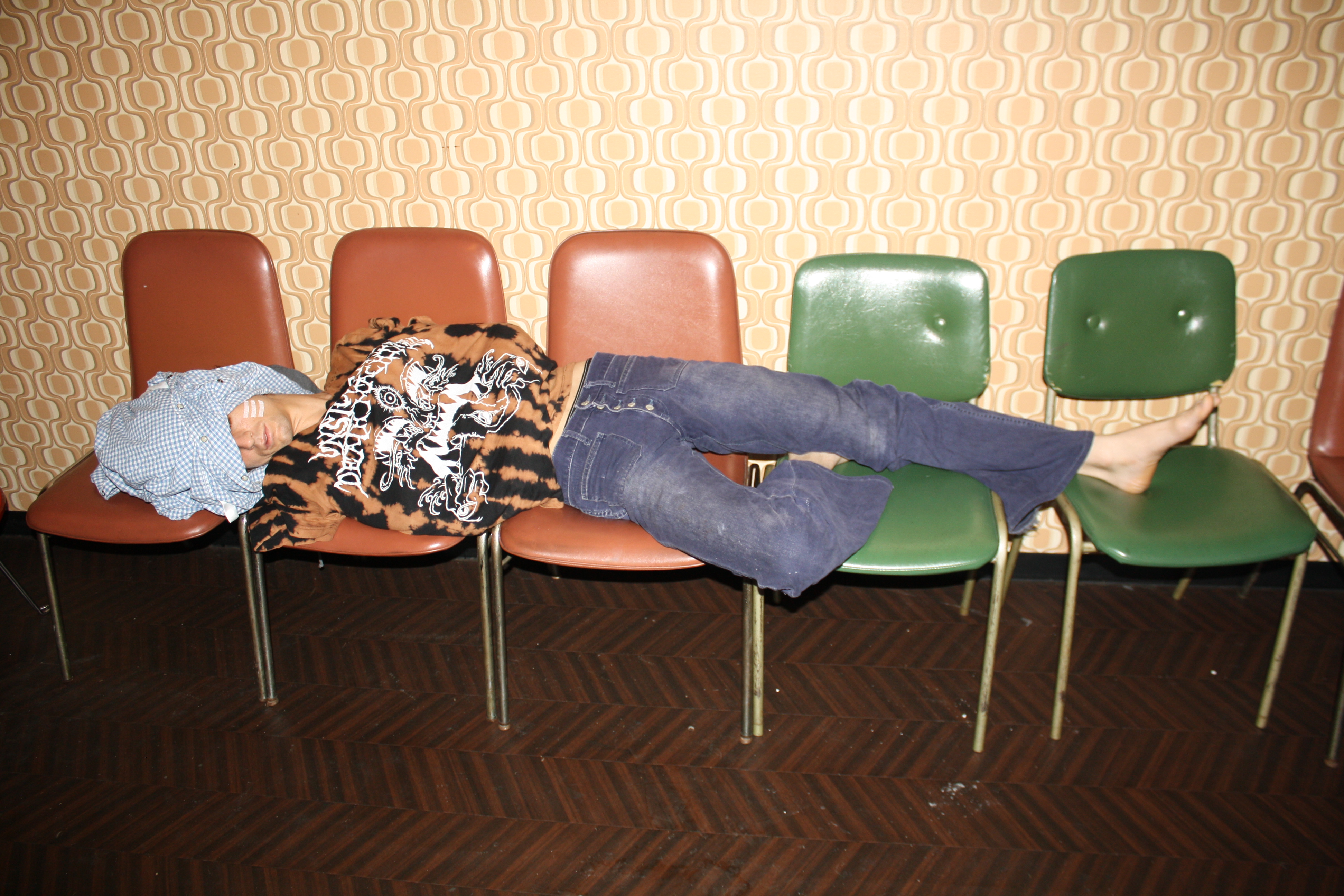 Adam Amram Passed out at Doors Live House in Kamisuwa.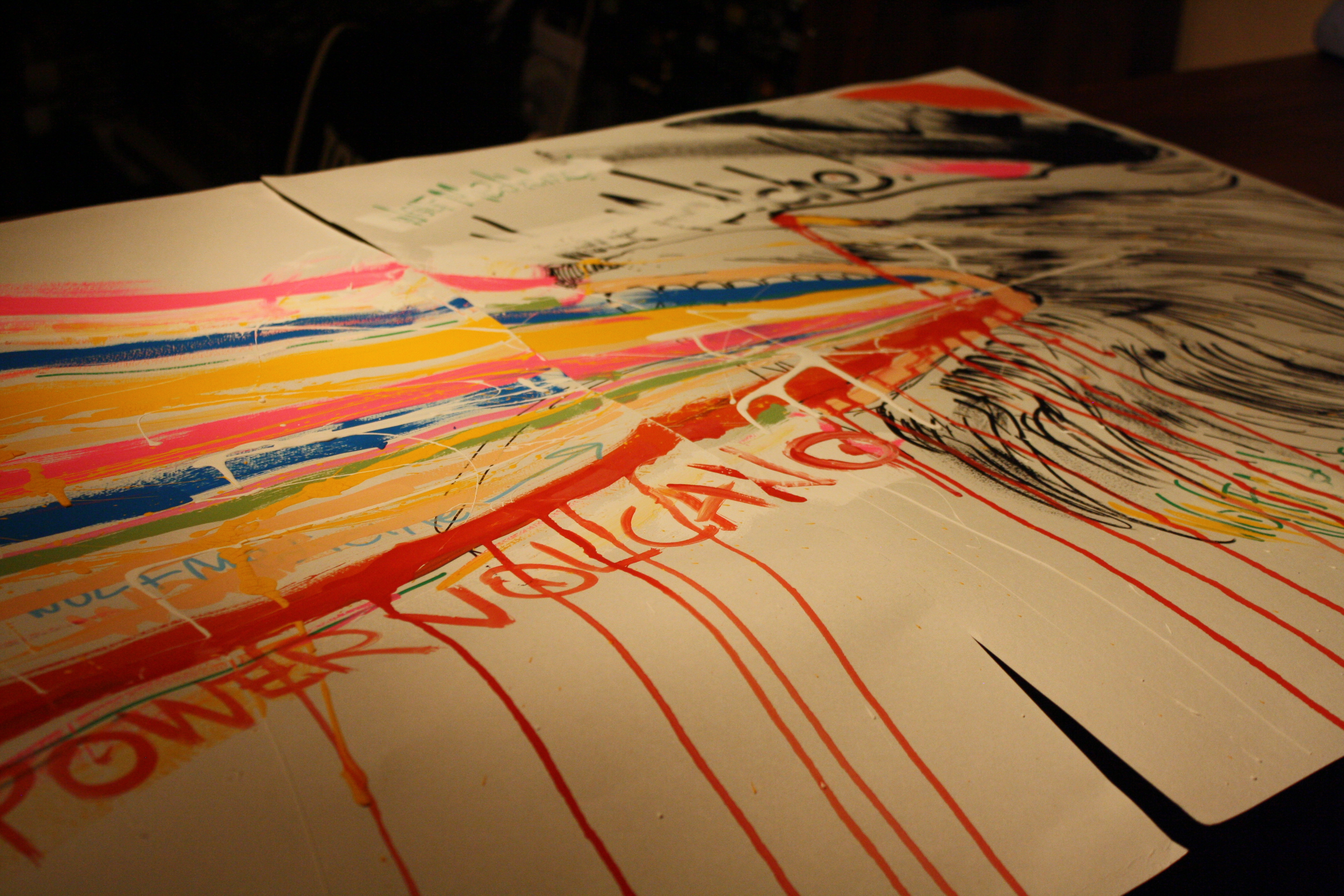 Detail from the Wolf Power live painting at Doors Live House in Kamisuwa.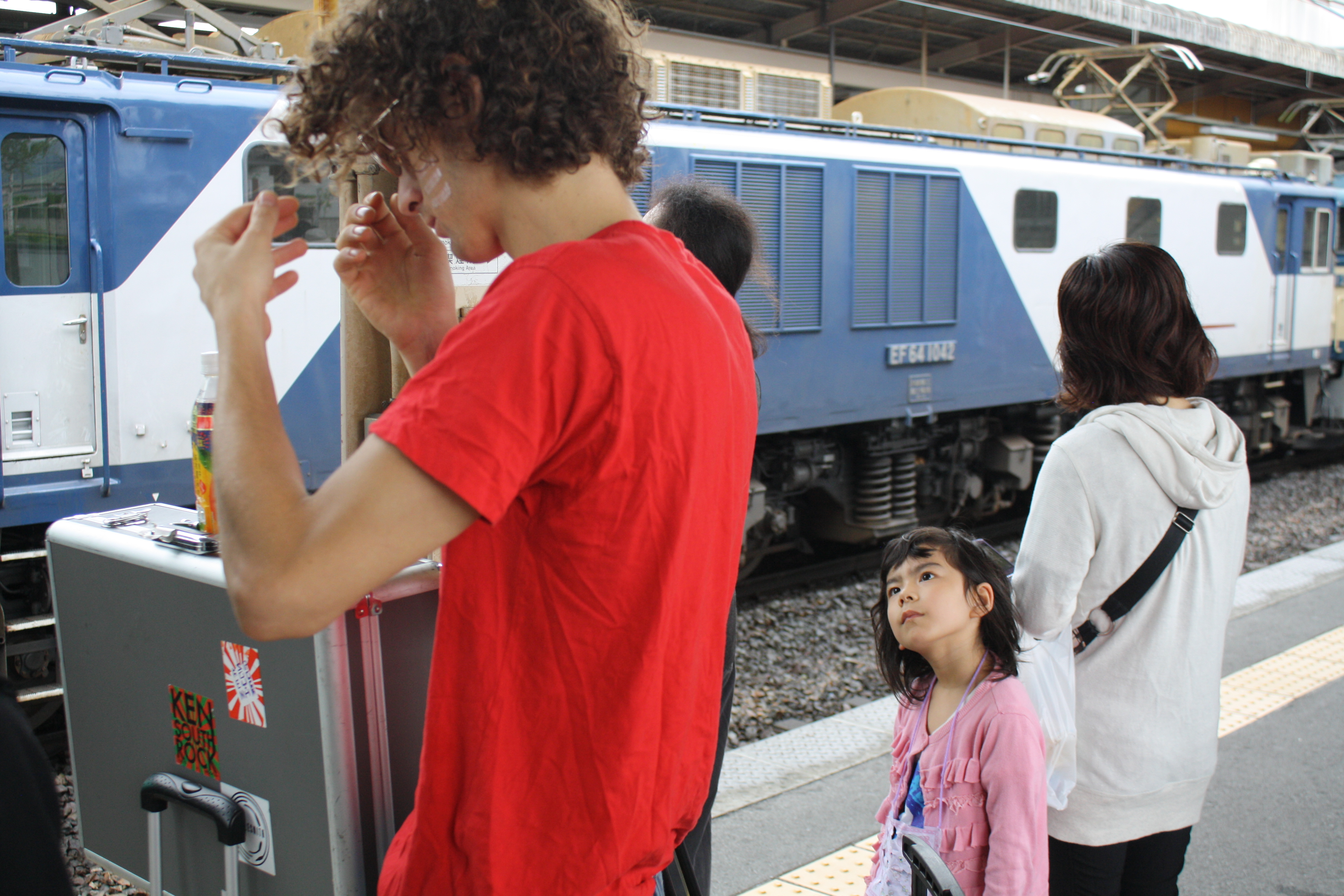 This is one of the best photos from the whole trip.  This girl was totally enthralled and confused by Adam trying to untangle a pair of sun glasses from his major Jew Fro.  It was one of the funniest and most precious things we had all ever seen. Adam and Chiaki cracked up when they saw the photos.  We are leaving Kamisuwa here on the way to Gifu.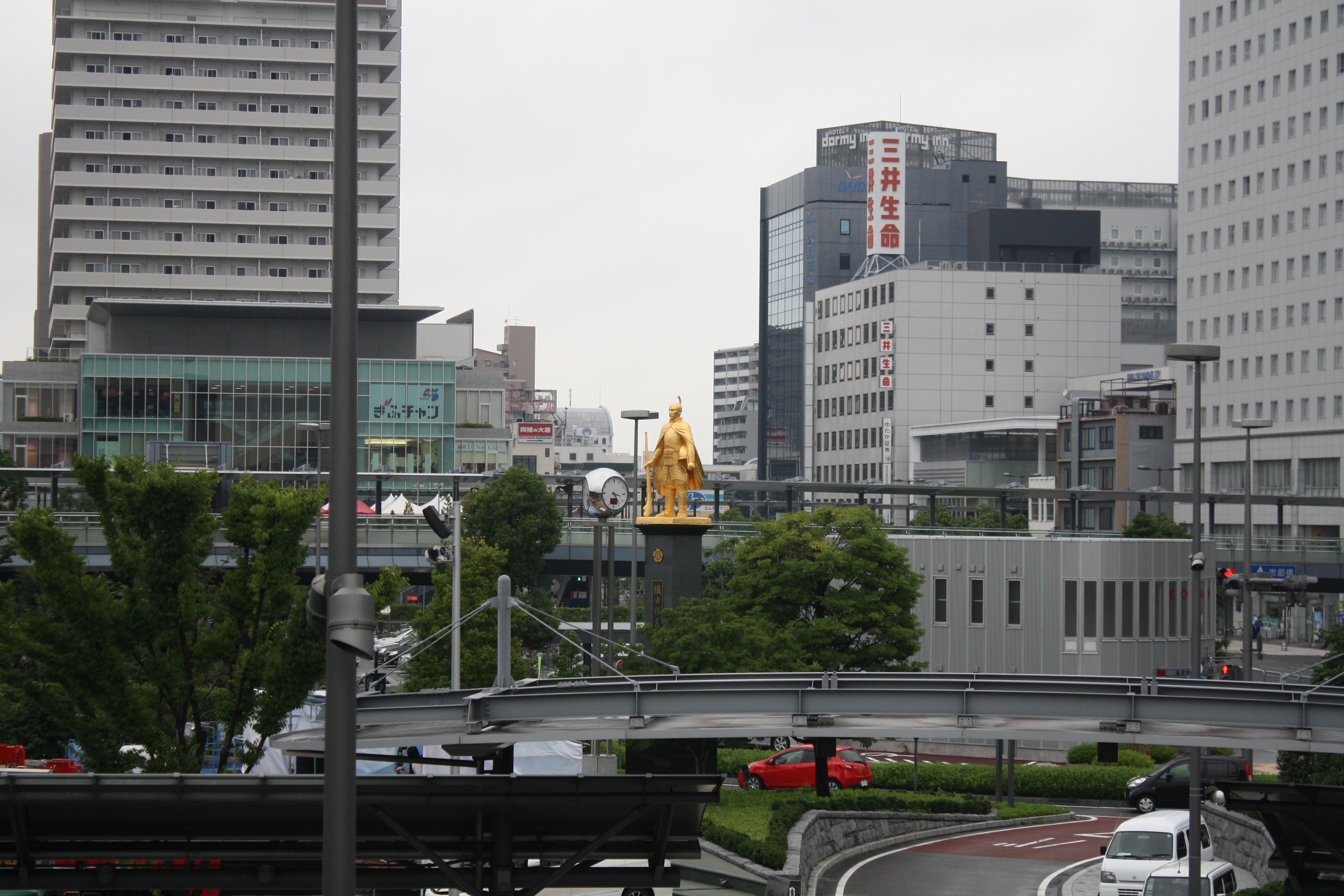 Got off the train in Gifu  and there stood a giant Golden Oda Nobunaga statue!  It was my first major geek out orgasm moment of the trip! So sick to to see this, it set the tone for me for the rest of the trip!  So after rounding the bend of this very well planned station in Gifu (where Nobunaga actually began to unify Japan from in the 16th century) we descended into Gifu, and into one of the most awesome shows of the whole trip!  the people in Gifu are fun loving, loud, hard working, hard partying, amazing folks who love music and love to embrace others and have a great time.  It felt like a good hard working blue collar city that works hard plays hard and treats its people and visitors with respect and good humor!  We had a fucking blast.  Satomi from Casper Live House is a fucking fox for sure, tattooed up and had the best "I don't give a fuck" attitude I experienced on the trip.  Her boyfriend ended up being the bass player to one of the best bands (a screamo black metal band) we saw all tour, and they took us to an awesome Izakaya after the show! And we finally stayed in comfy as hotel rooms that were crazy cheap!  Success!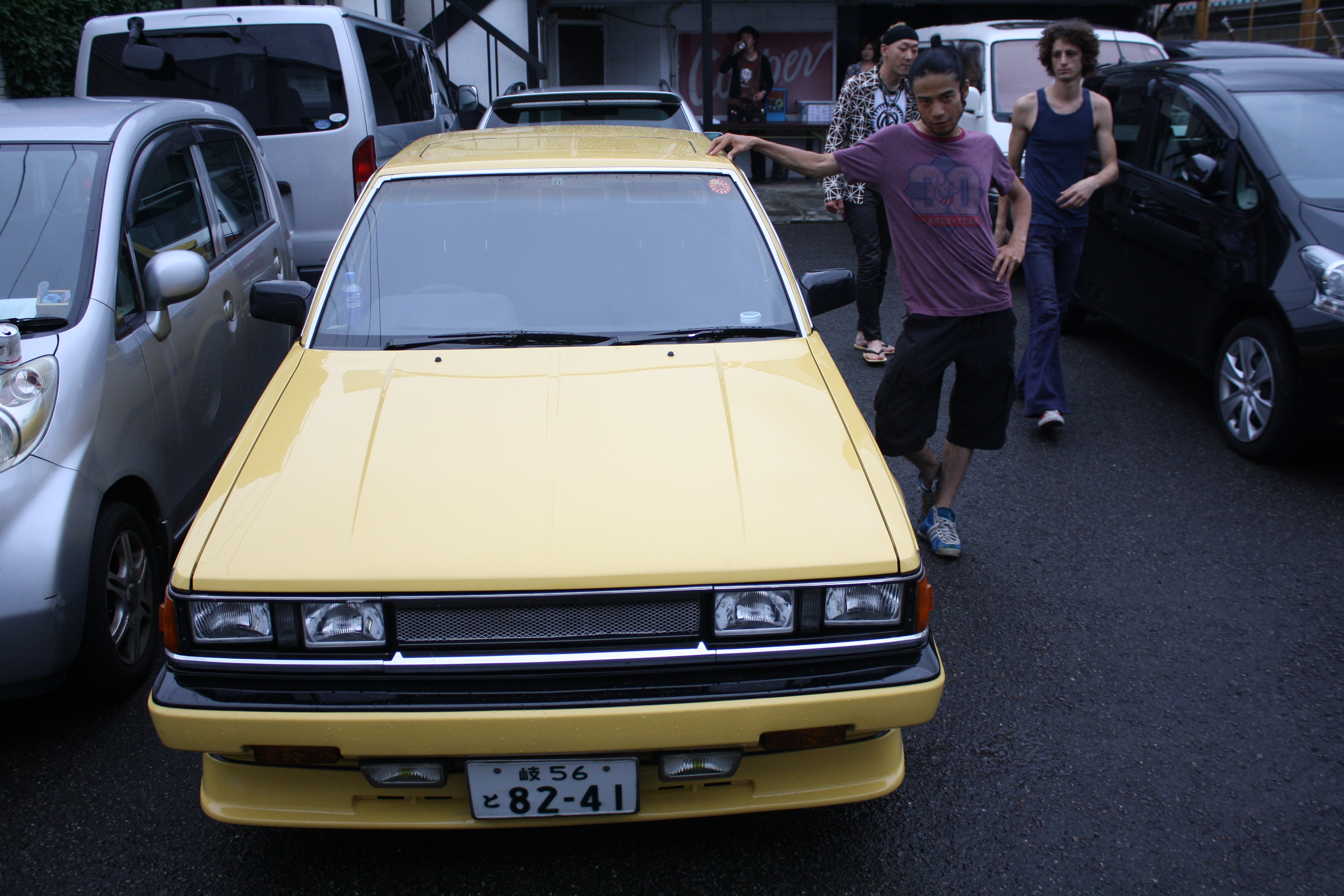 Ken Minami looking sexy in front of an awesome, classic, well kept ride in the parking lot of Casper Live House.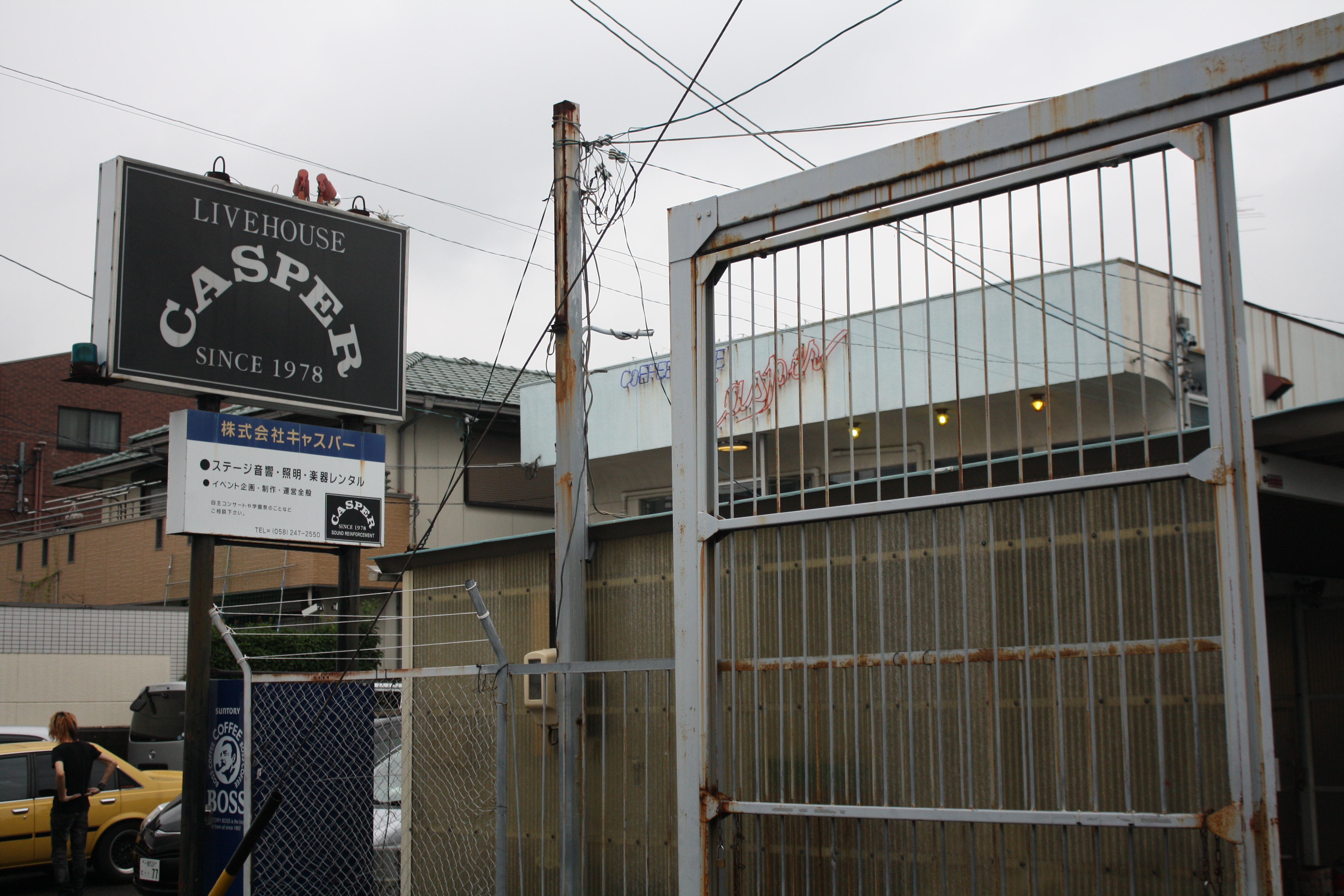 Reminds me of Durham, NC.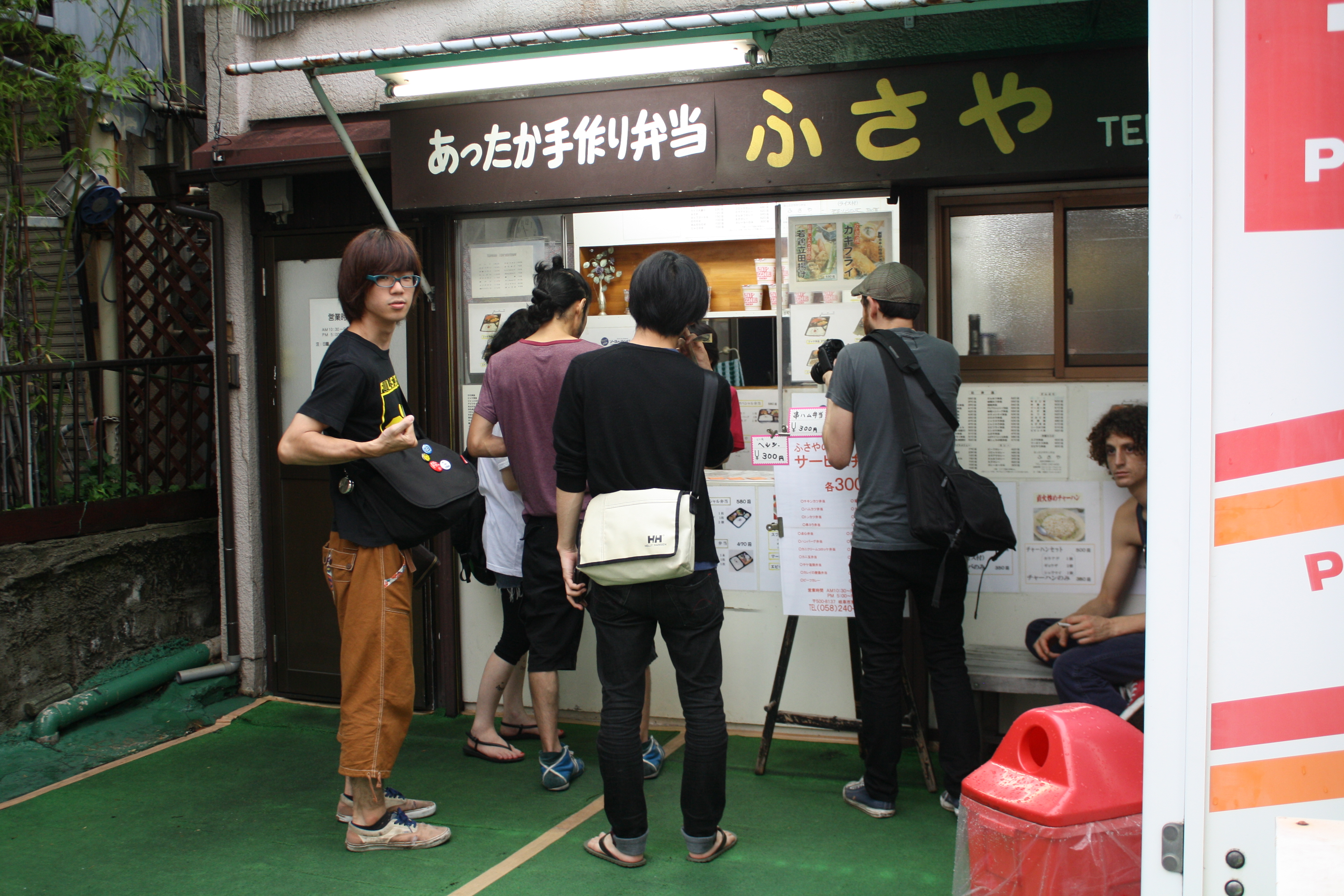 This was one of the best places we ate on the entire trip.  It was $3.50, I had a pork katsu bento box that was delicious and filled me up. Here we are with Suichu Blanco and Walter Wlordarcyck.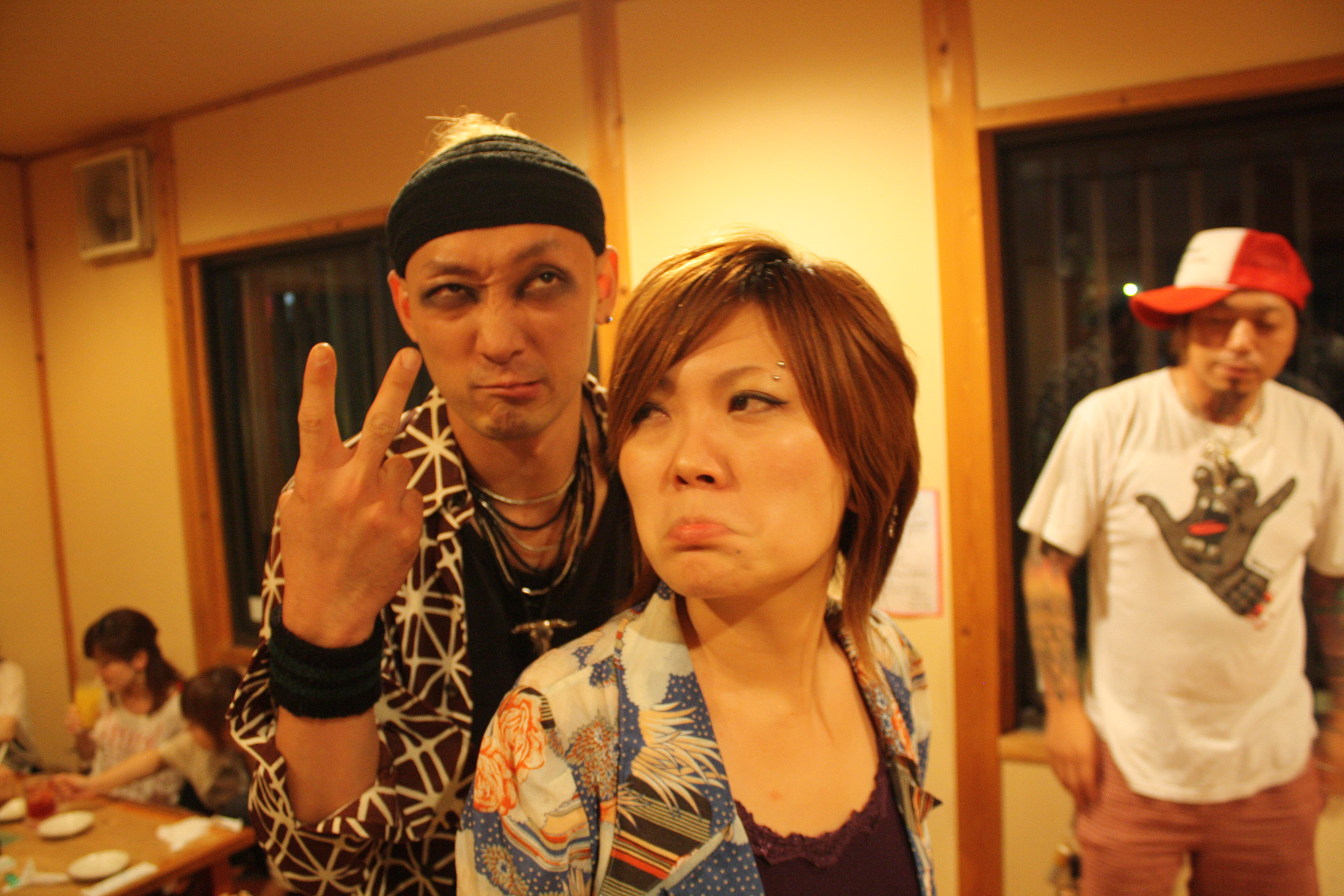 The lovely Satomi and her dude at an awesome Izakaya post show!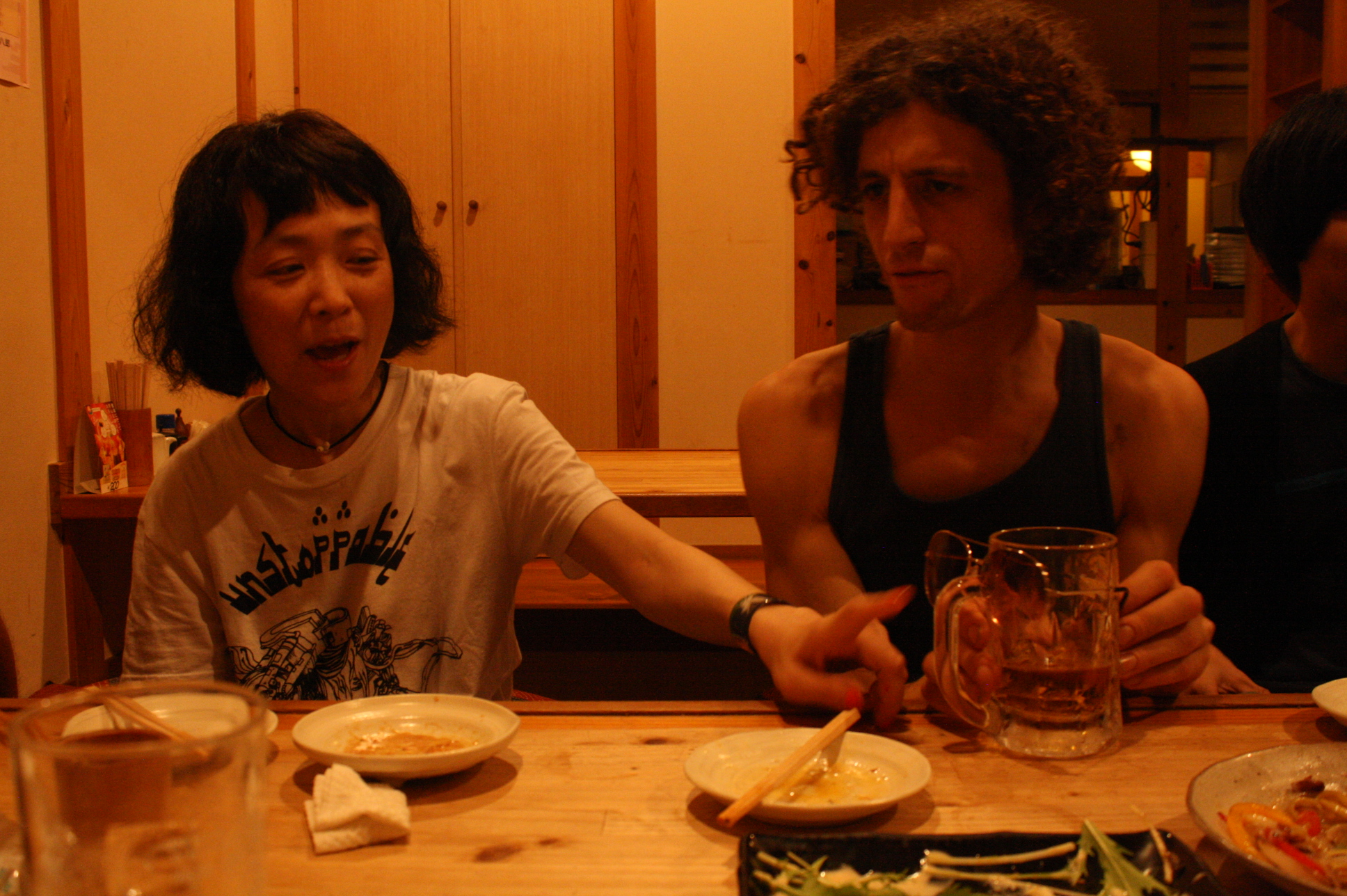 The amazing Chiaki Cheese with Adam Amram at Izakaya.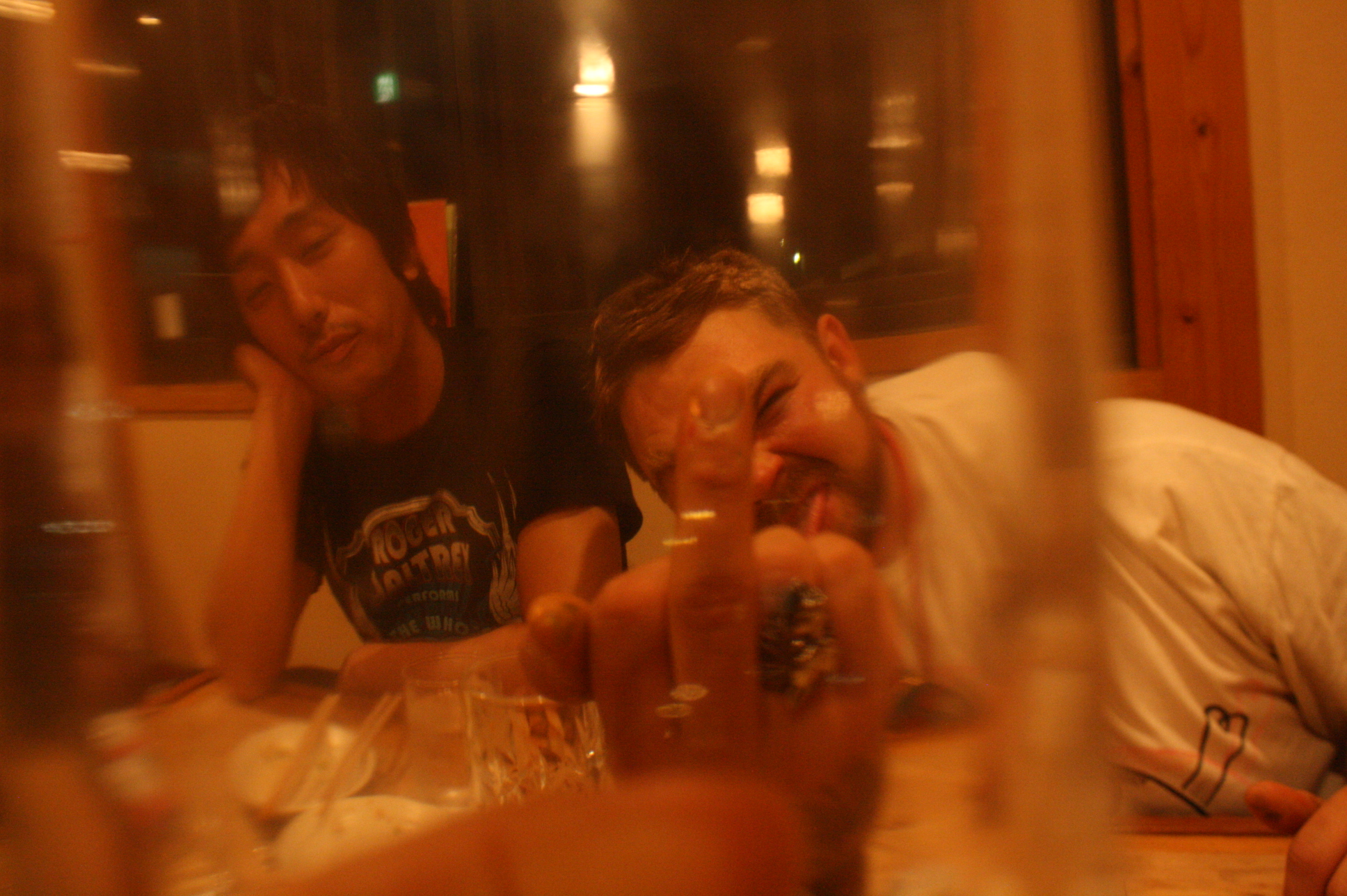 End of the night in Gifu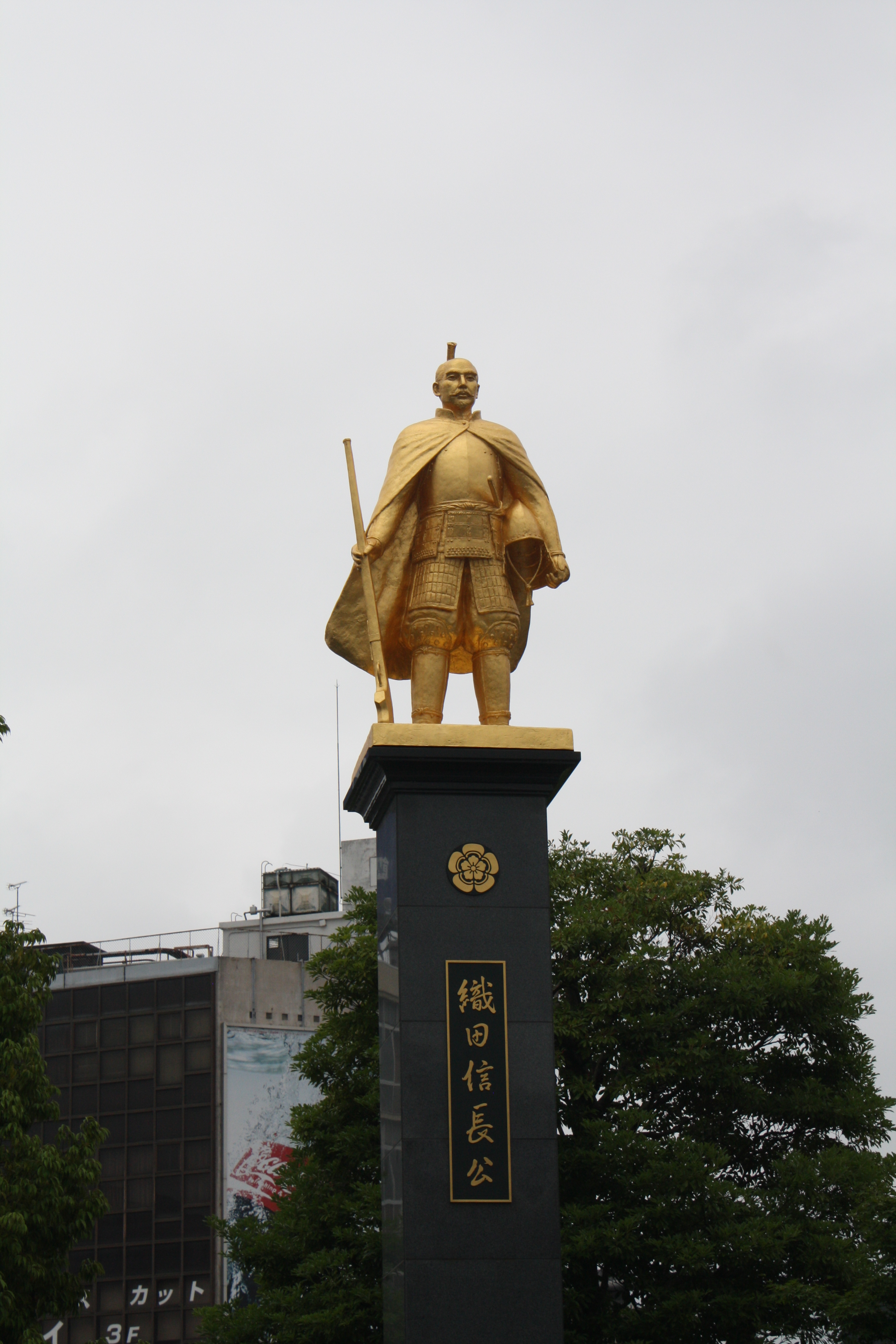 One more shot of the Nobunaga Monument.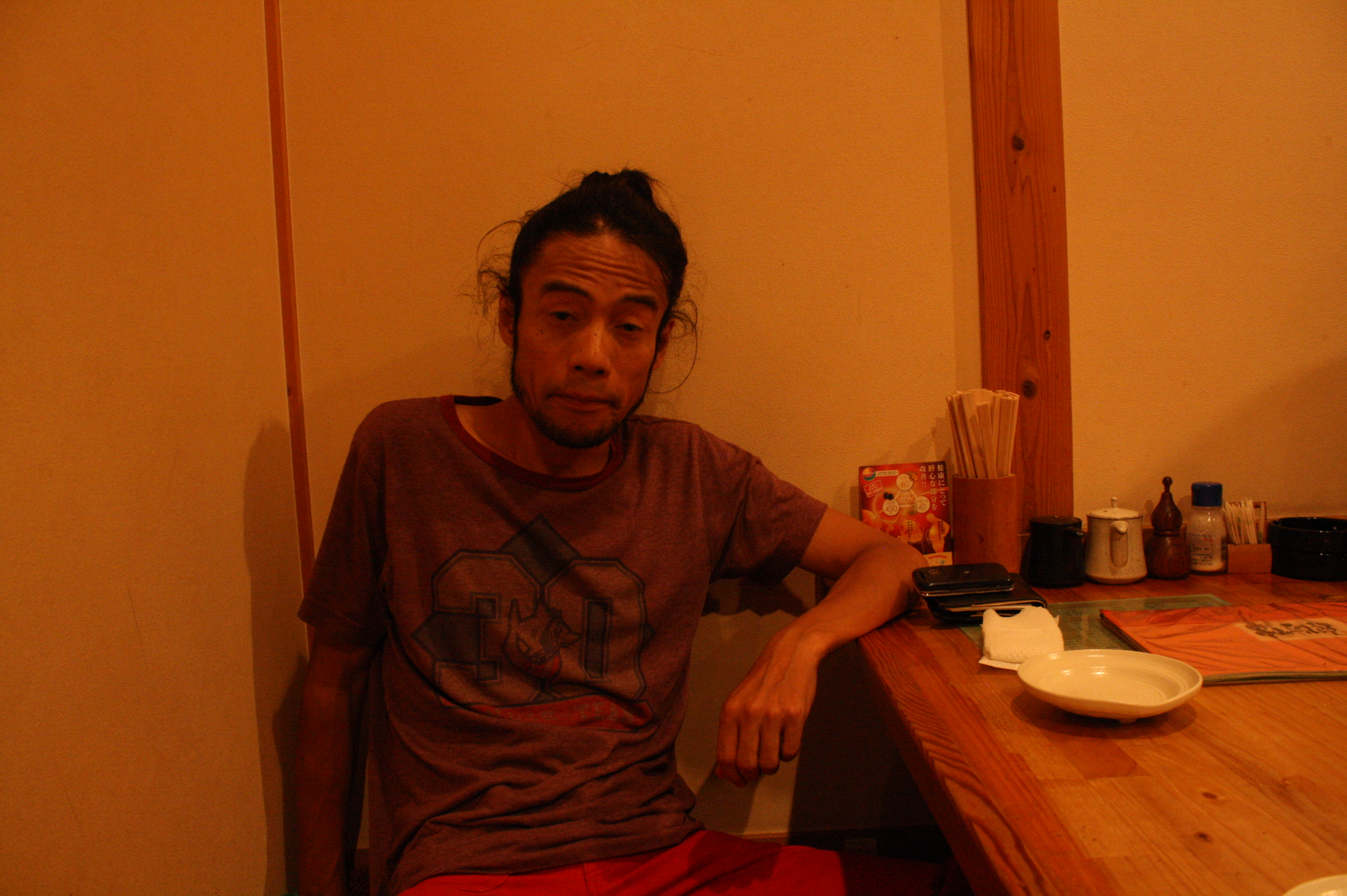 Ken, worn the fuck out at Izakaya after the show in Gifu!
So the next day we traveled to Nagoya, we stopped for Gyoza first, and then were on are way.  I was exhausted by the time we got to Nagoya, but we still faired well.  Nagoya was cool, but I was definitely missing Gifu and looking forward to Osaka big time!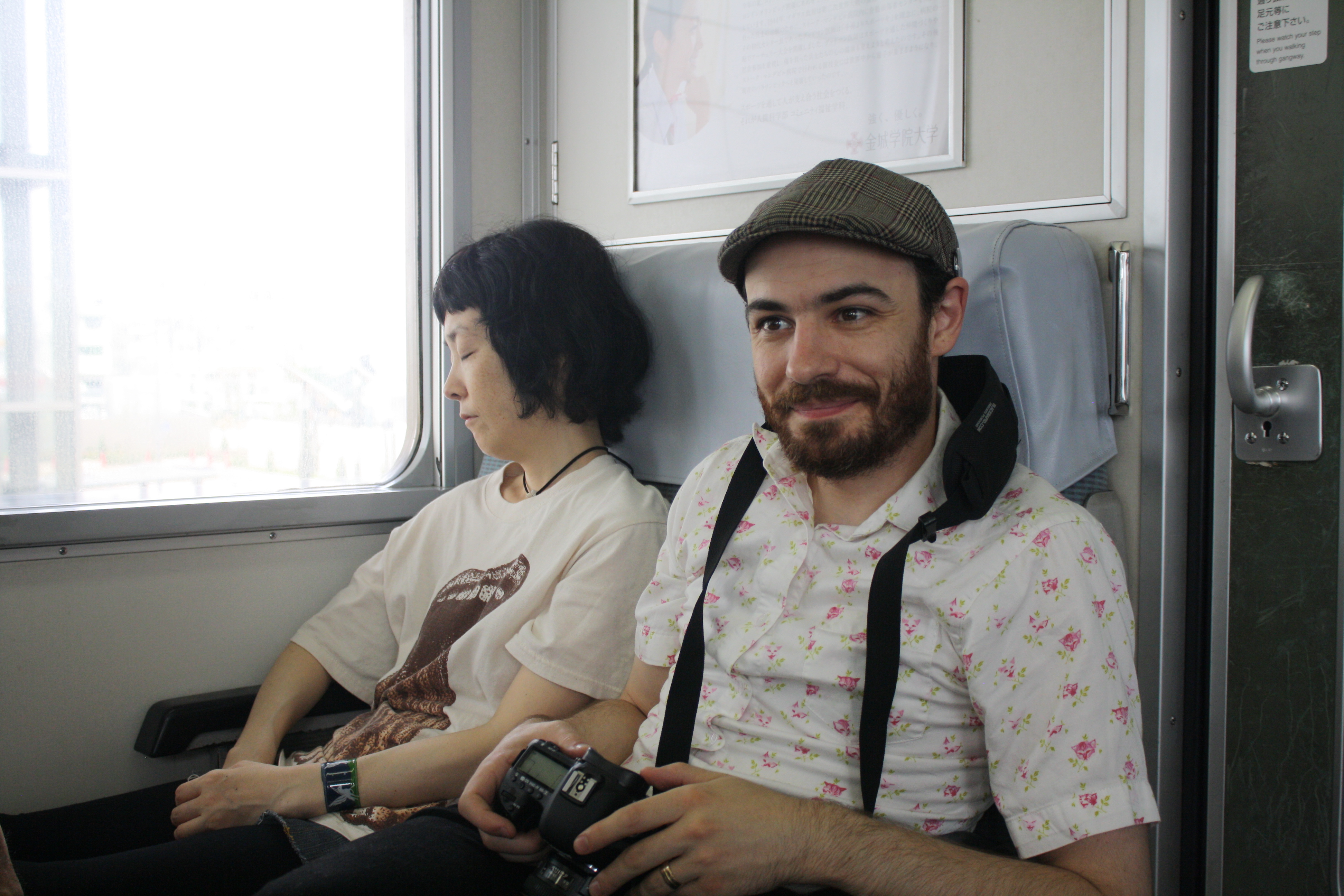 Walter, the official tour photographer, on a train headed for Osaka.  Getting for photographed for a change.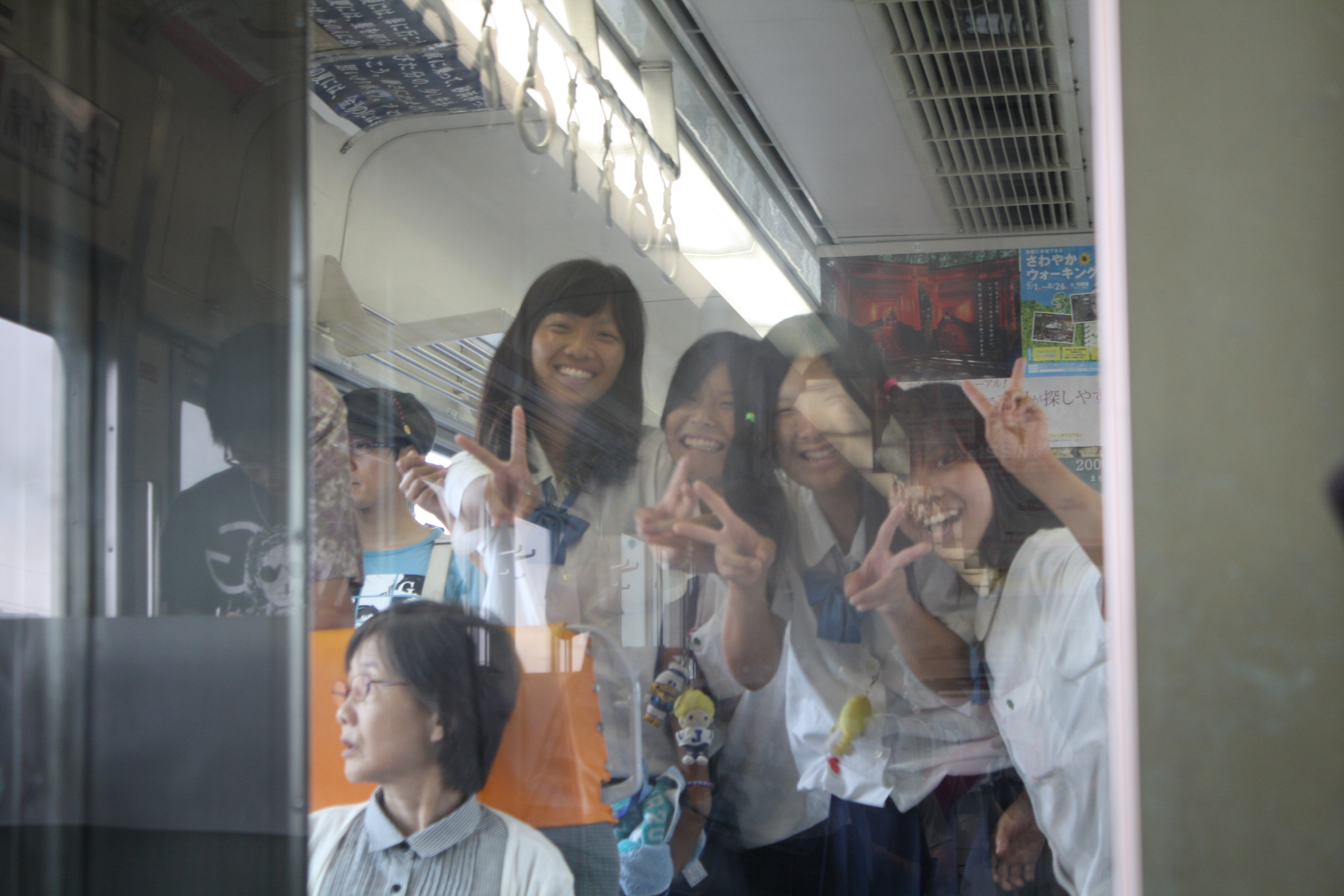 The schoogirl fans were pretty awesome!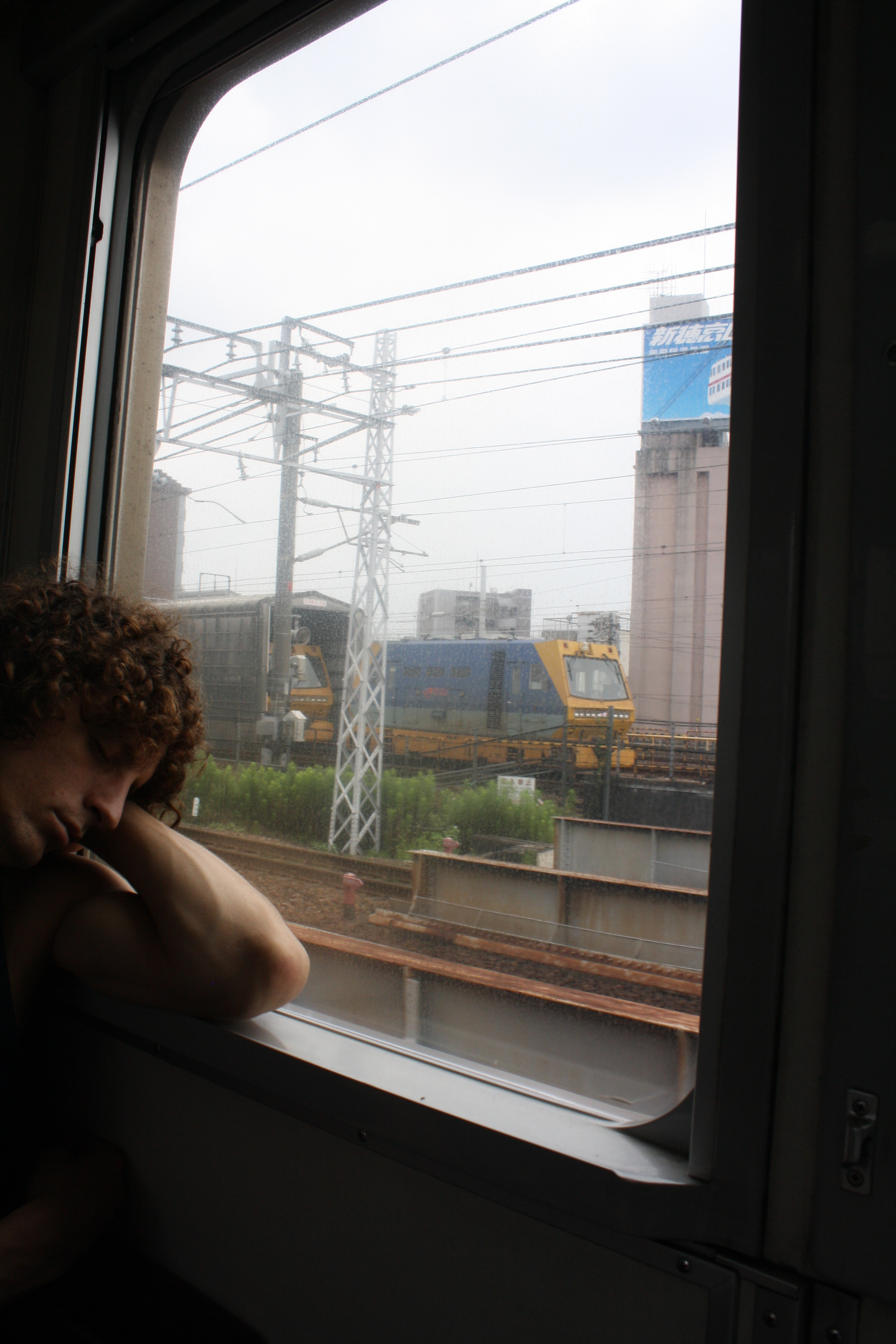 Adam Amram catching some zzzzzs on the train to Nagoya.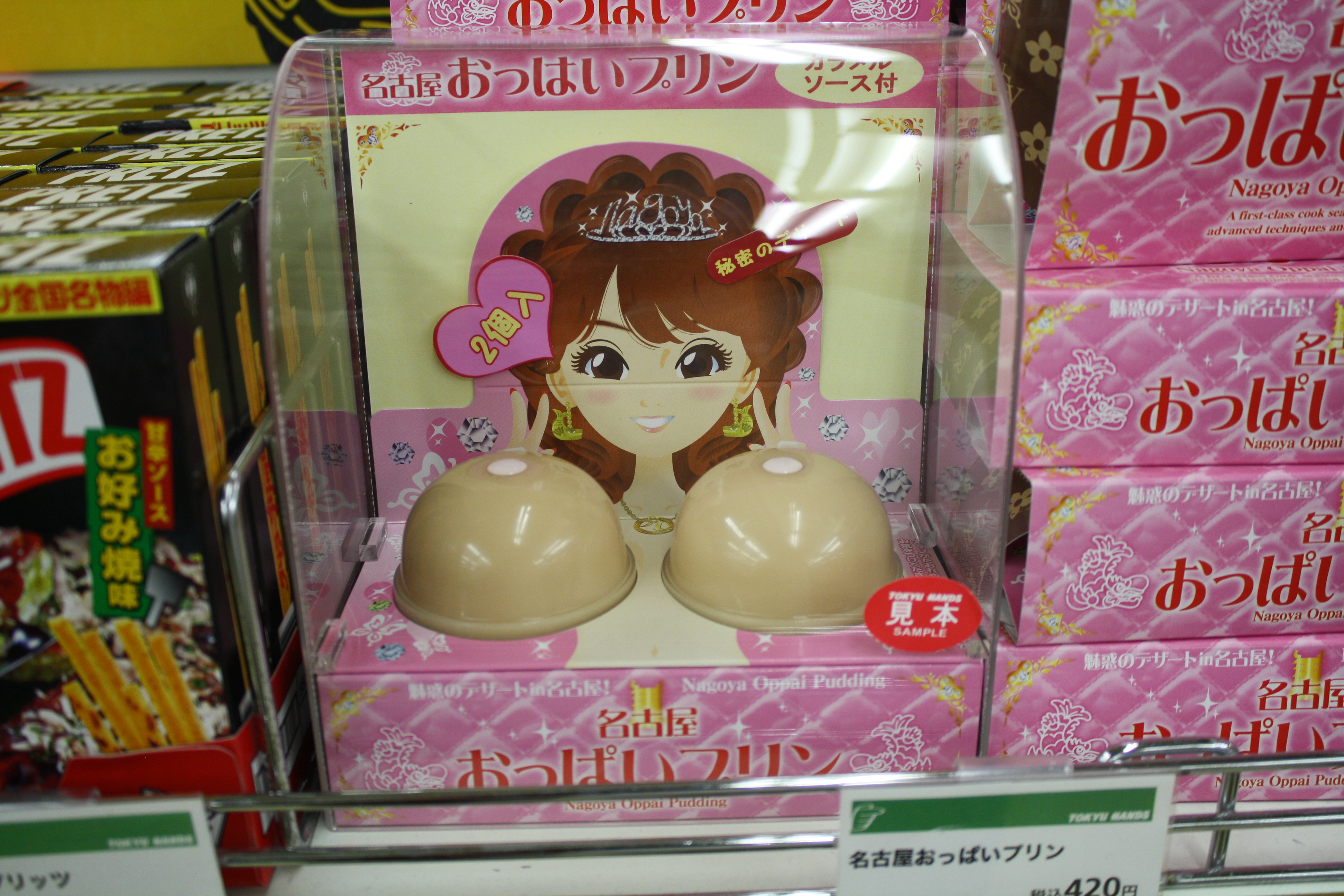 Strange Nagoya Pudding at the Tokyu Hands Department store.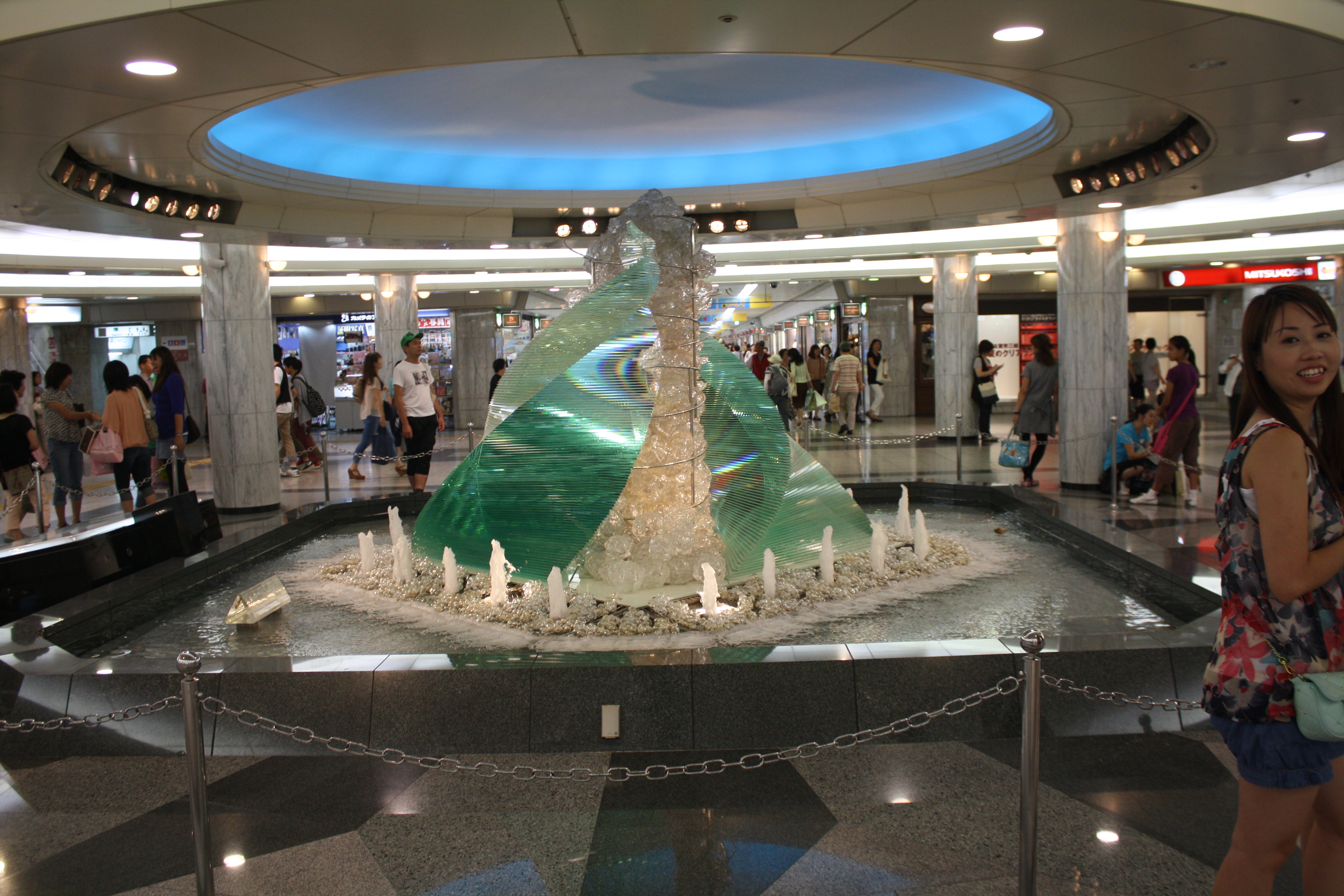 This was a CRAZZYYYYYY sculpture inside of an underground shopping mall in Nagoya.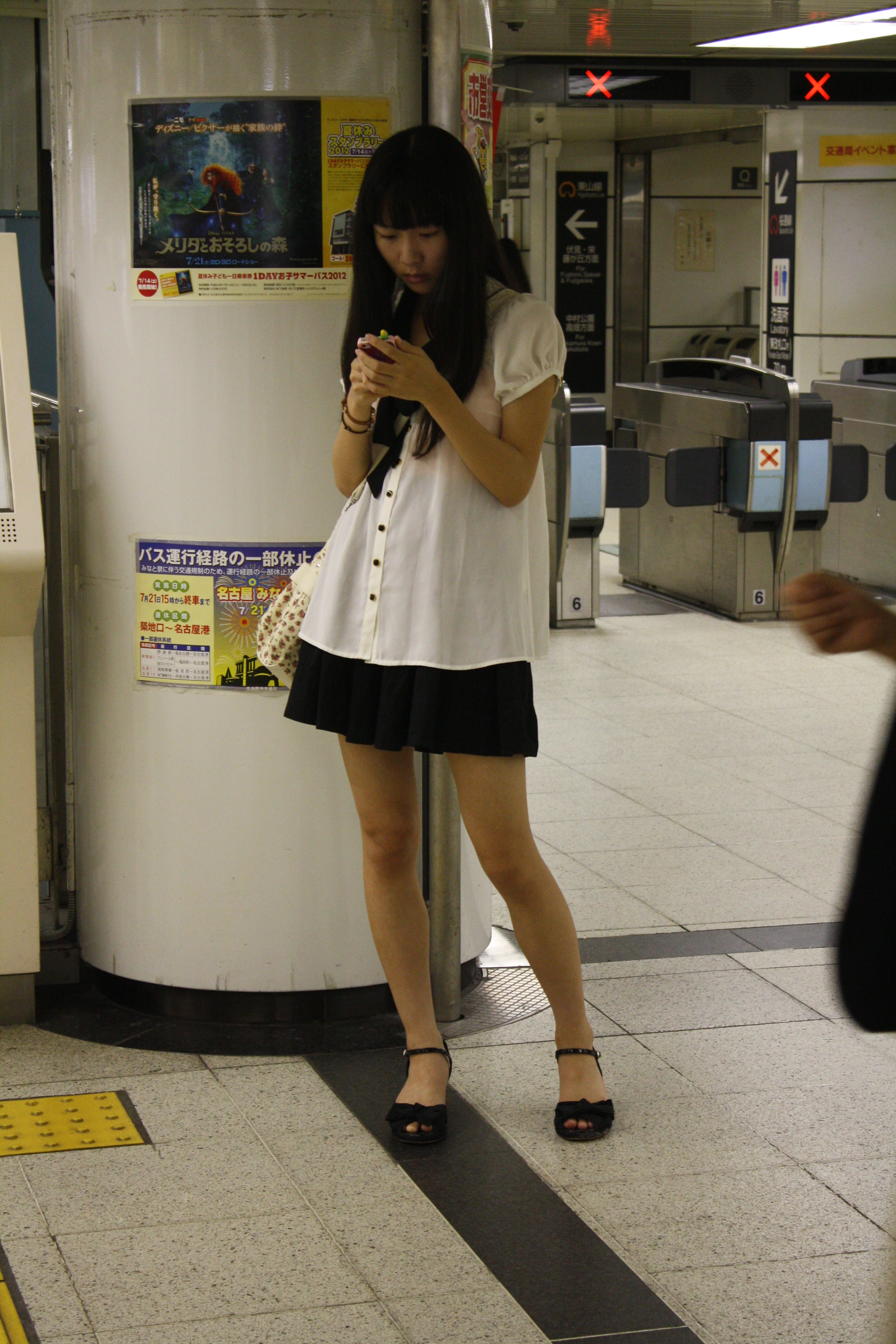 Styled Out in Nagoya.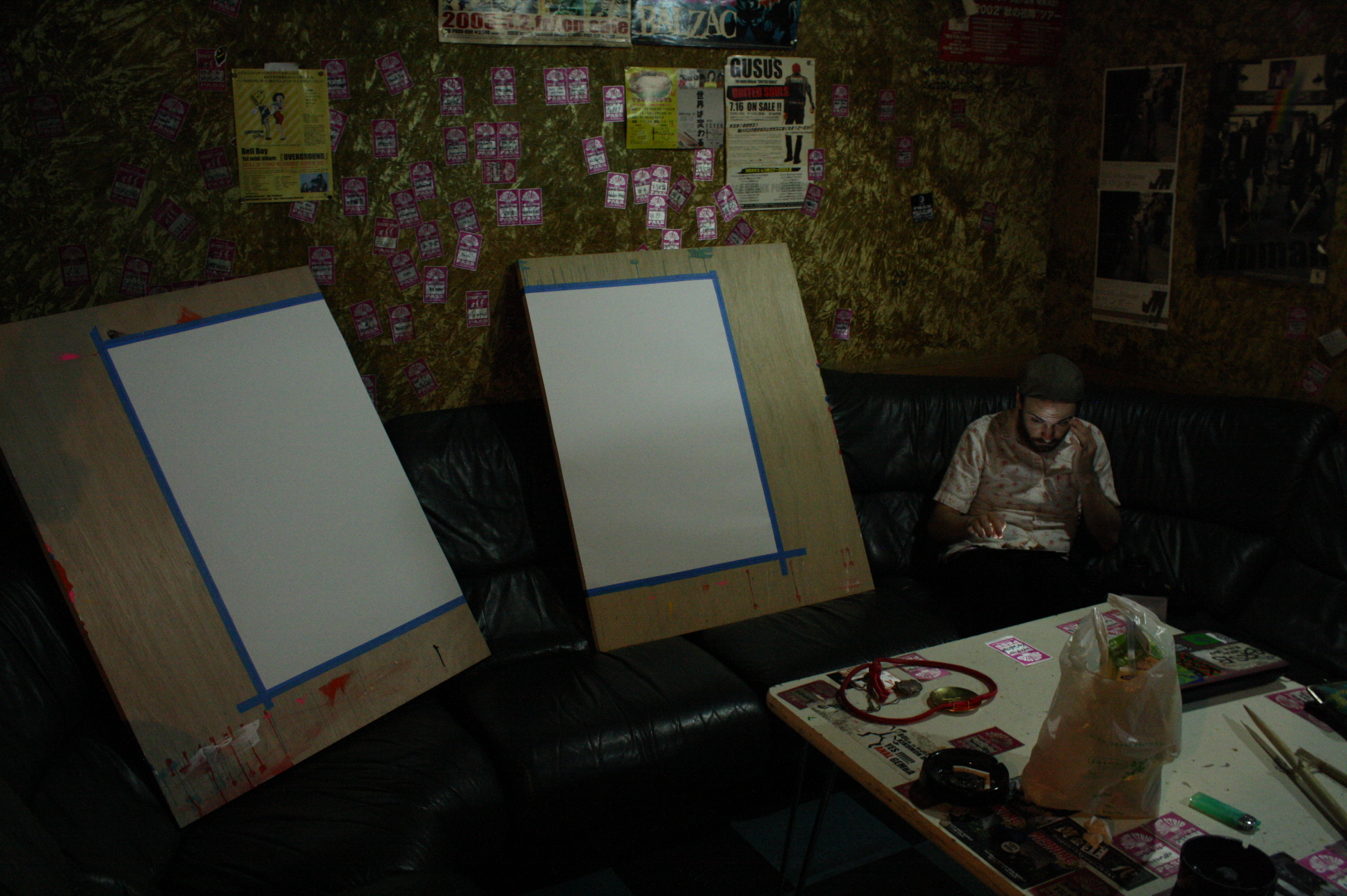 This was the set up that I painted with at each venue on tour. We would set this up on a table with a drop cloth on stage, and I would set up all of my supplies so that when I was called on stage by Adam in the second song I would jump around, yell and scream and then go in super hard on the painting.  It broke down really easily and folded up and was super easy to transport on the trains from city to city.  There's walter right next to it on the couch backstage at the Live House we performed at in Nagoya!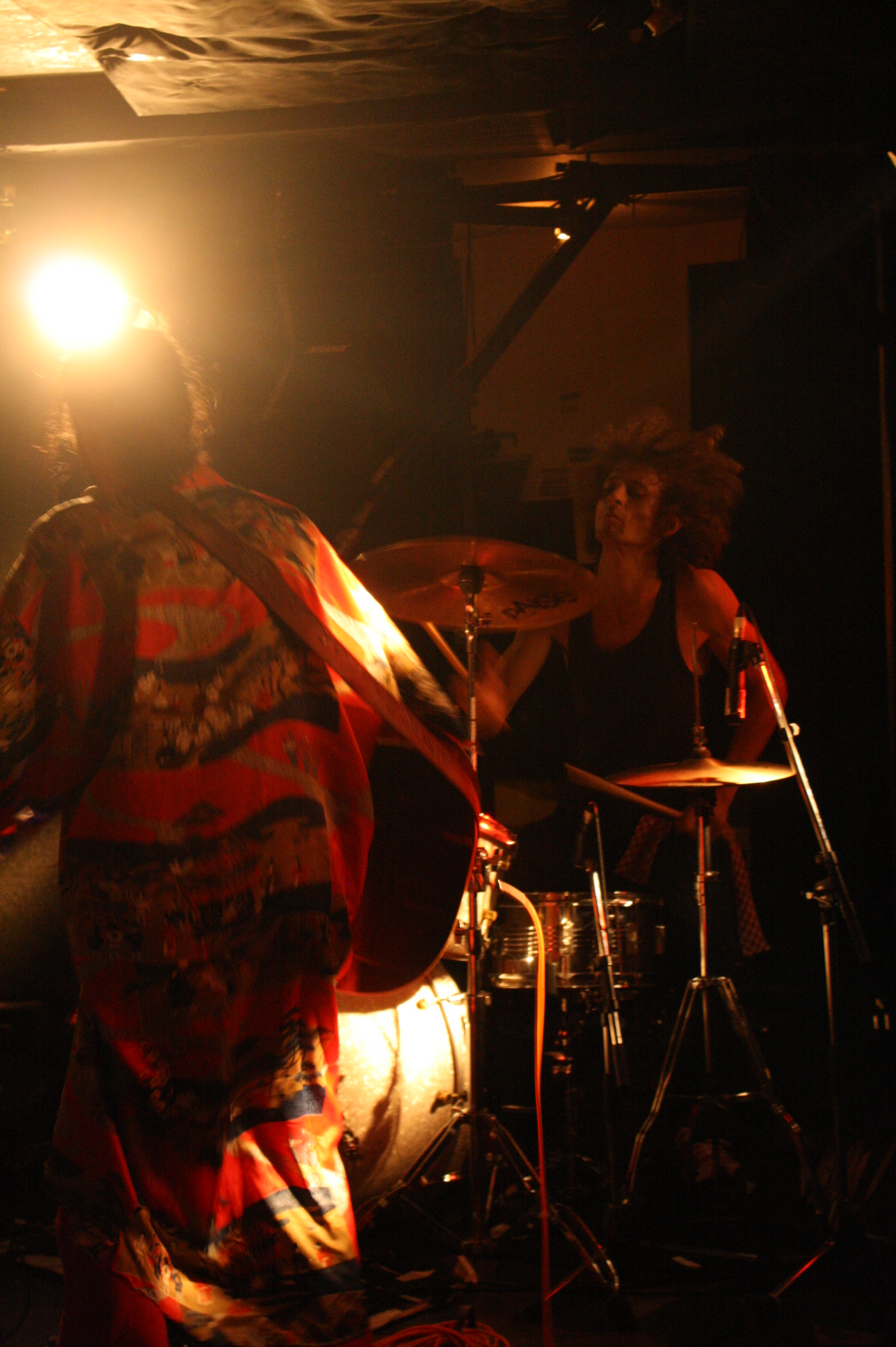 I love this shot of Adam and Ken Rocking out in Nagoya.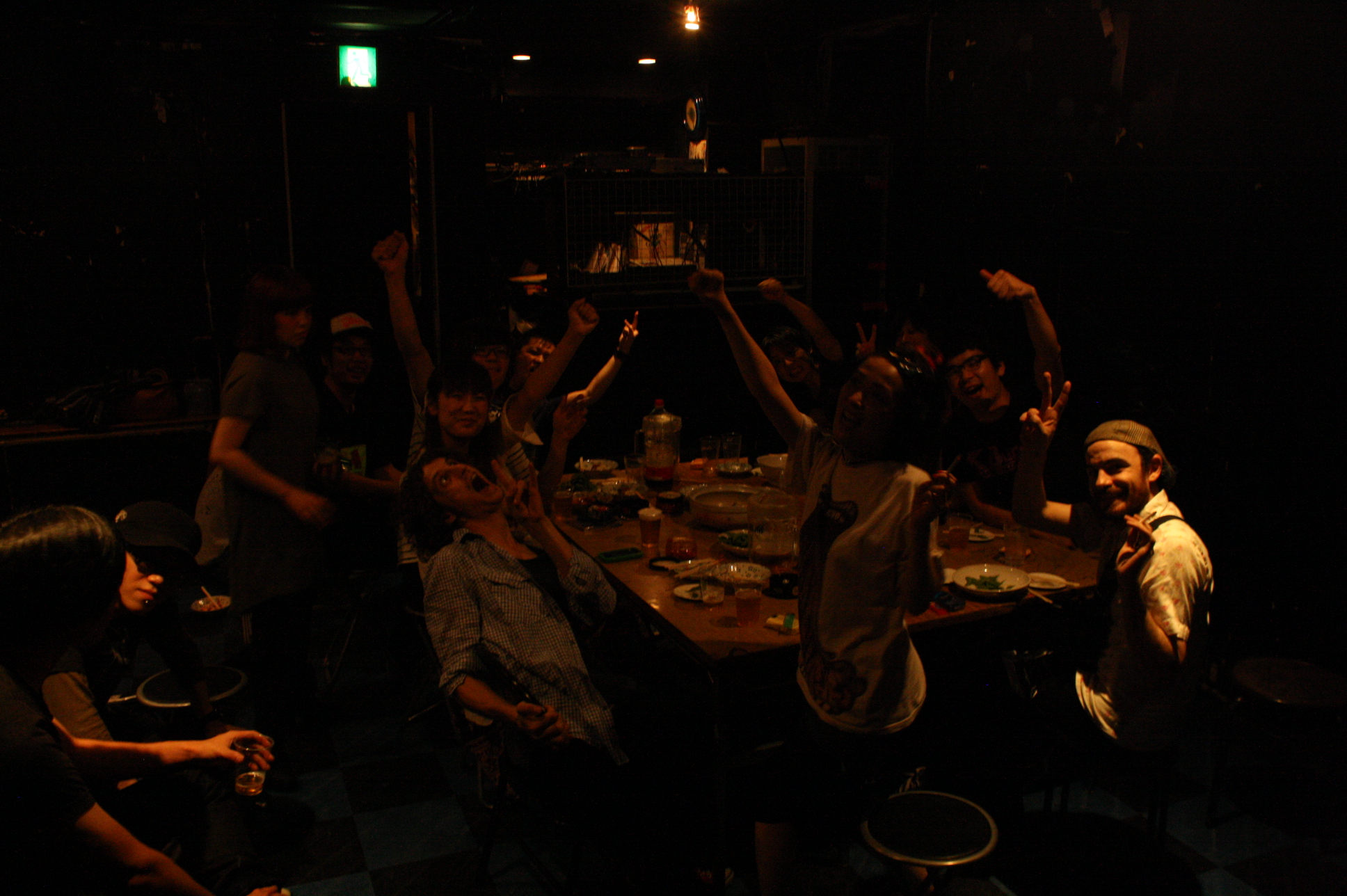 And then it was time to embark to Osaka!  Now Osaka is one of my favorite places in the entire world, seriously, it rocks.  We bid farewell to Chiaki, and went on our way to the region of Kansai, ready to rockkkk out, and eat Takoyaki!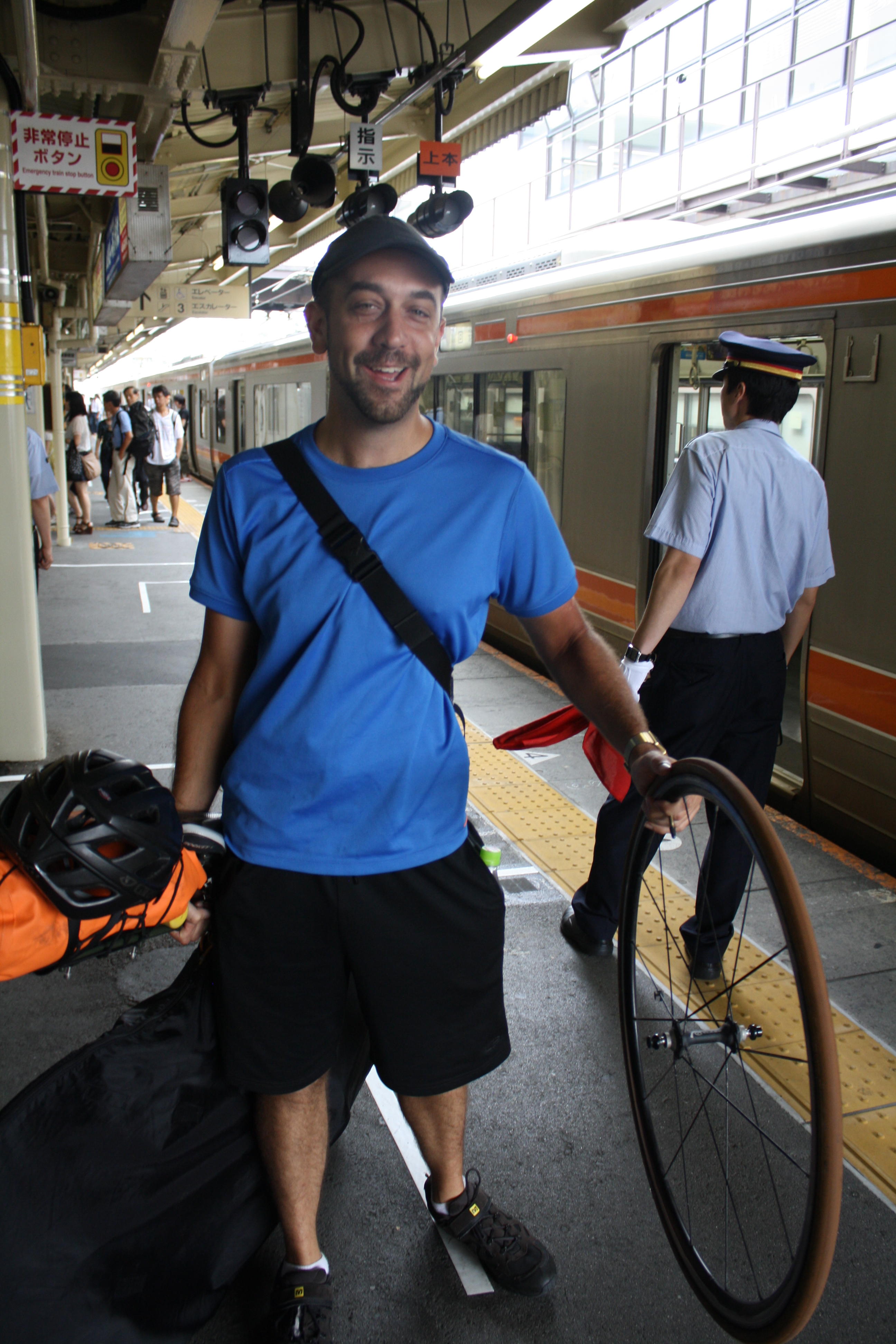 We even ran into my good friend Frankie G at random on the way to Osaka, good Omen!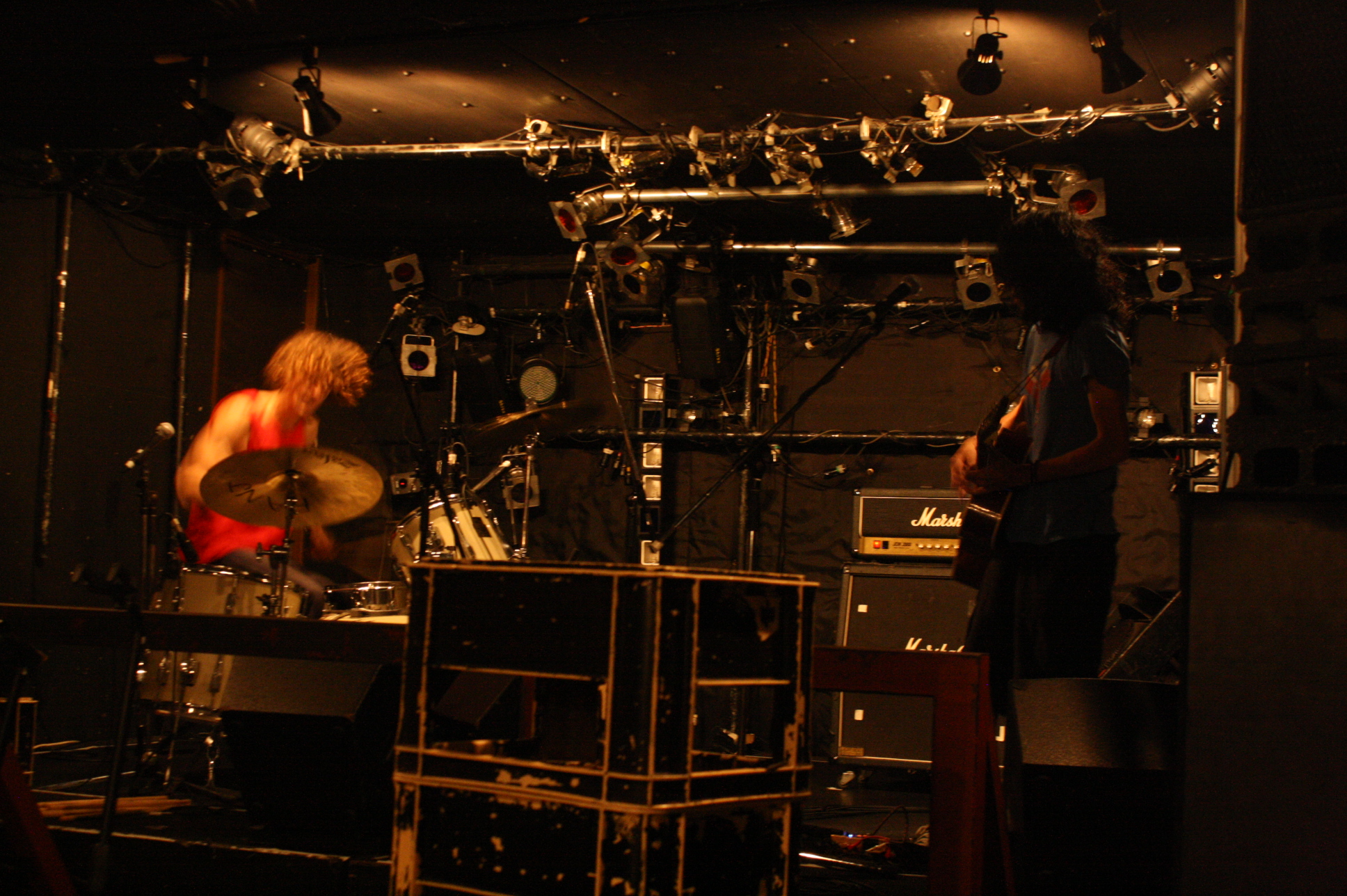 Adam at sound Check at Fan J in Osaka.
So Osaka is the shit, I took a lot of pictures of the city as I went out alone exploring before the show and the next day.  I also got some great images of Suichu Blanco at this show.  The promoter unfortunately was a bunch of talk and didn't get nearly enough people there, but none the less we went super hard.  The show was really crazy and the after party in the club was mad fun.  A tiny super cute girl actually rode me around the club like a giant animal. It was nuts.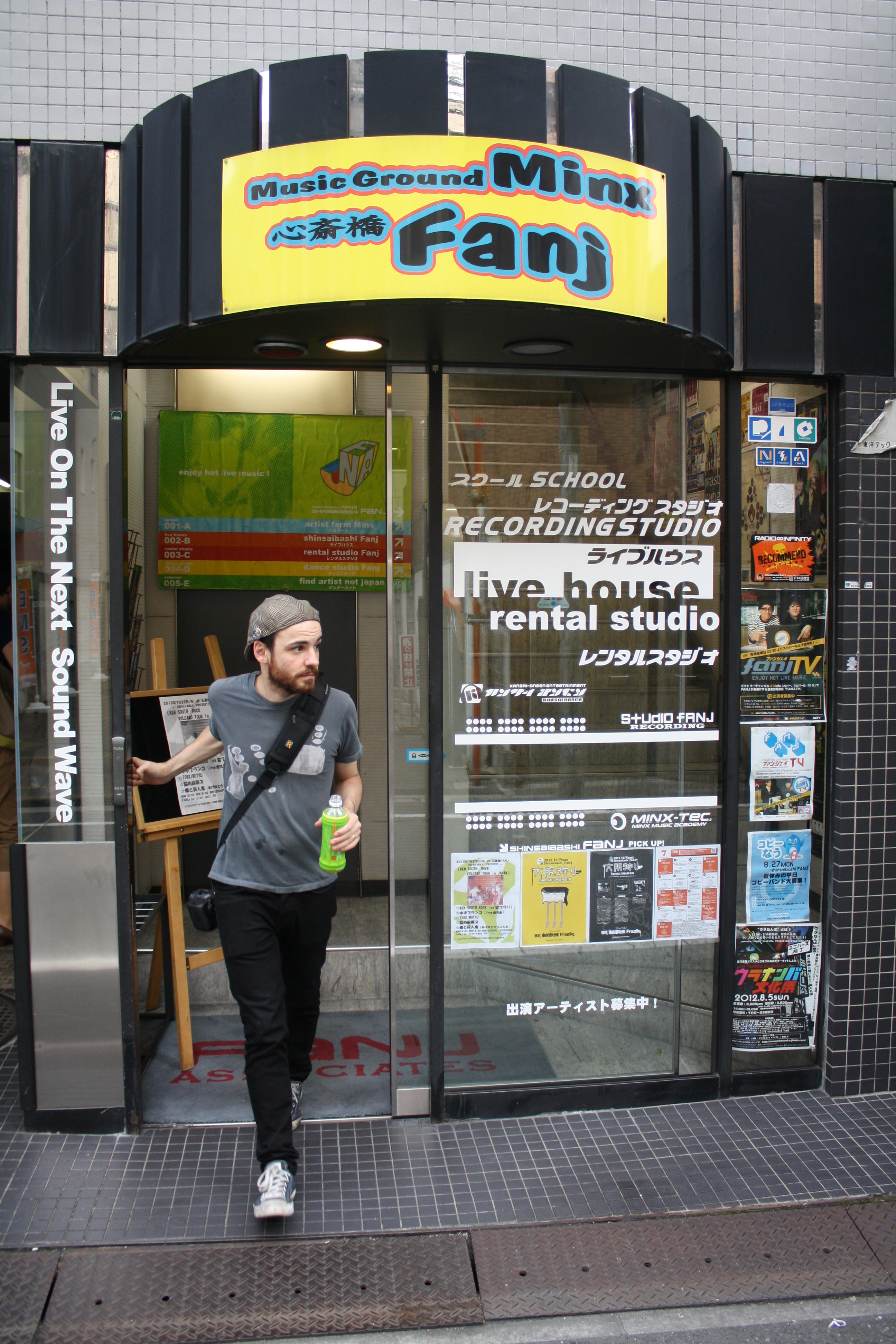 Walter and I embarked onward into Osaka during sound check.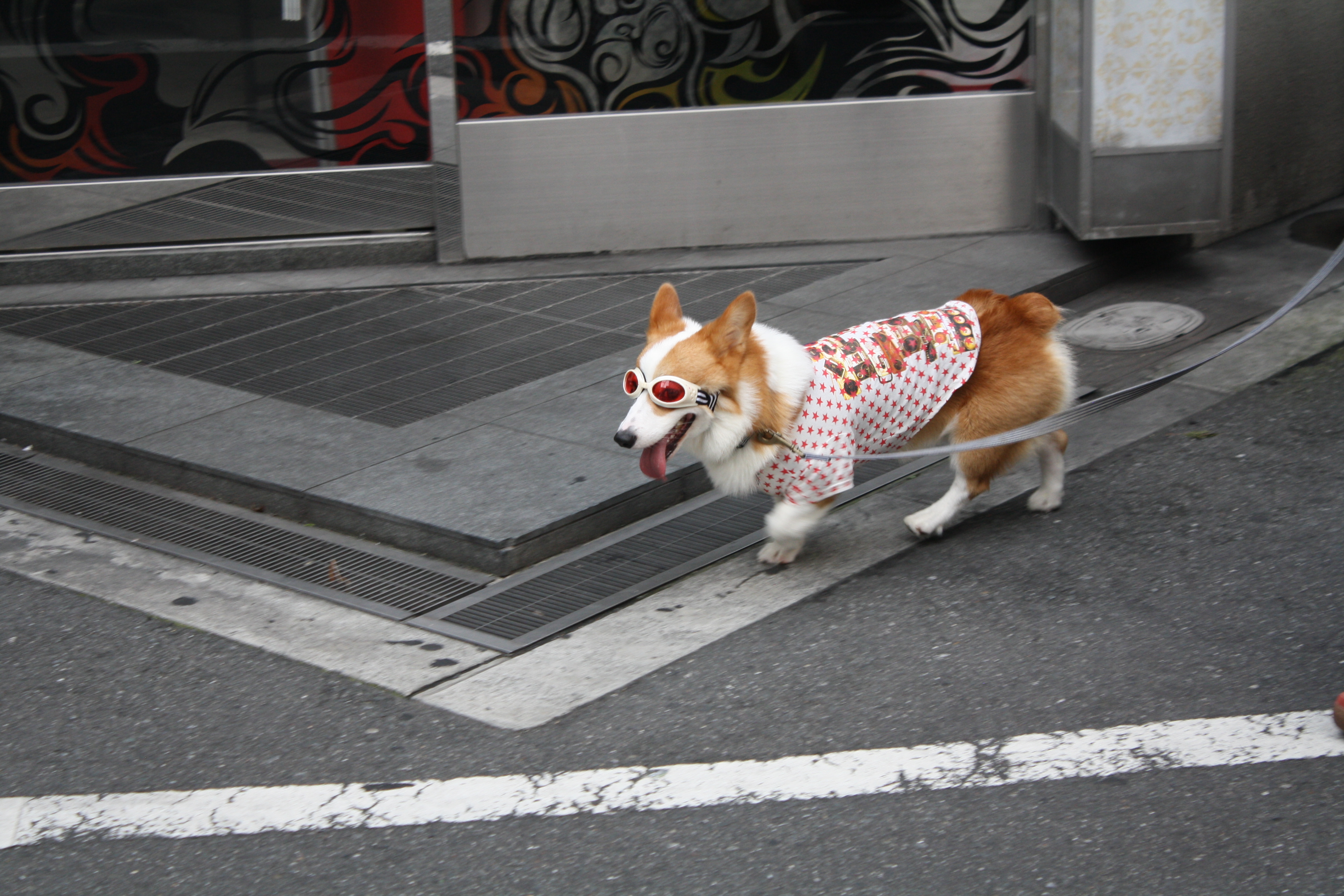 Yes, this dog has on infrared goggles, yes you are actually seeing this, it is real.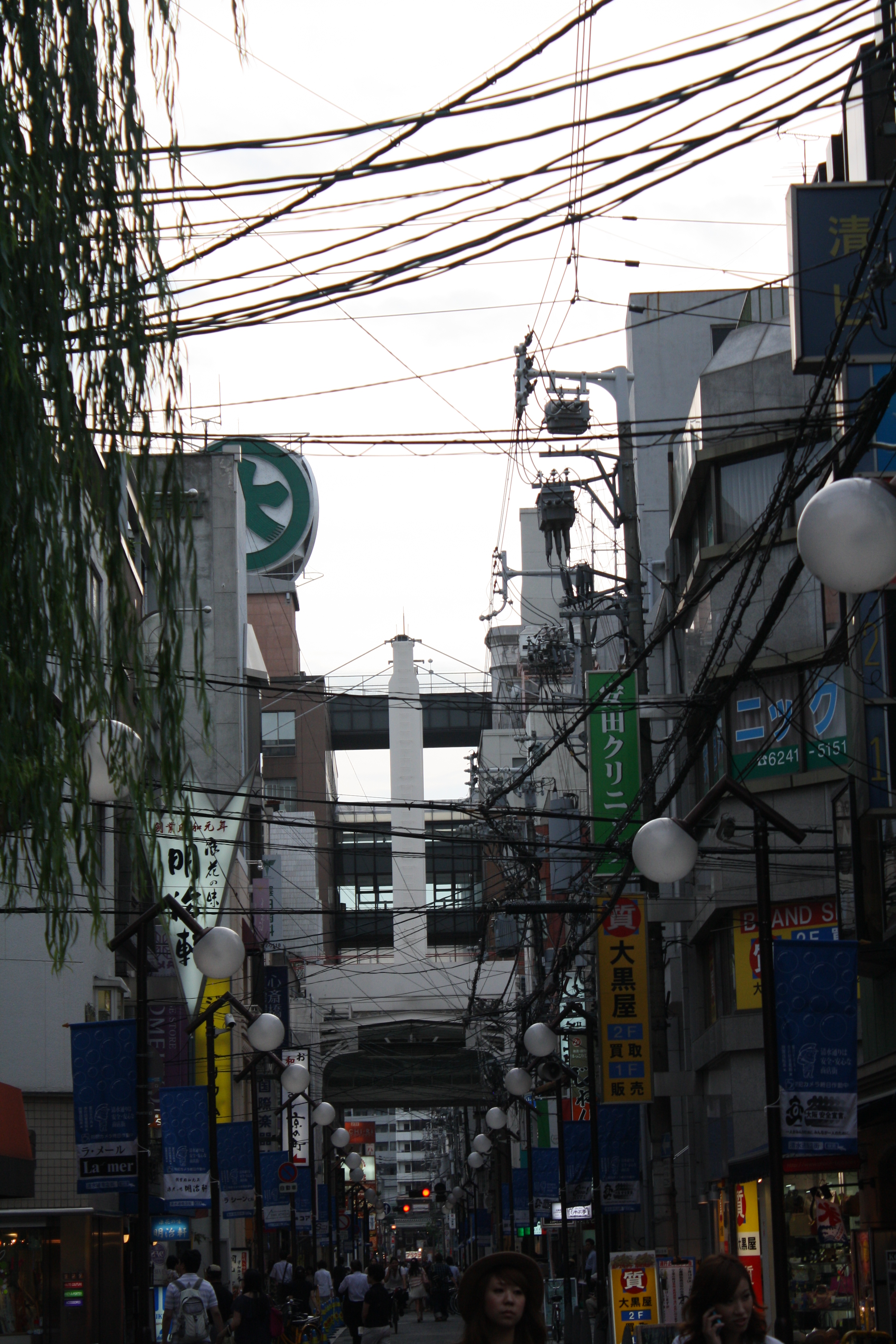 This is one of my favorite Osaka Street Shots.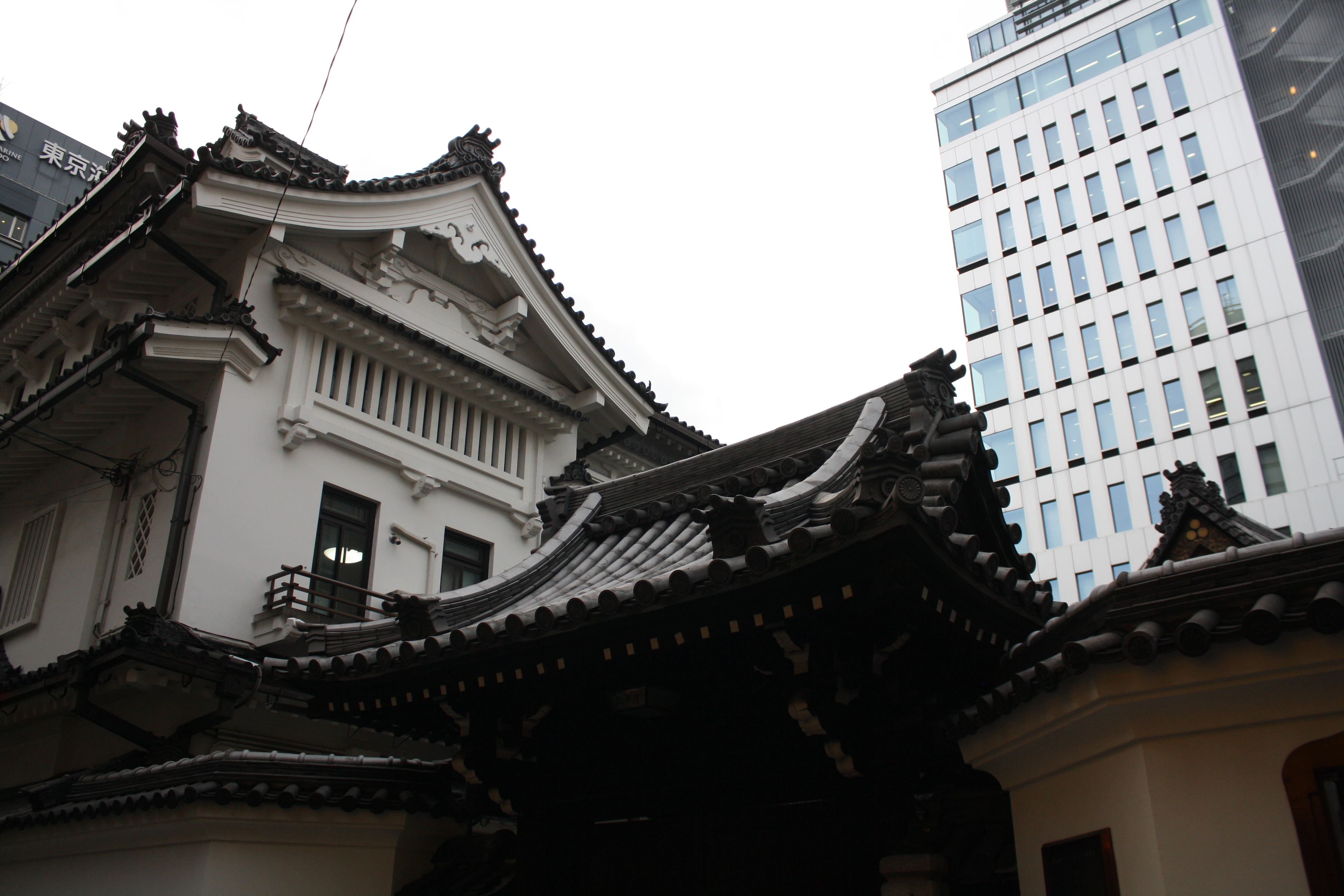 Serious Old World to Modern World Juxtaposition.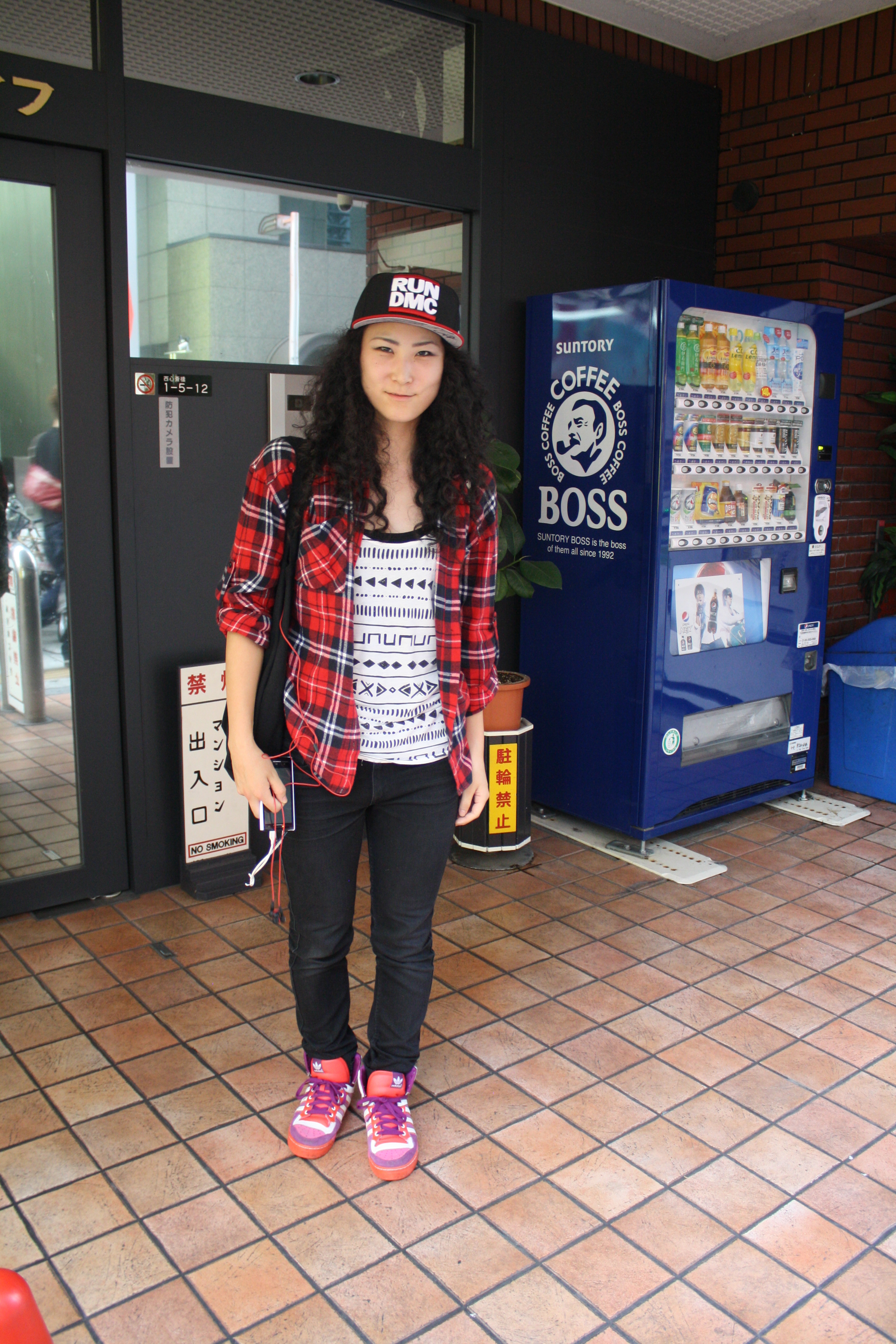 Style Points in Osaka.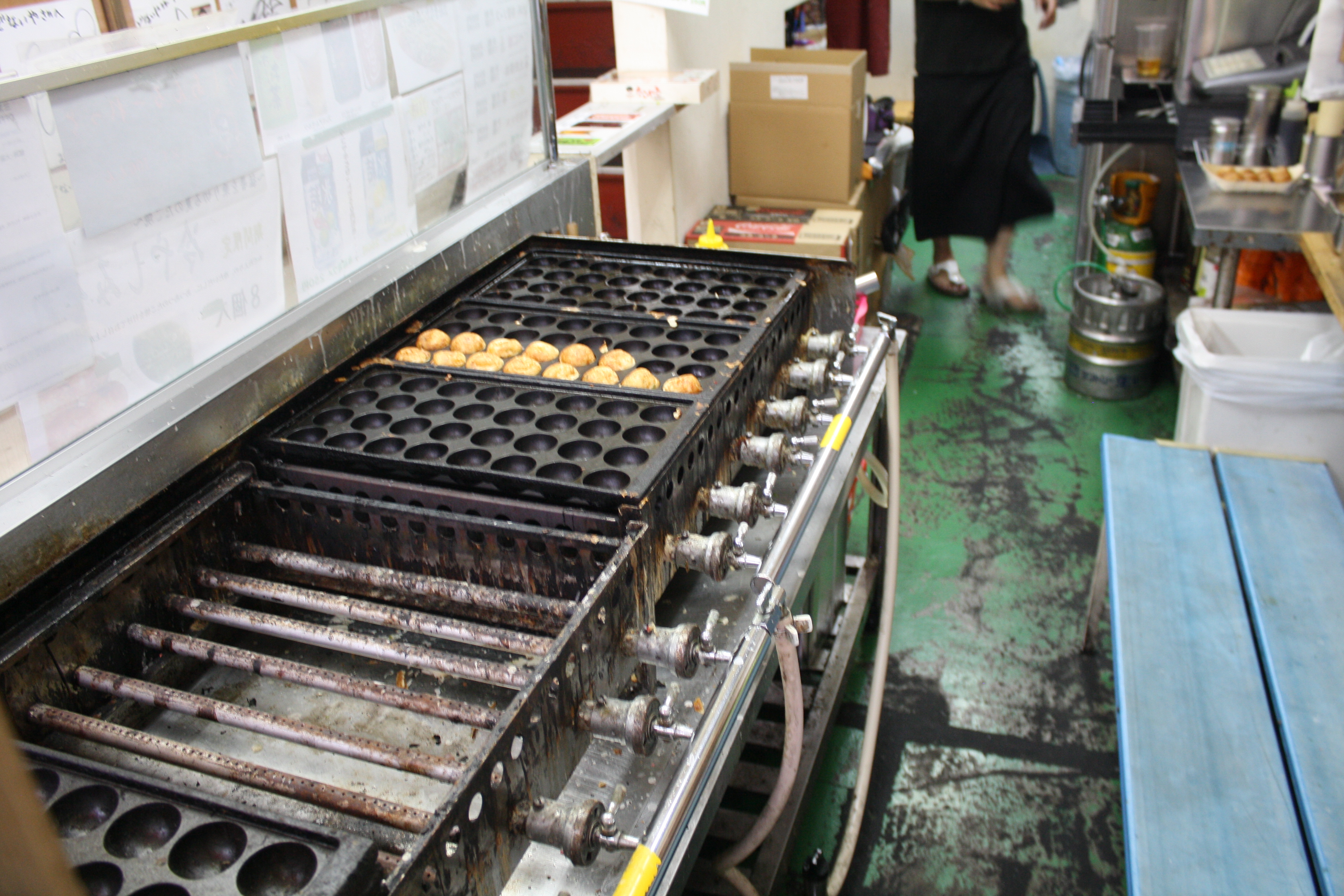 Takoyaki Time!!!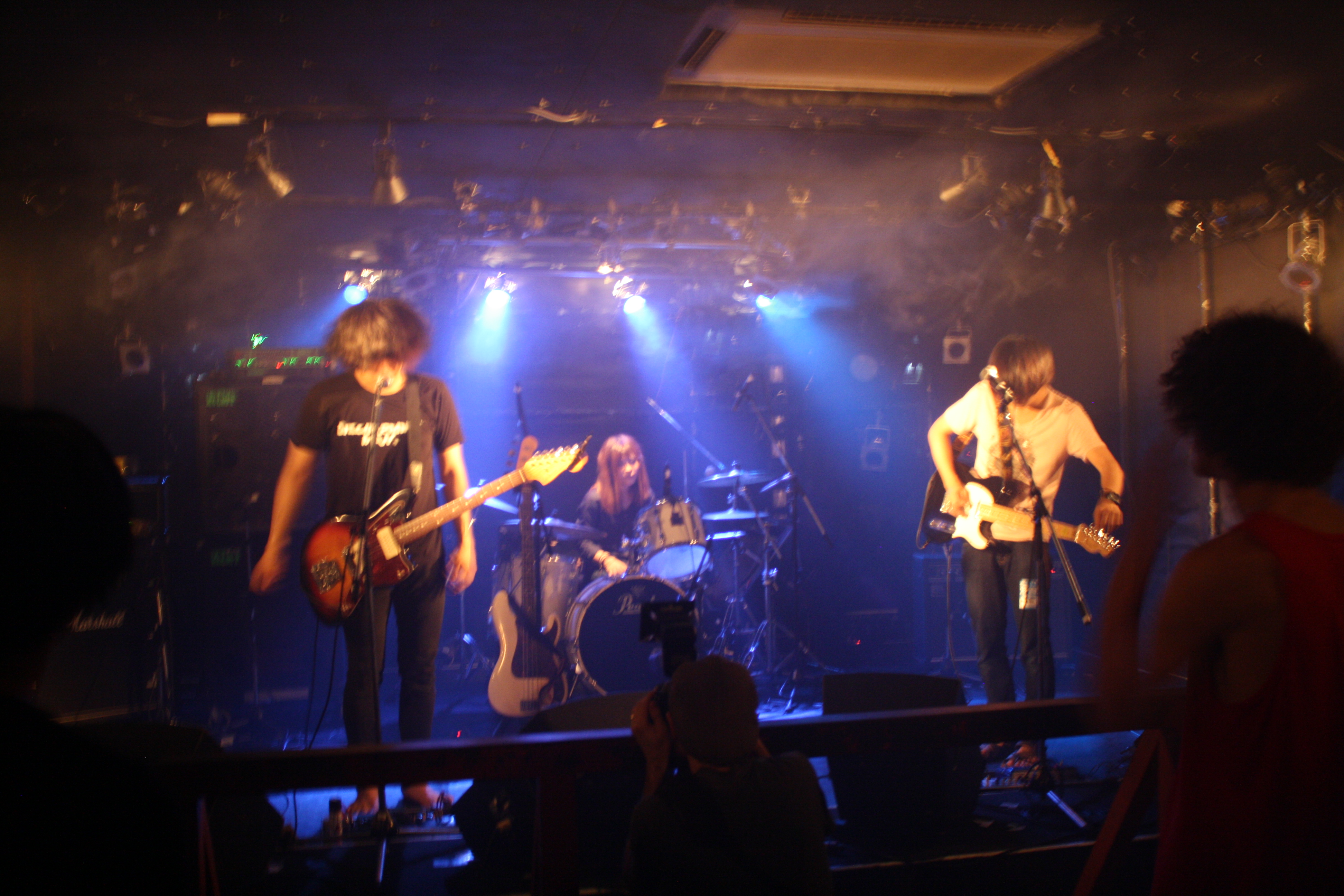 First band at Fan J in Osaka.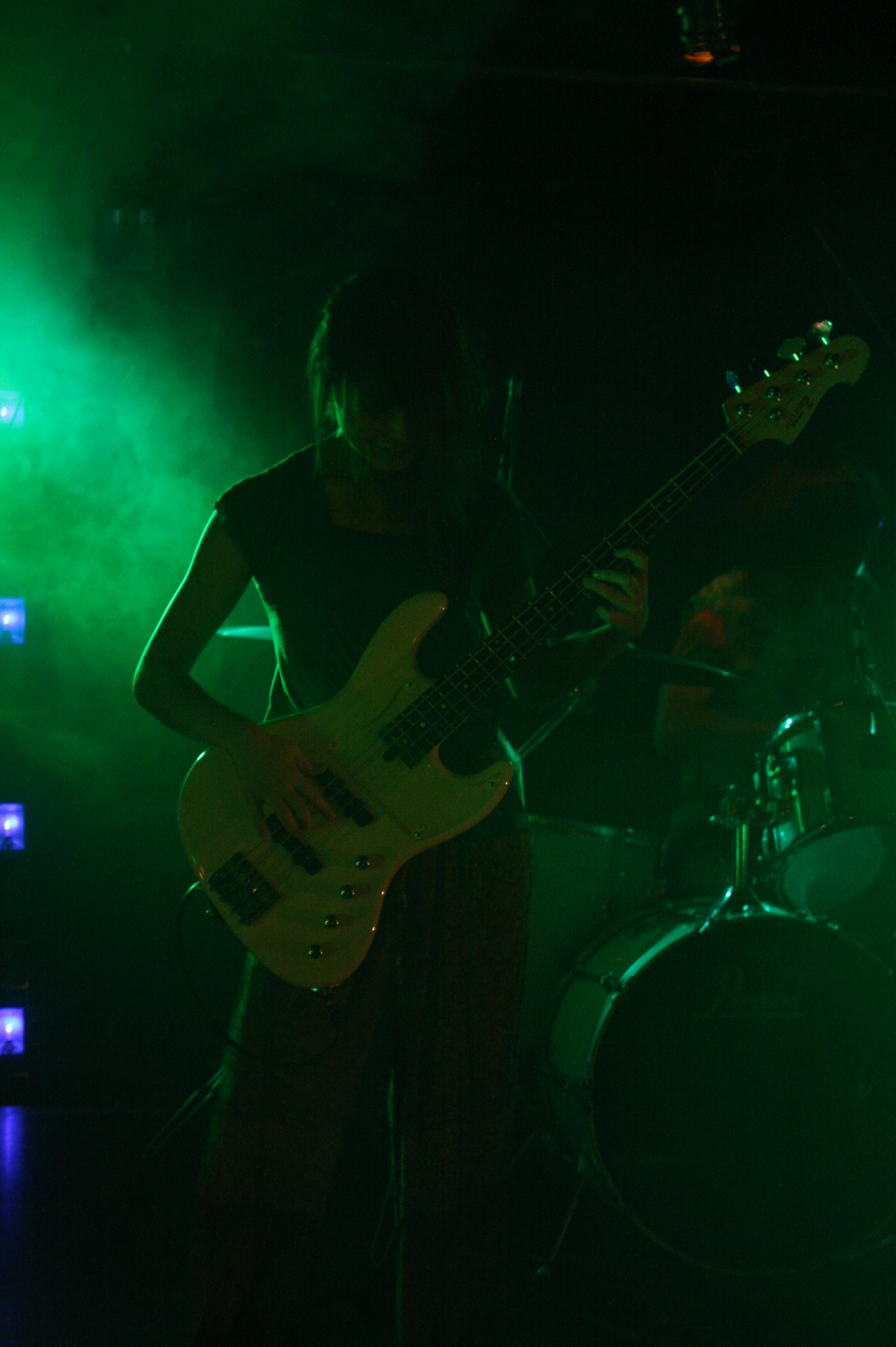 Yui from Suichu Blanco.
Yuta from Suichu Blanco.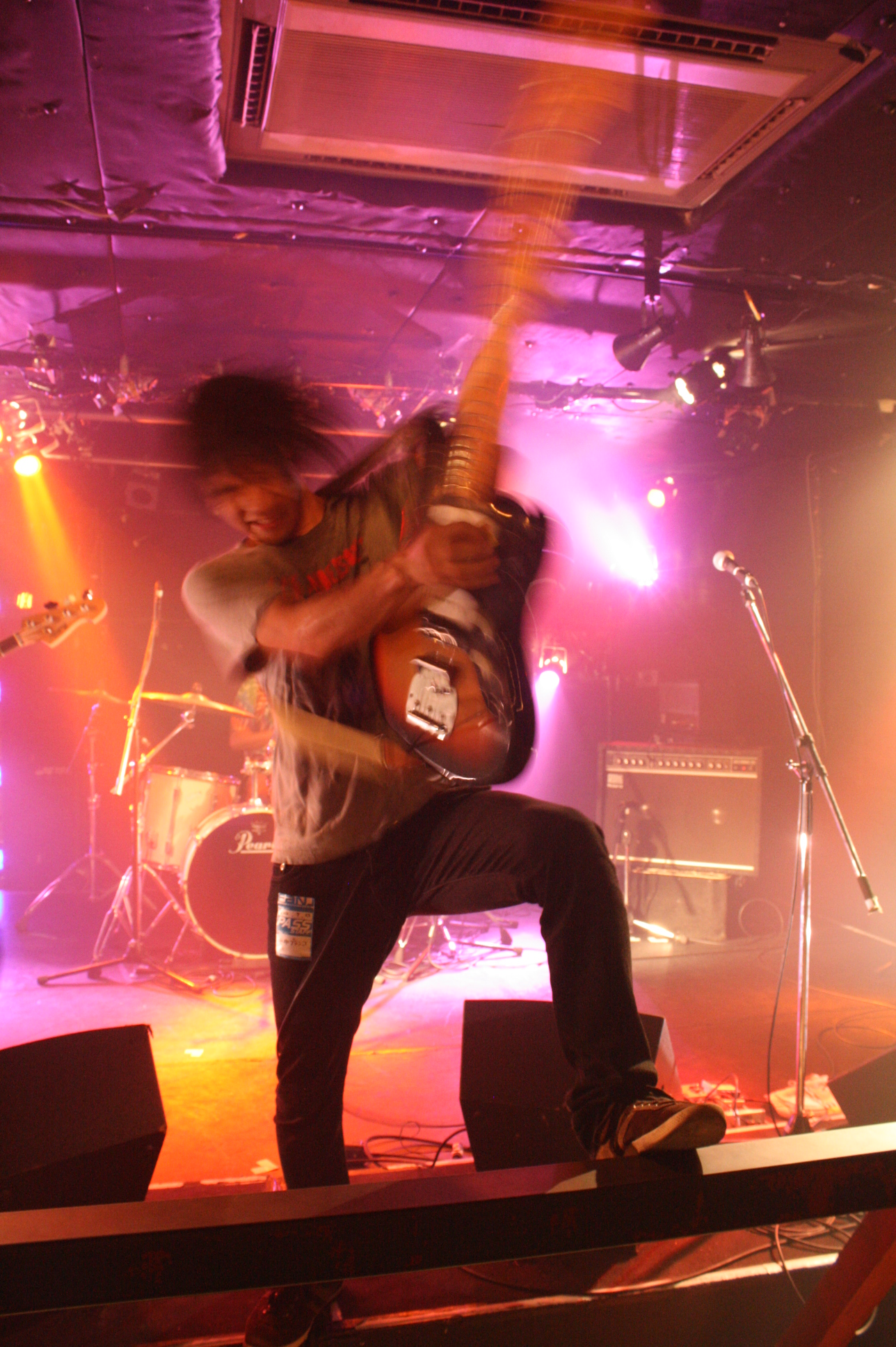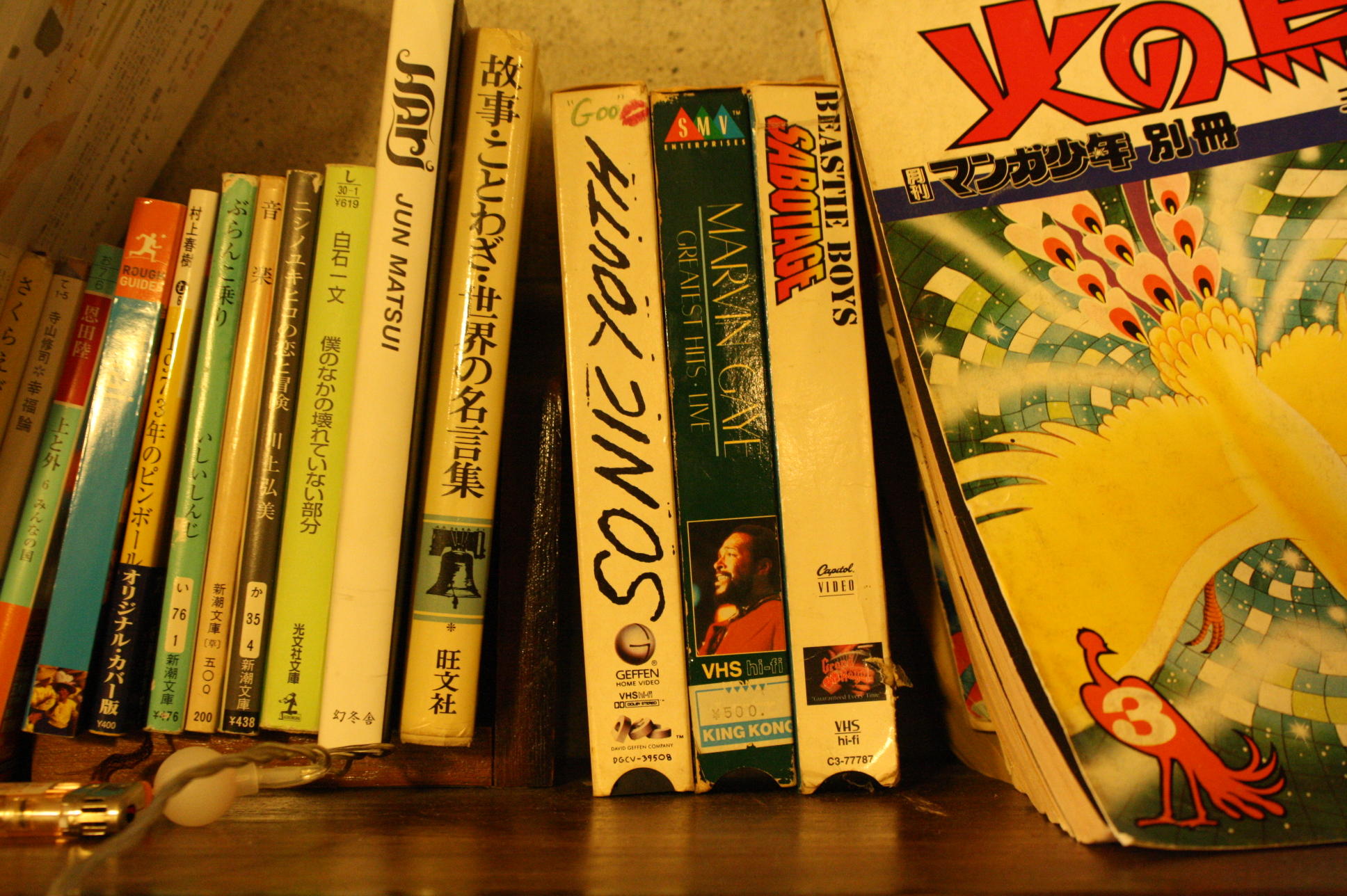 The Hostel in Osaka was reallllly awesome.  Ten Hostel it was called. I highly recommend!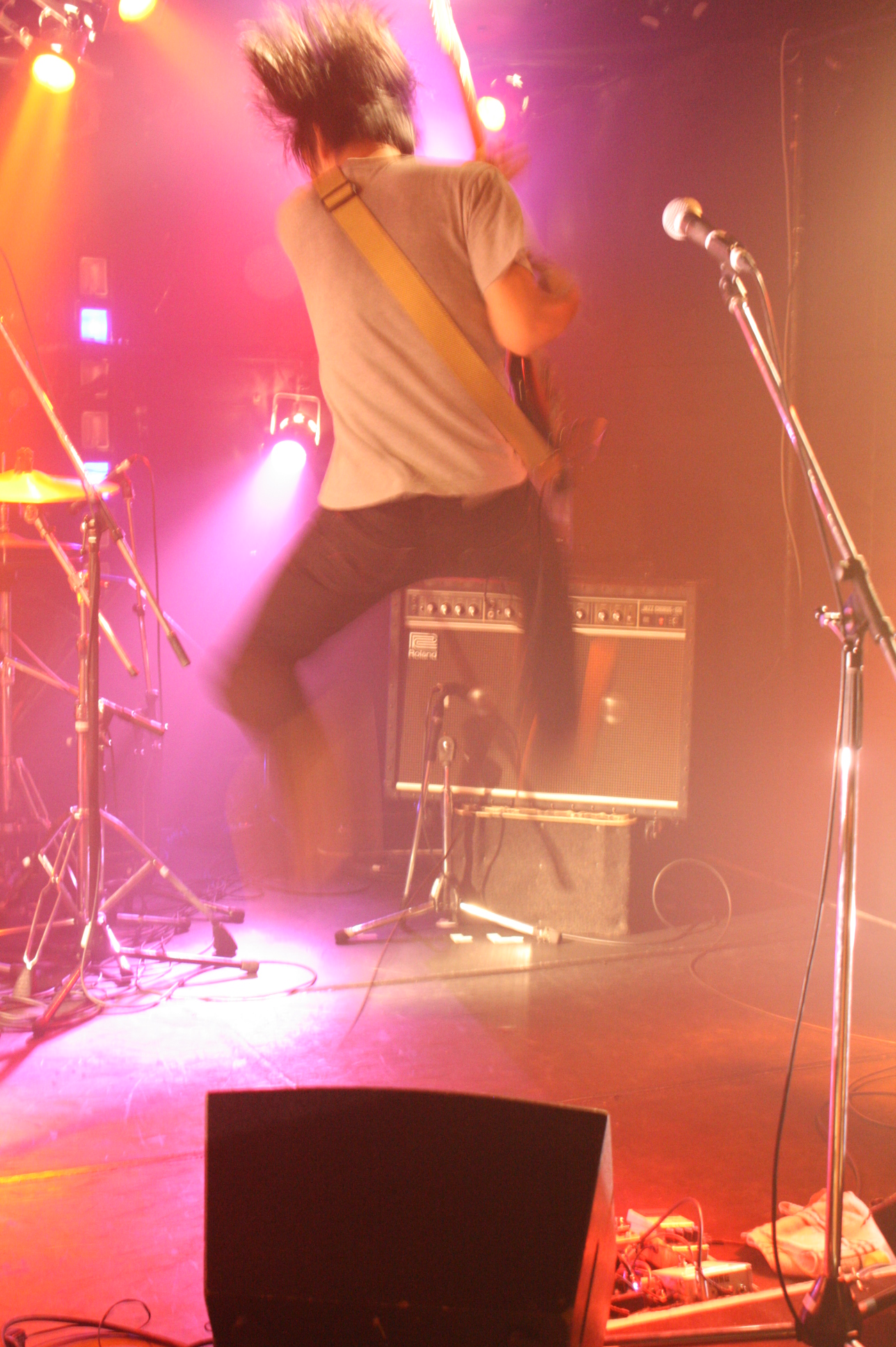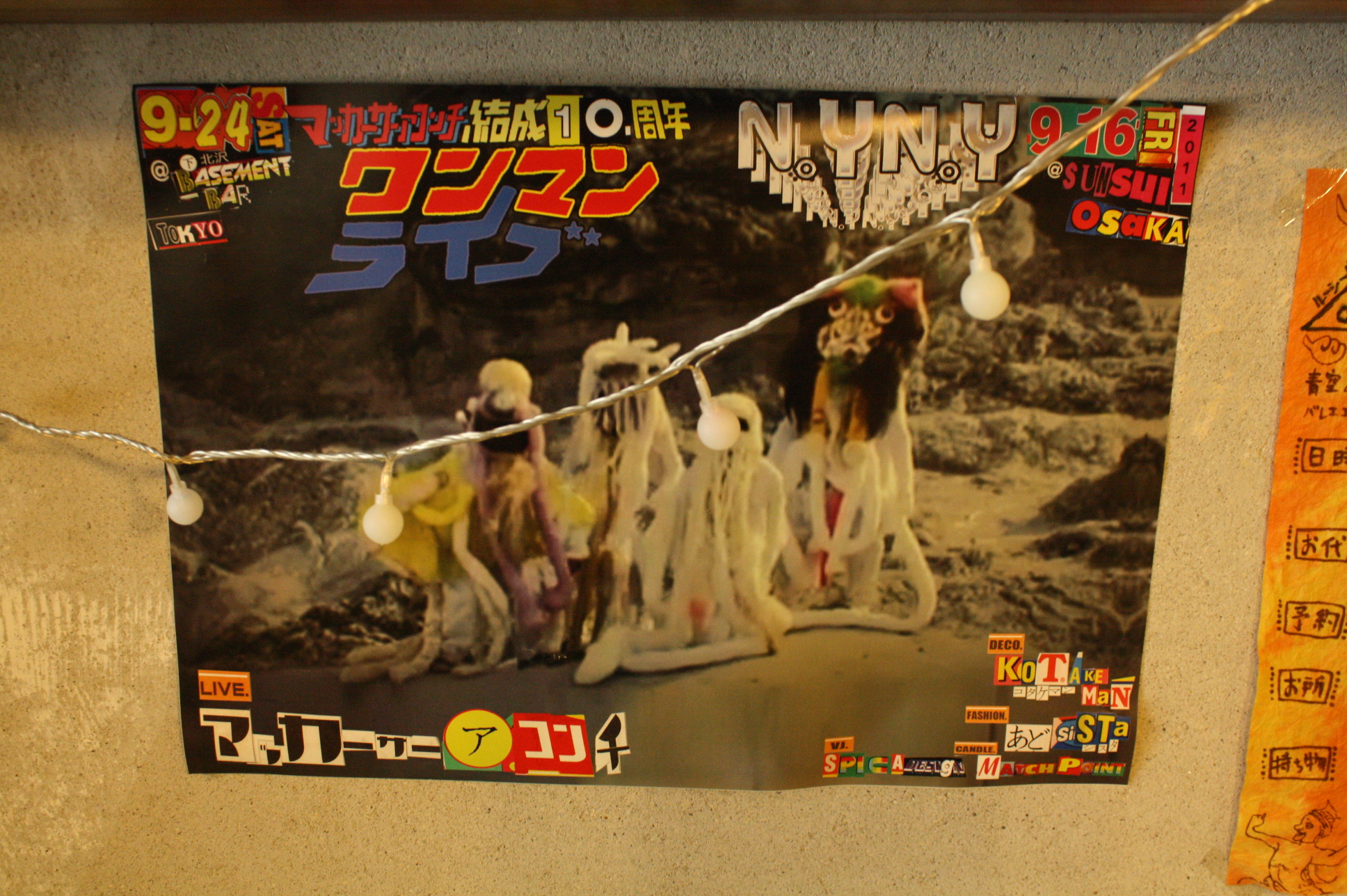 The cops were trying to get it together.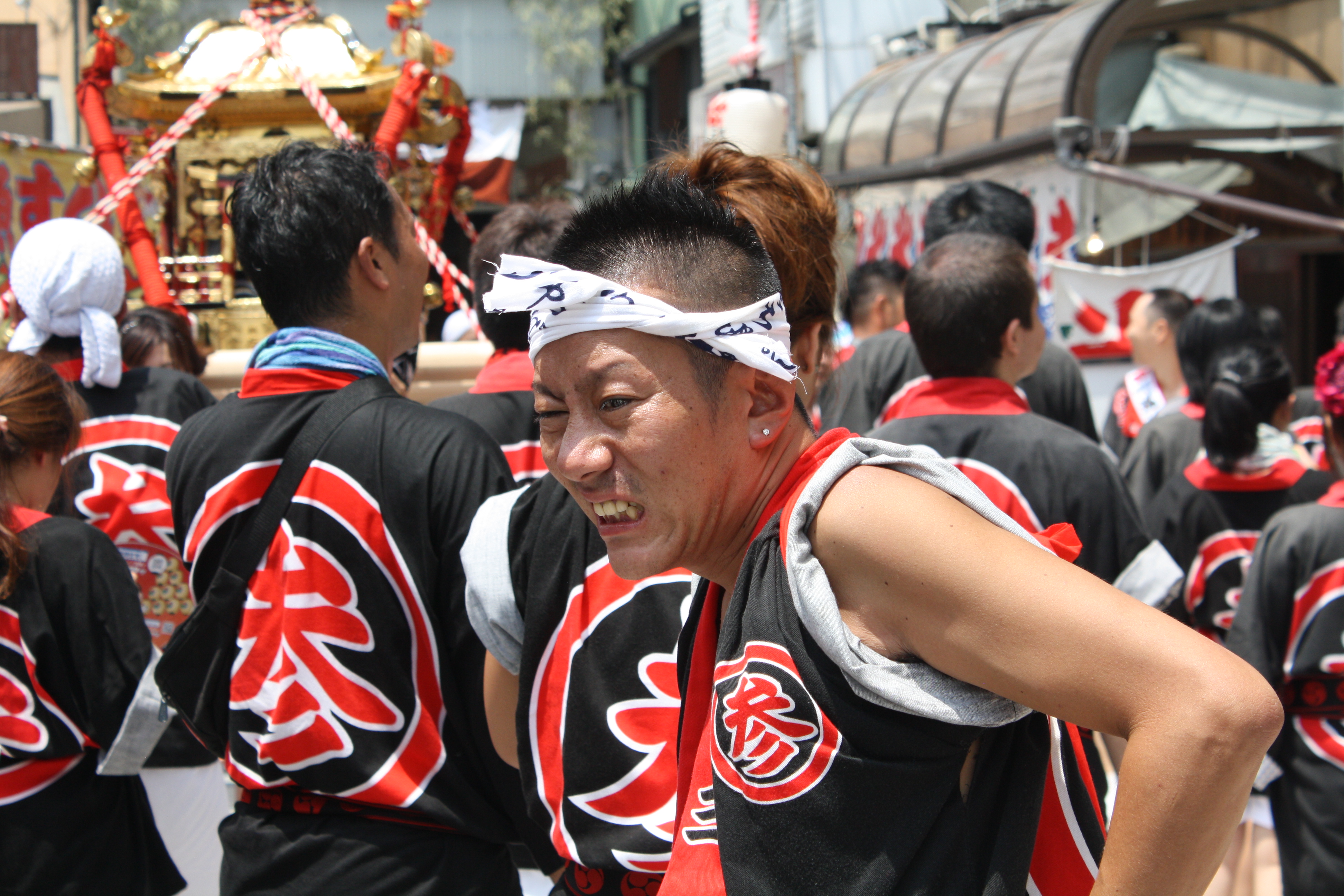 I hopped into a really cool parade at the beginning of a very long festival to honor the dead, this guy gave me the best mug of all time.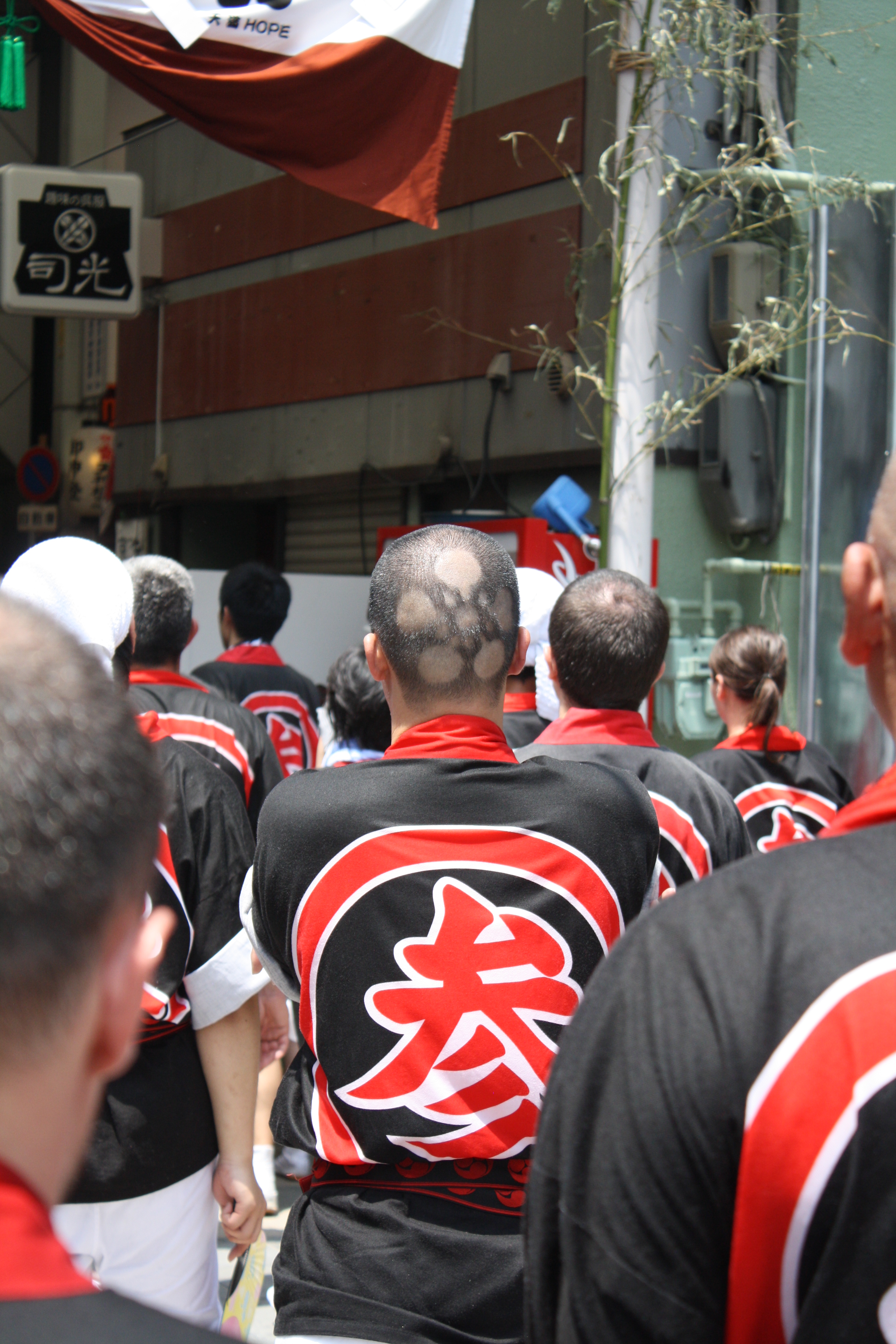 Sick Hair Designs.
This festival procession was really cool.  i met an amazing young lady named Aki that told me all about Osaka while we chatted.  And then I picked up some Okonamiyaki!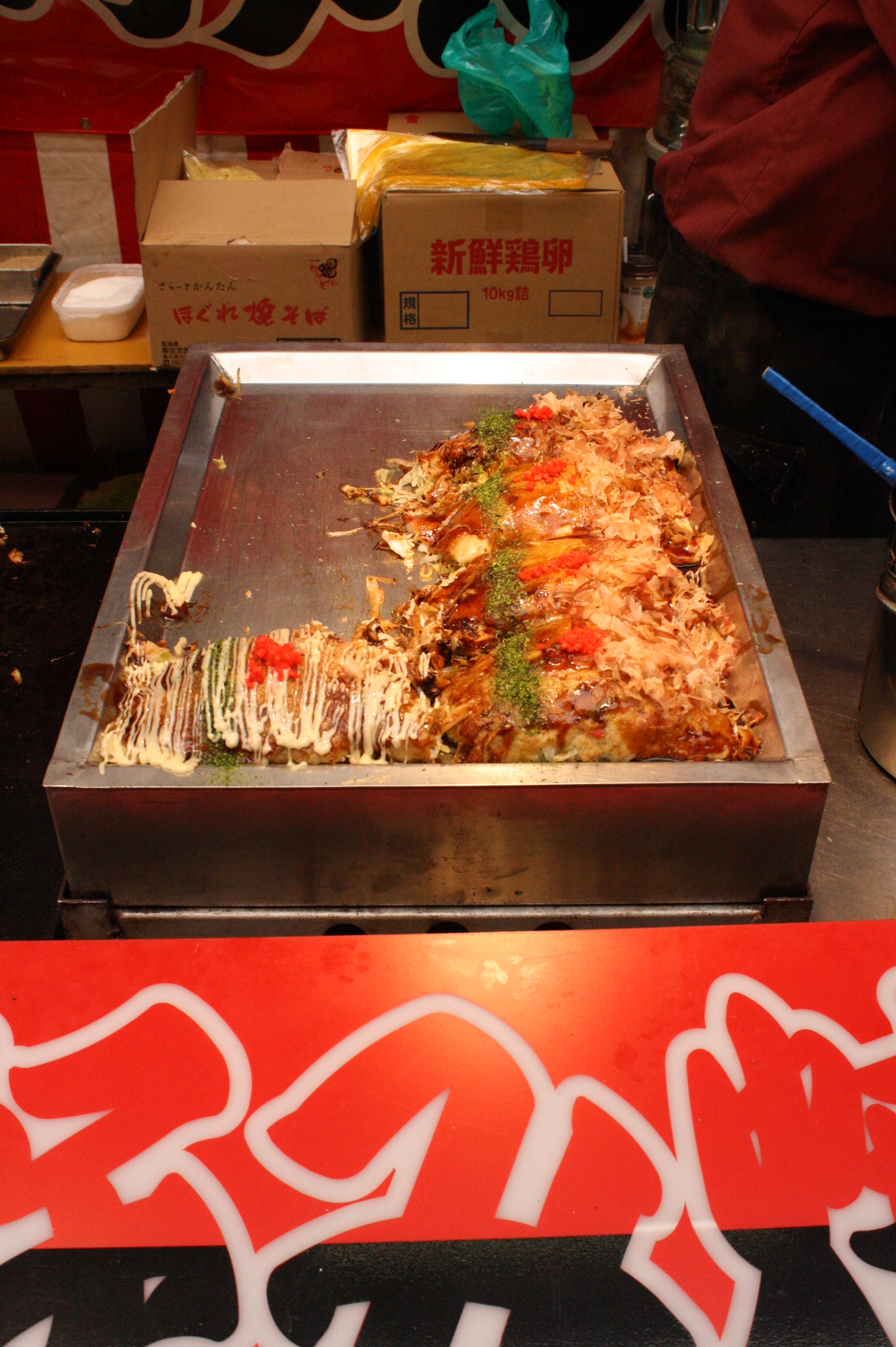 Yes, the best, the Osaka Style Okonamiyaki.  This edible delight concluded one of my food journeys on the trip.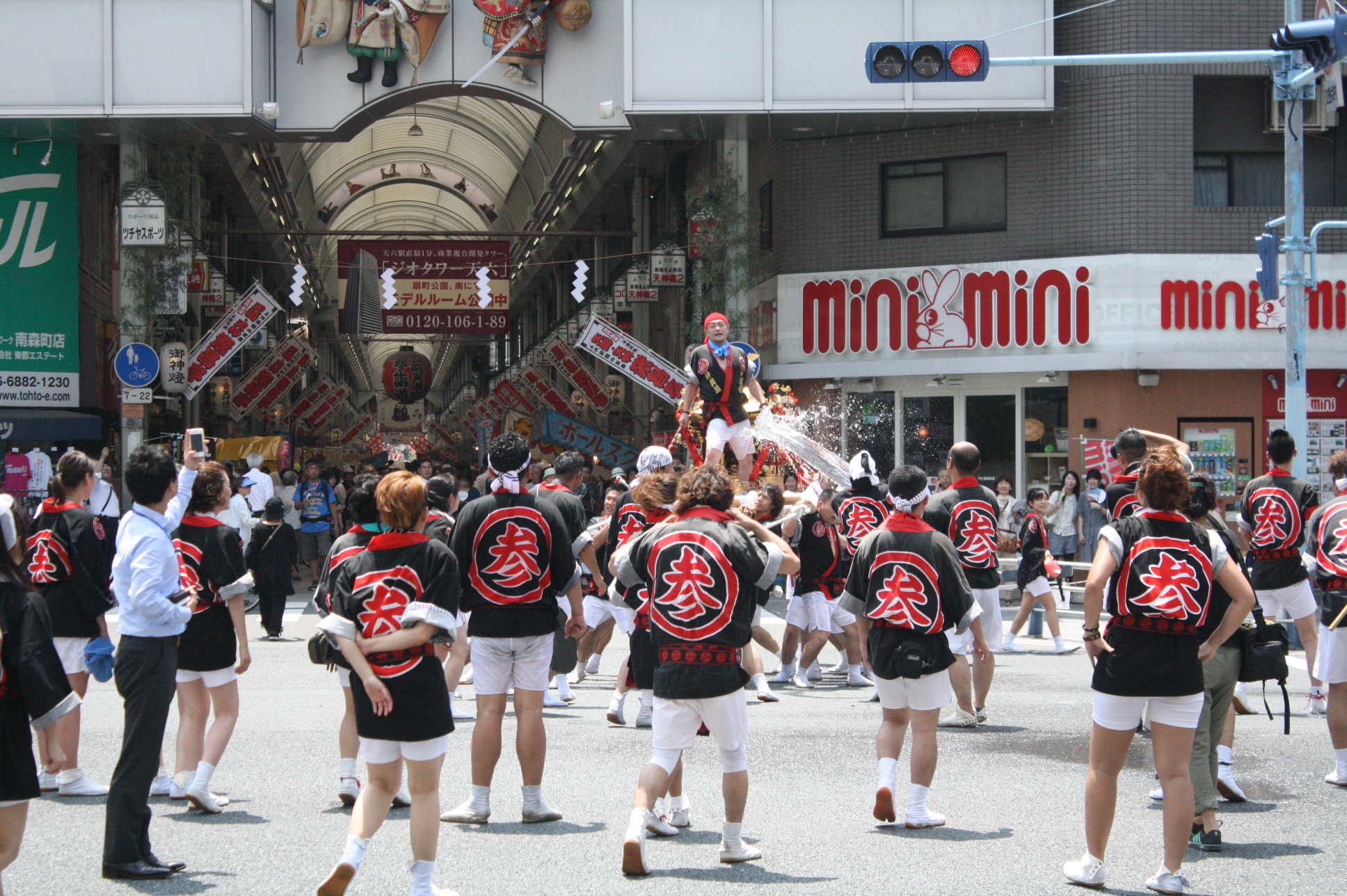 They were throwing water on people, trying to make them fall off a giant super heavy temple platform in the middle of an intersection! Osaka is Crazy and super Awesome!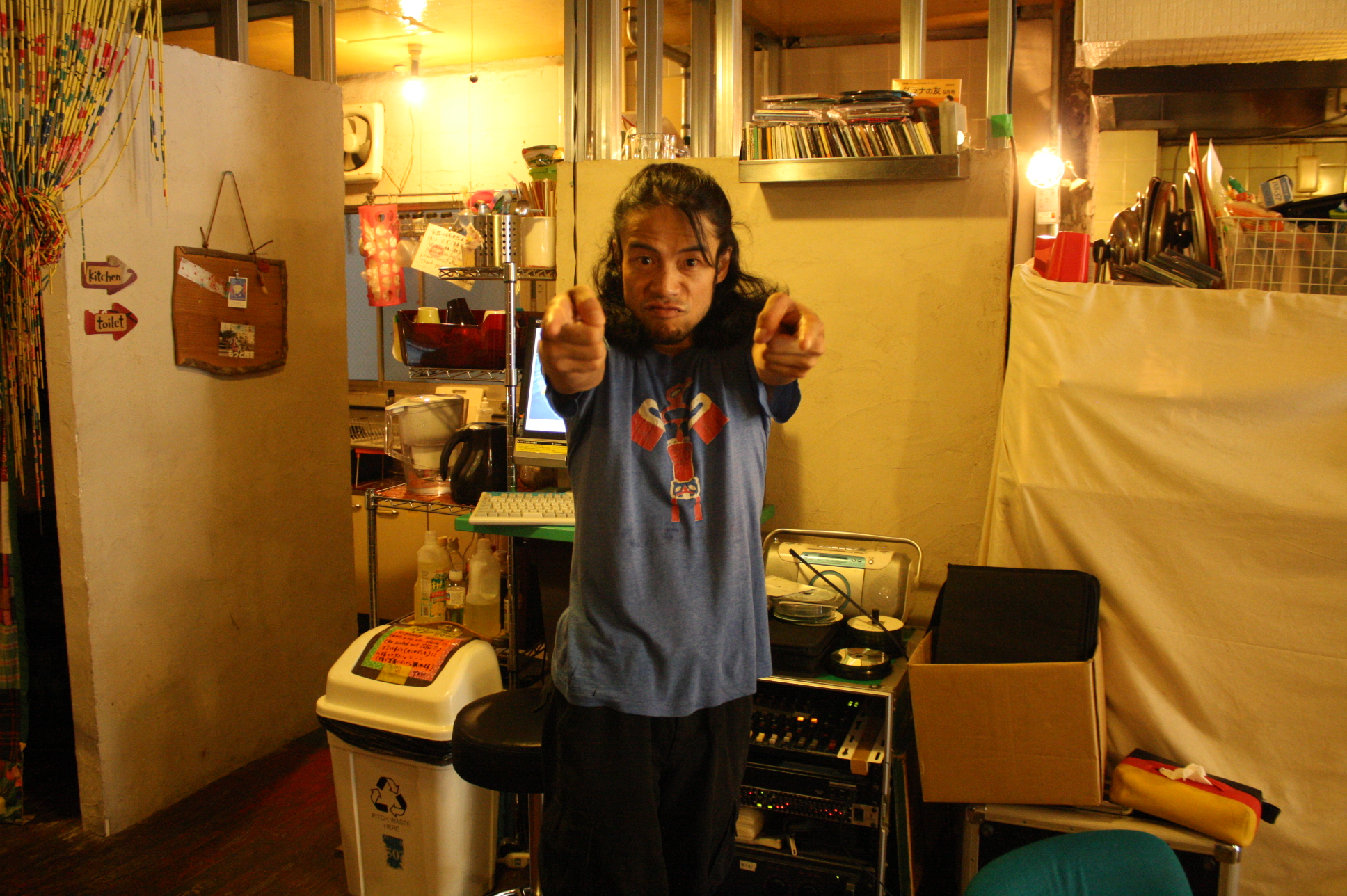 Ken Minami as we are about to leave the hostel.  From here we went to my final tour destination, Kyoto.  Kyoto was so amazing.  It is a beautiful and historical city, and the bands at this show were some of the best I have ever heard or seen, ever. No joke, they threw down in Kyoto, it was crazy!  Here is a super cutie for you and a whole bunch of photos of my last day of being on tour.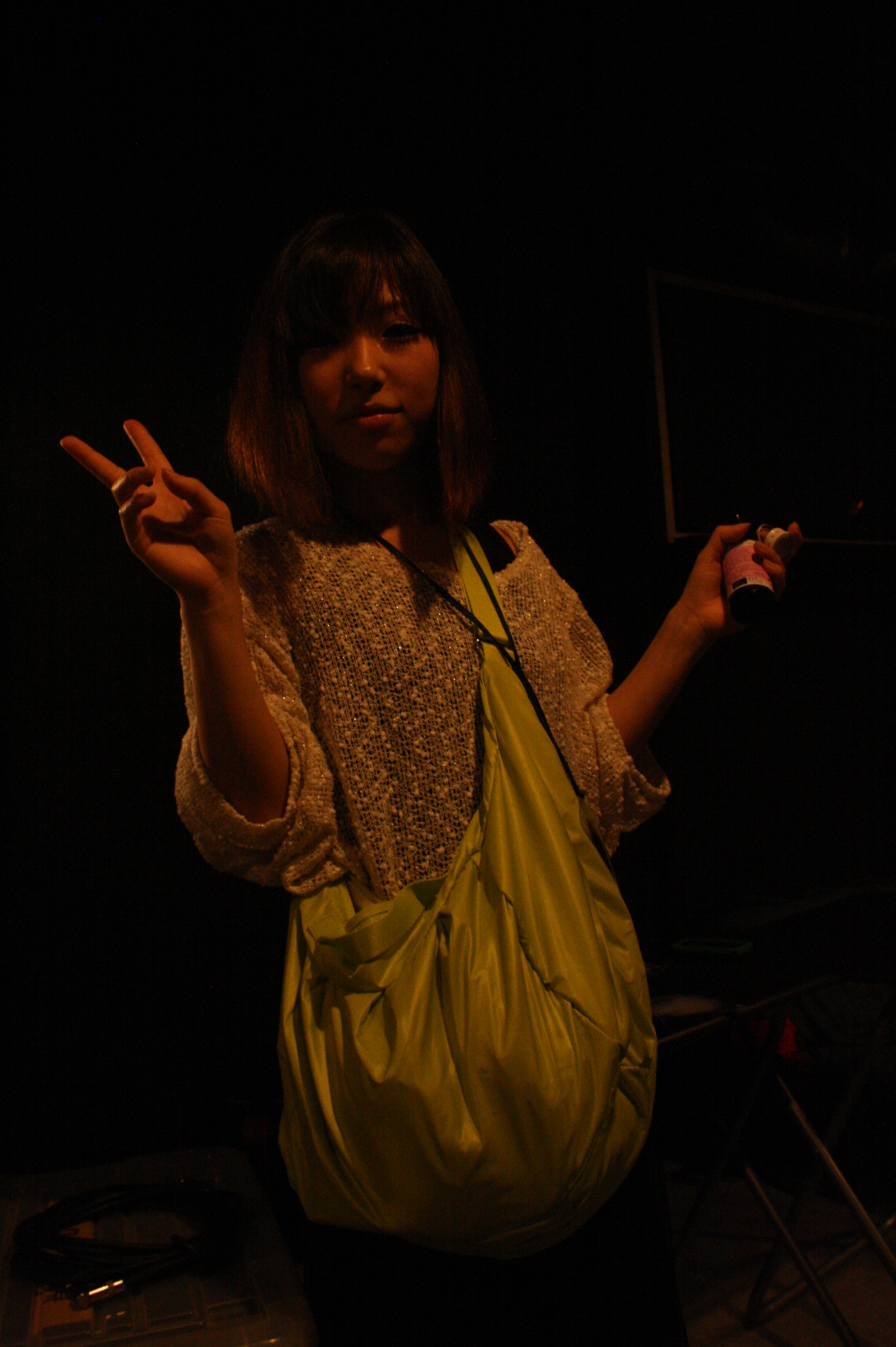 Yes, she was dope, and turned out to be one of the best drummers around.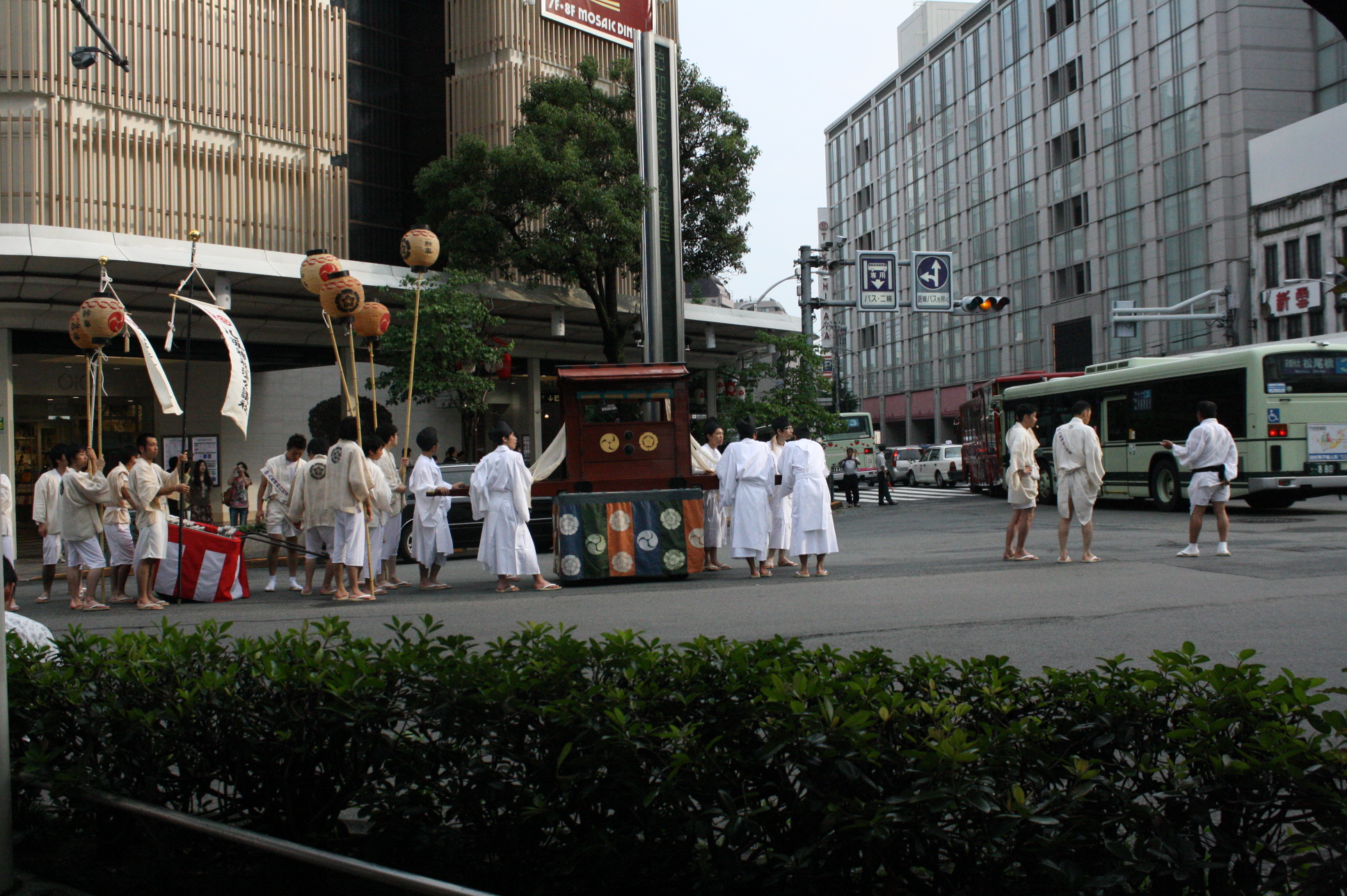 Yet another procession in the middle of the street in the middle of the day. So Cool.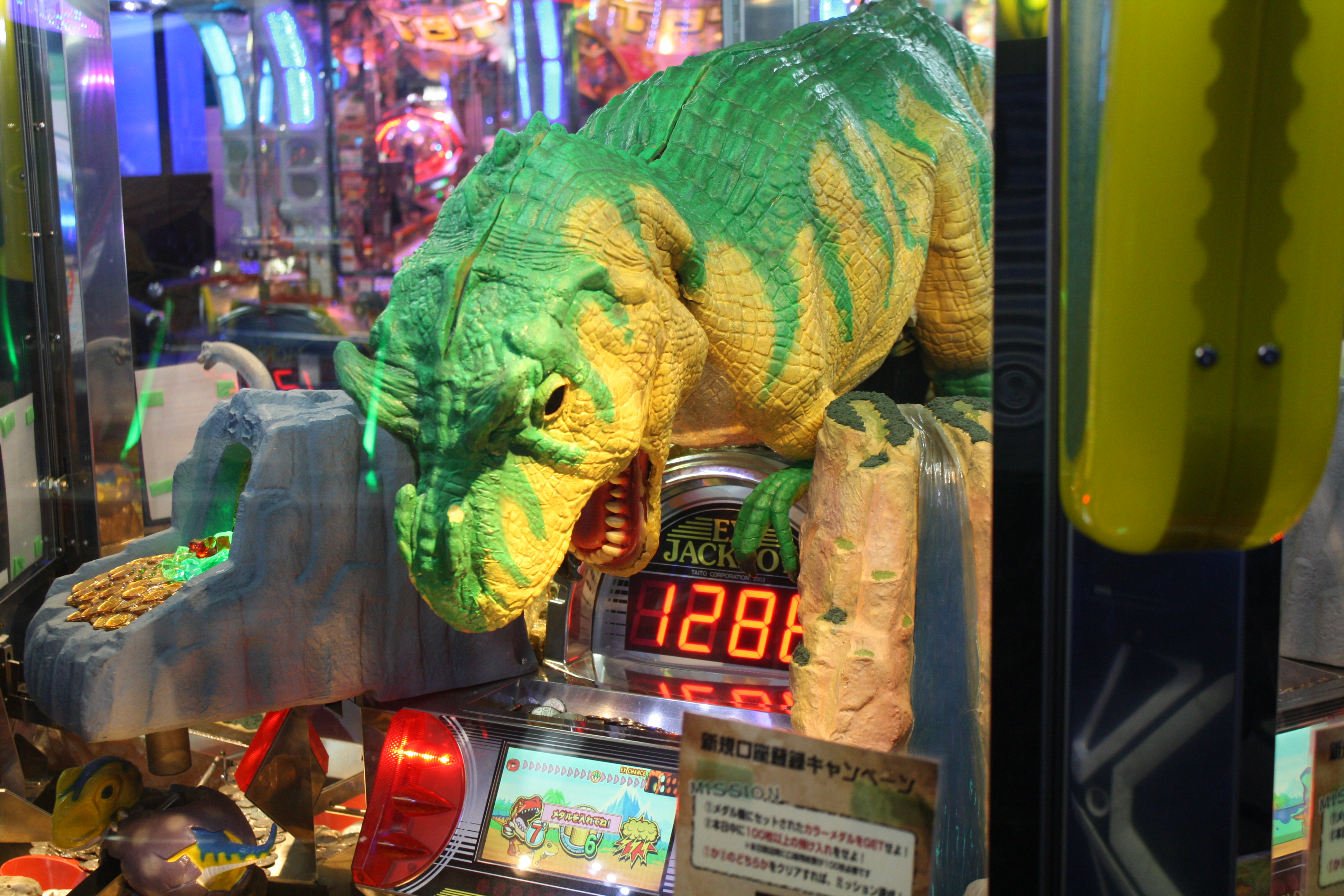 Crazy Dinosaur Pachinko Game at a five story fun zone.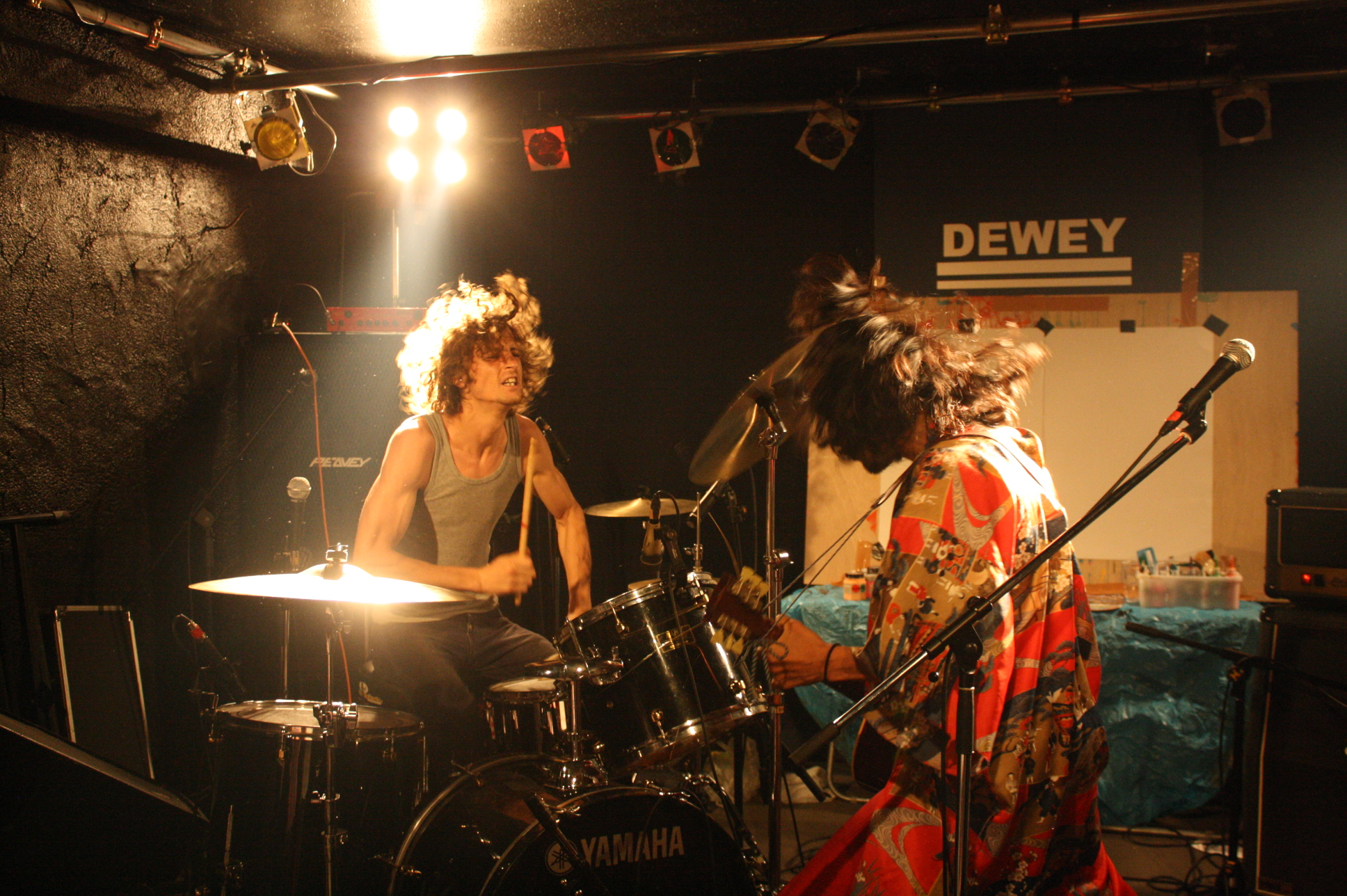 Ken and Adam Going In!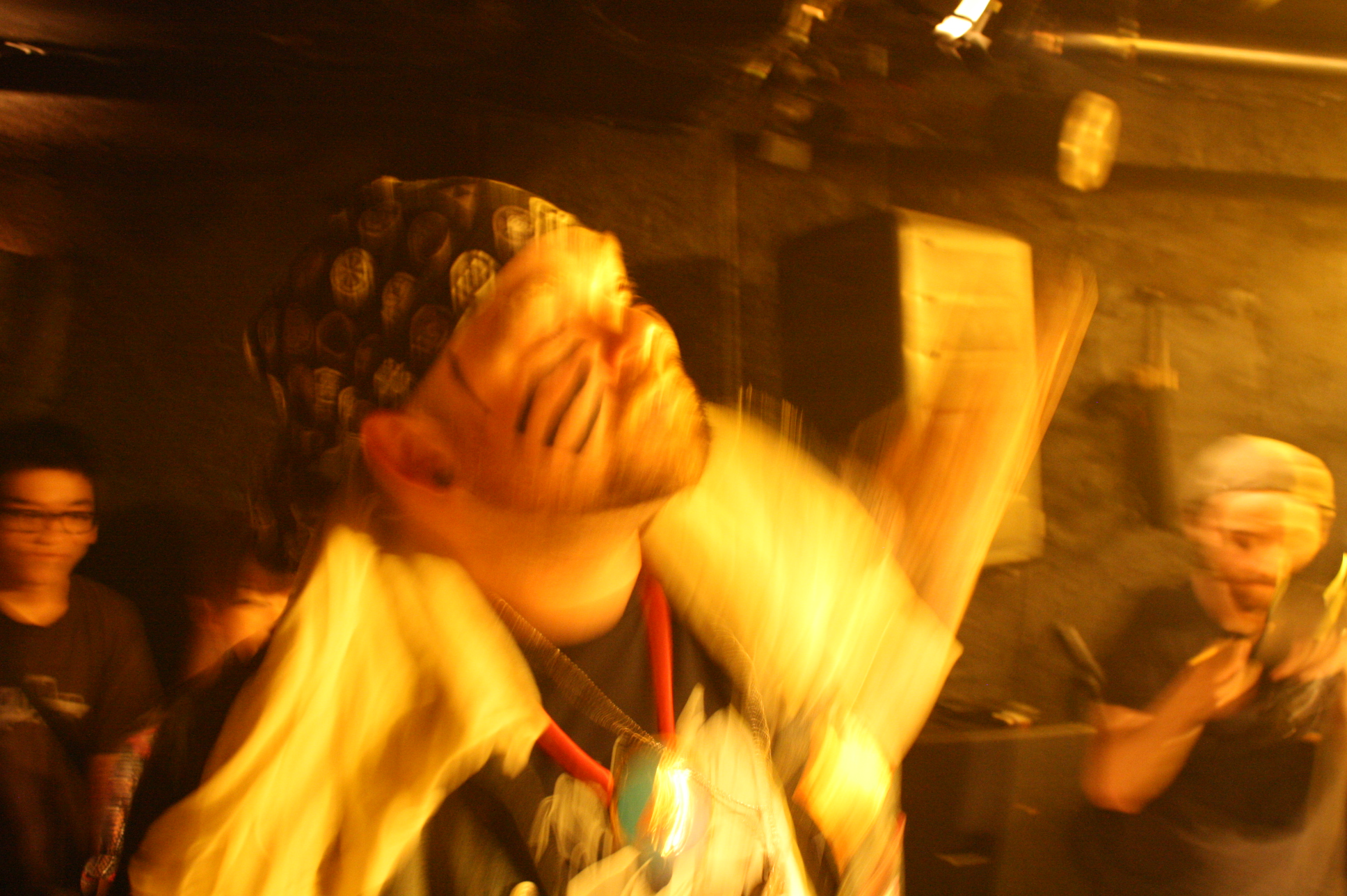 Then I came up dancing to the stage...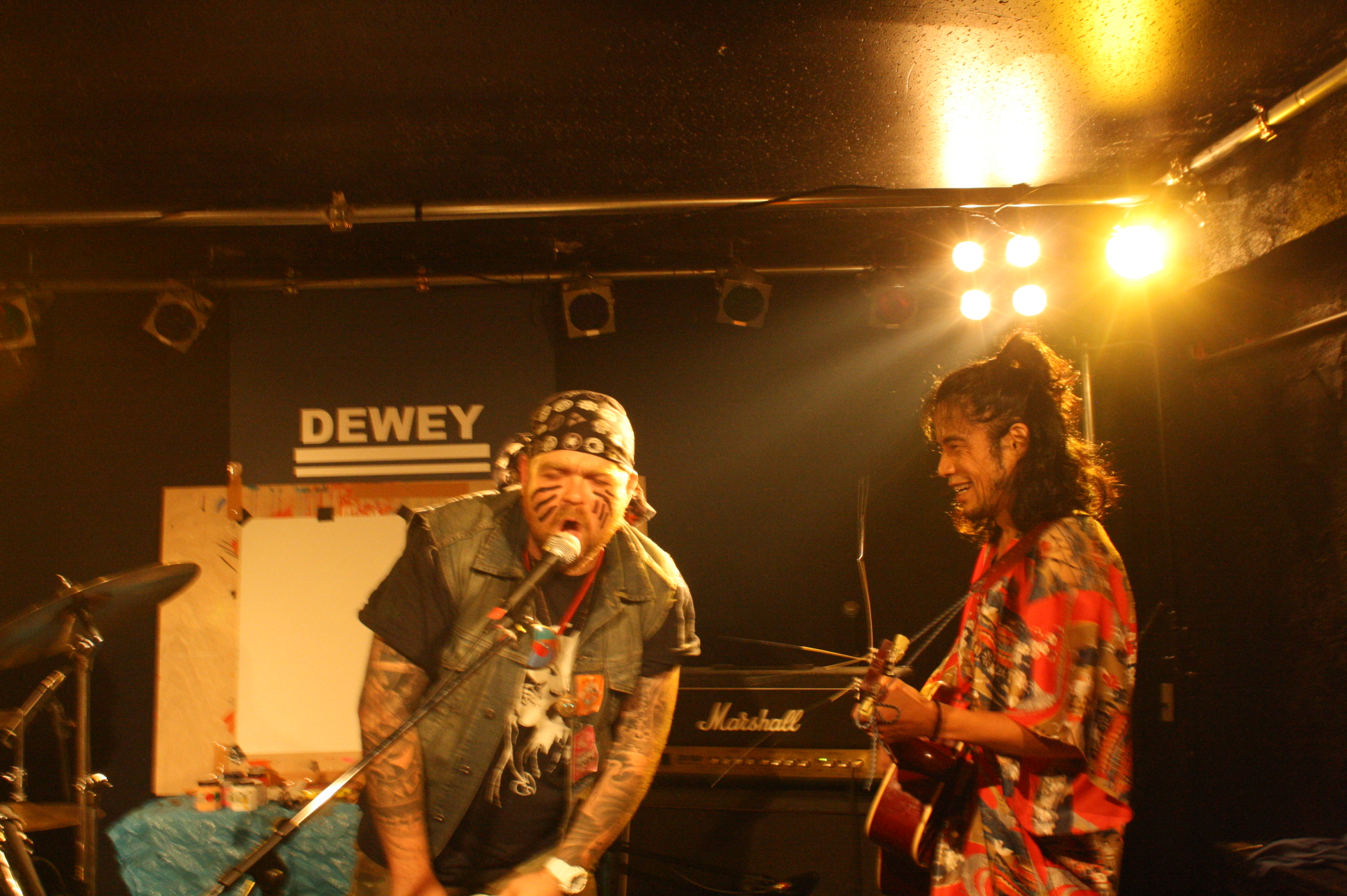 What's Up Kyoto!!! Yabeiiiiiii!!!!!!!...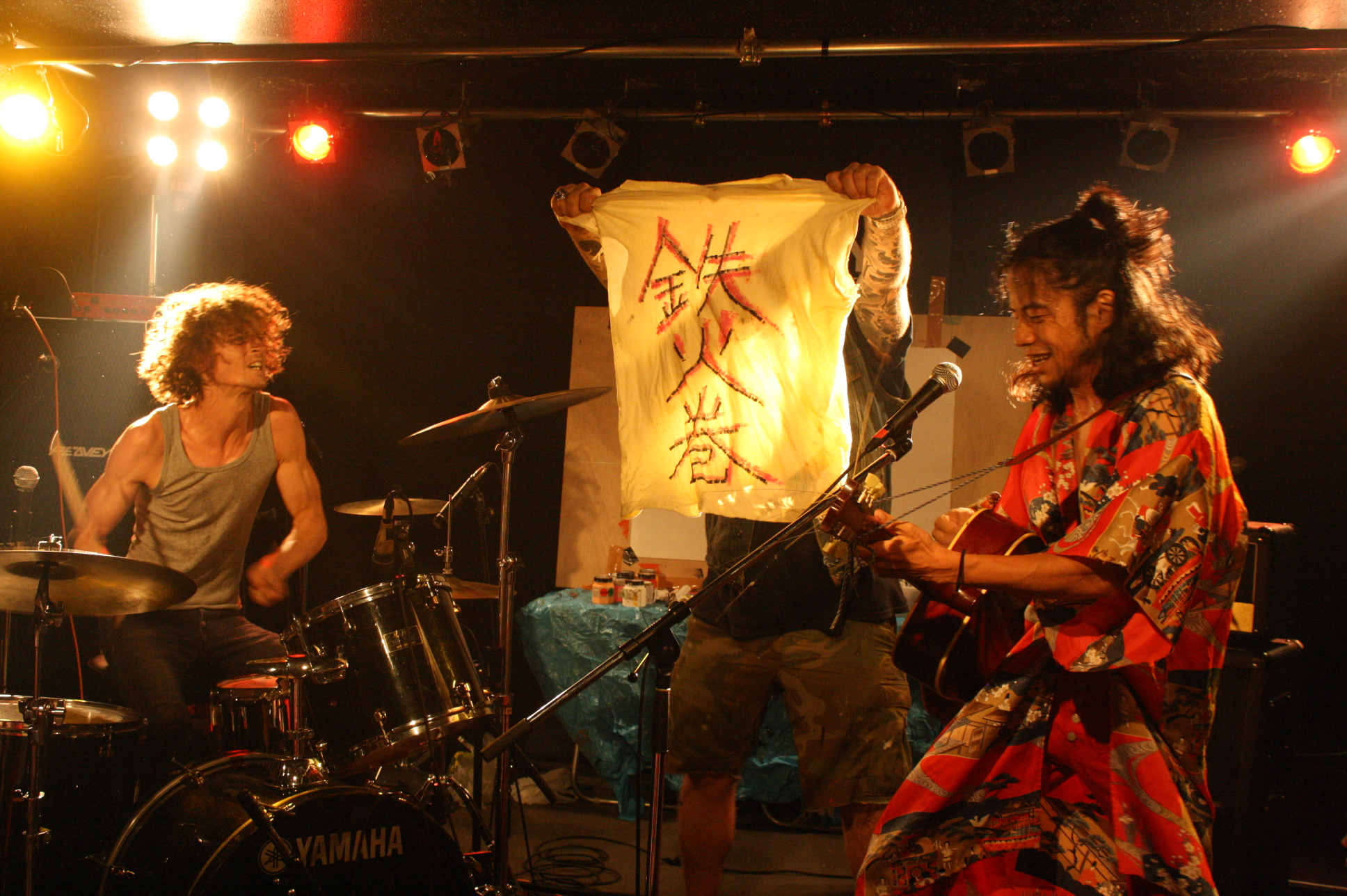 Tekkamaki Reigned Supreme...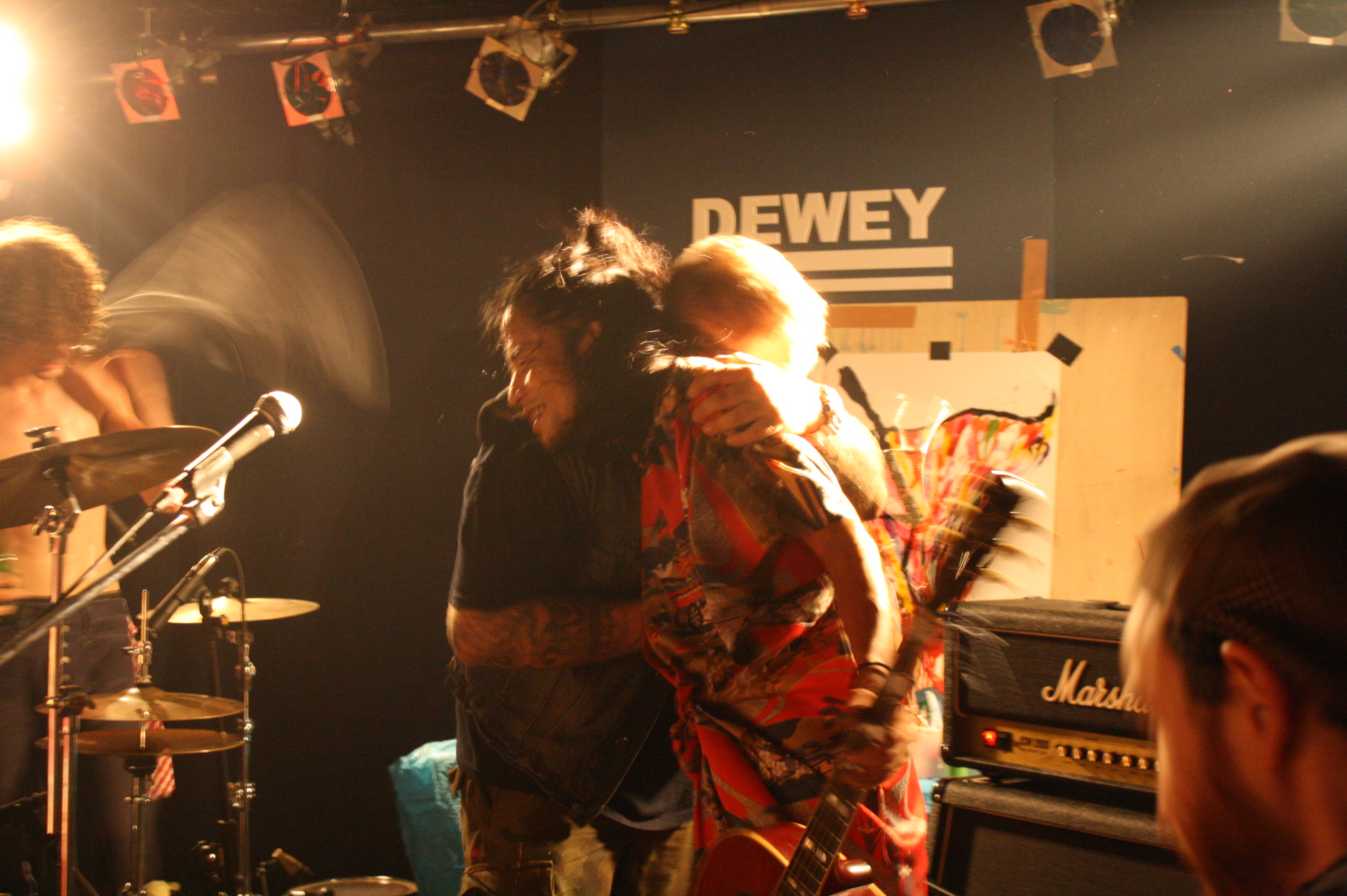 Hugs on stage were definitely in order as we finished our last performance as a trio.  Then it was time to kick it for my last night of touring...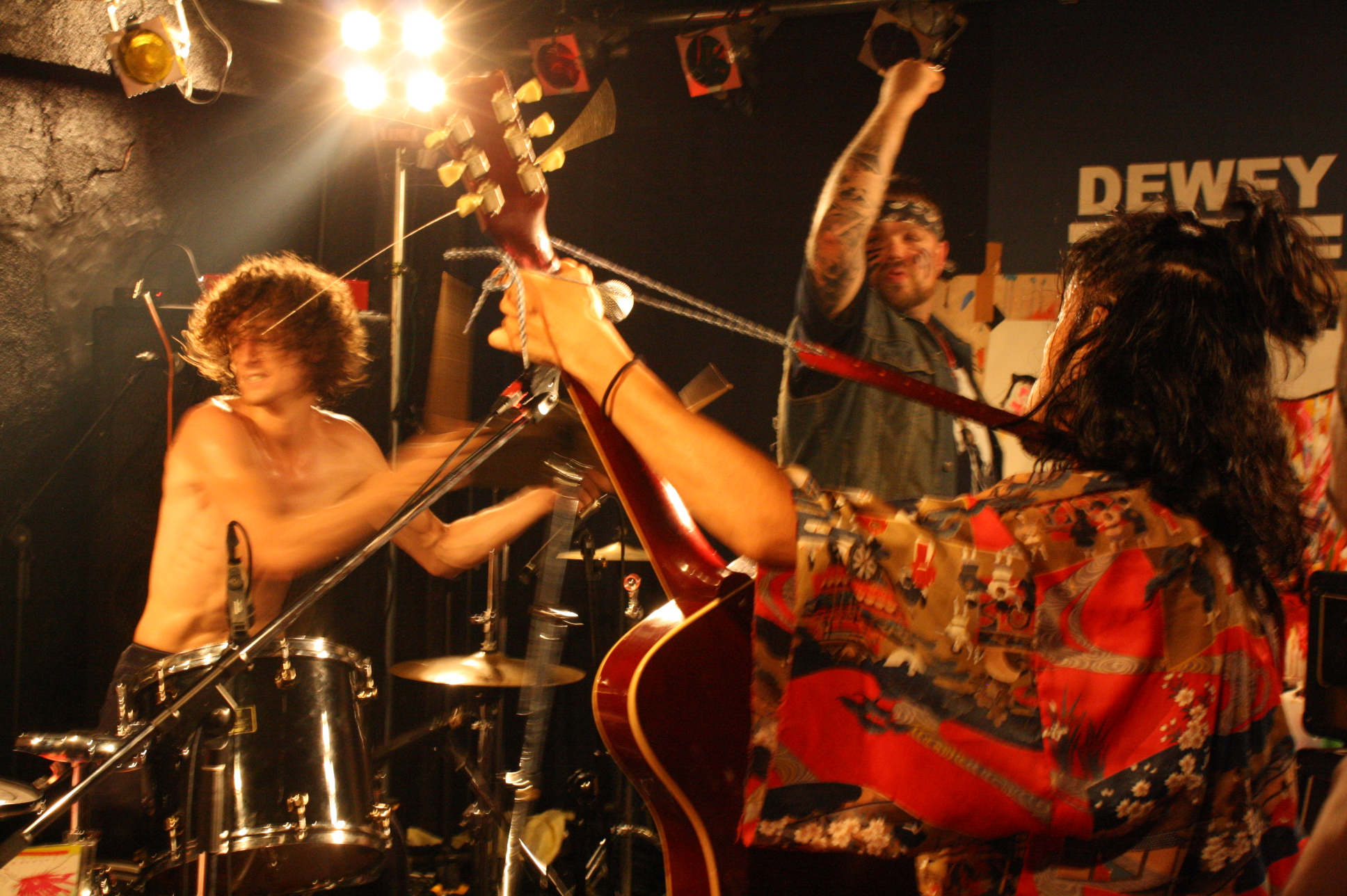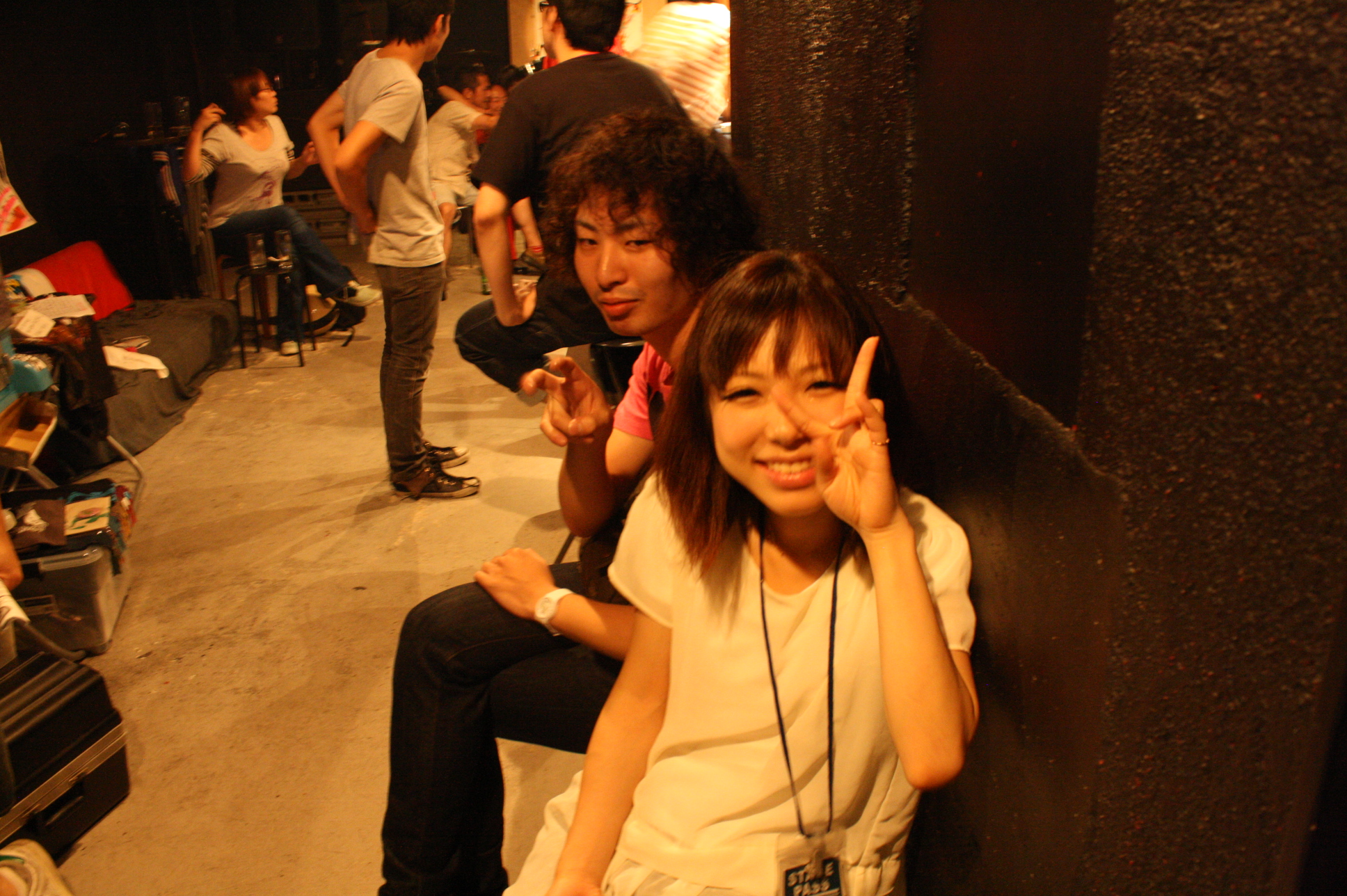 I hit the floor, super exhausted, and recharged with a Pepsi Nex, hahahahaha.  It's actually pretty good!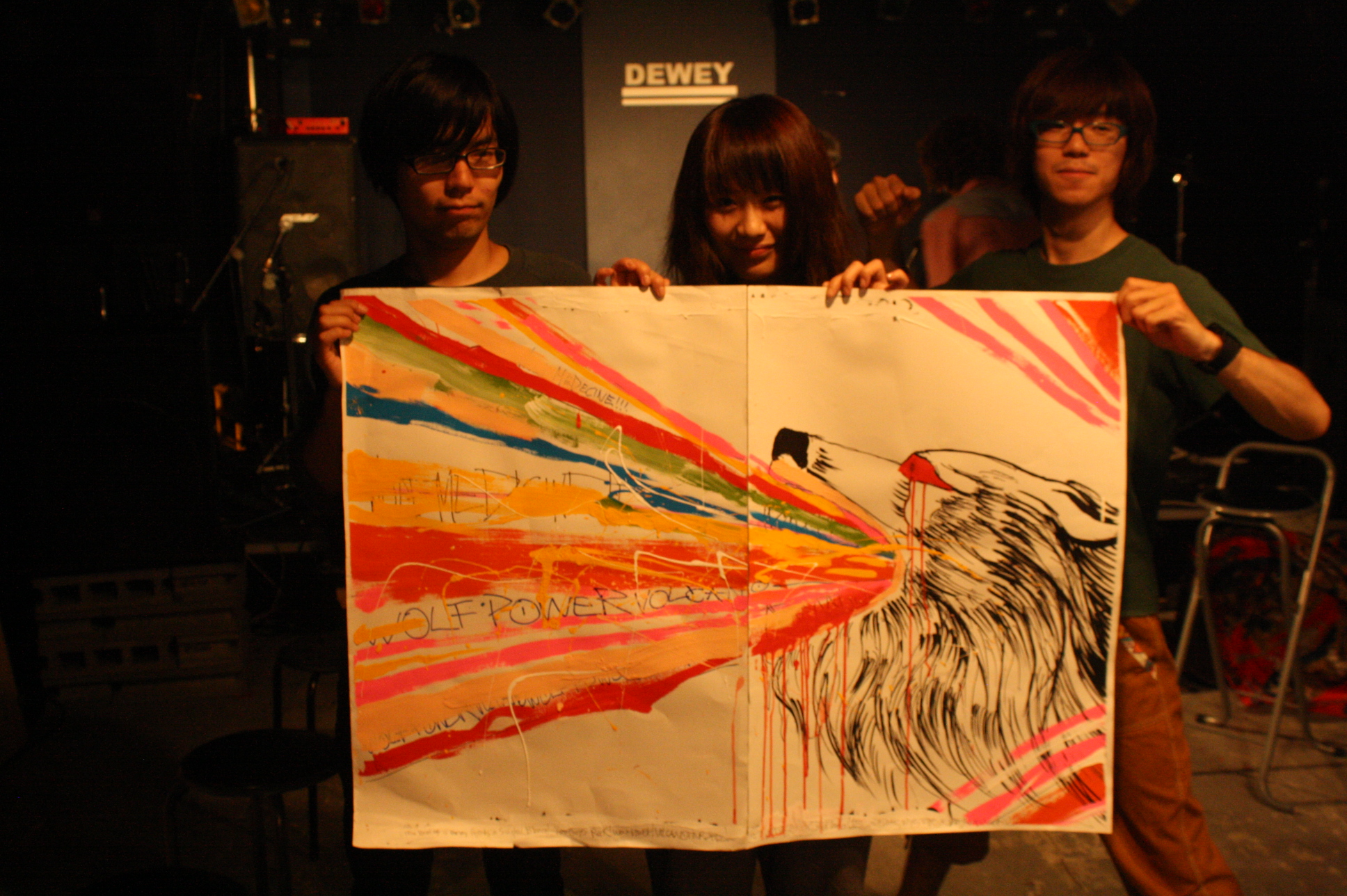 We gave this piece to Suichu Blanco for being such an awesome band to tour with.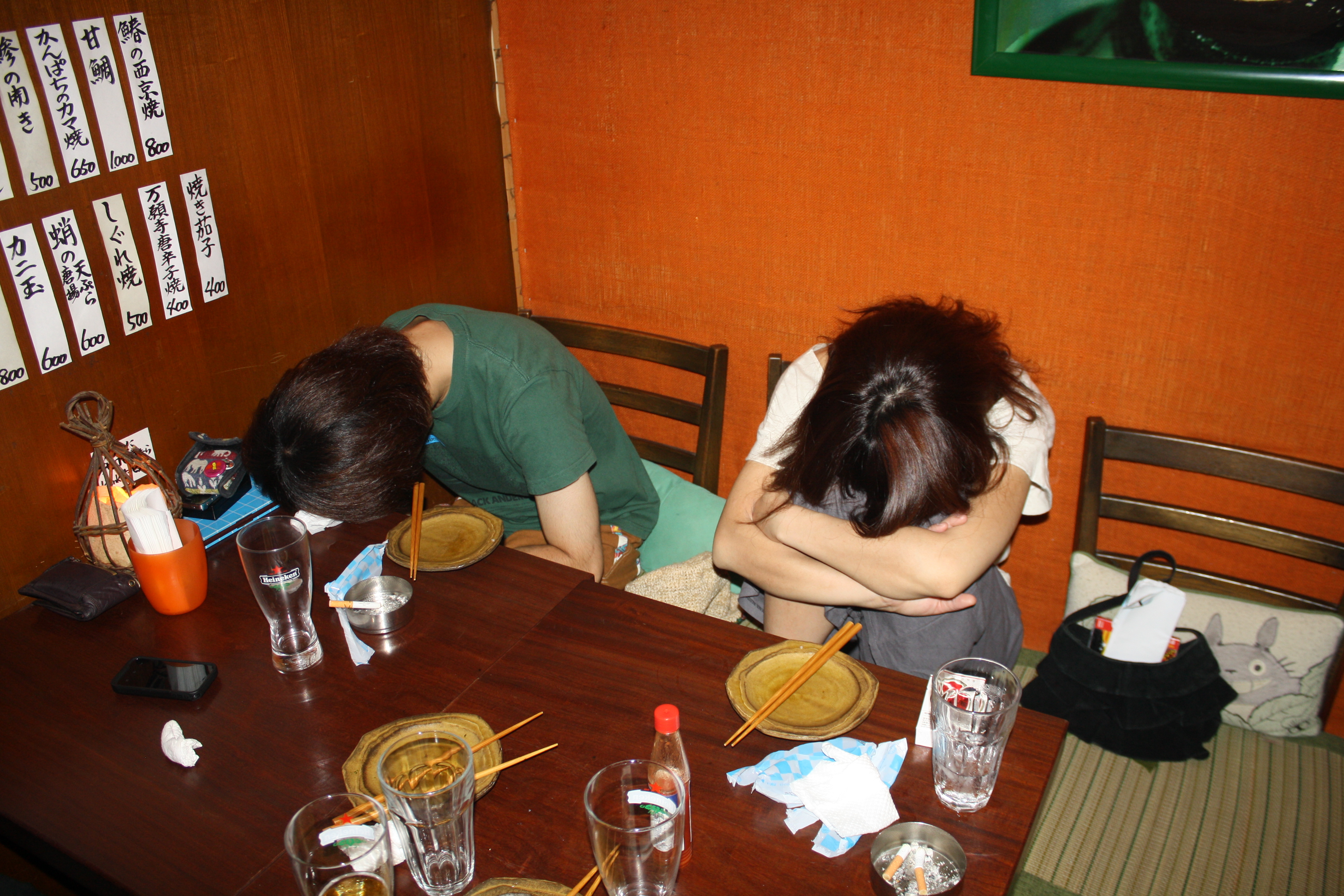 These two were the first casualties of the night.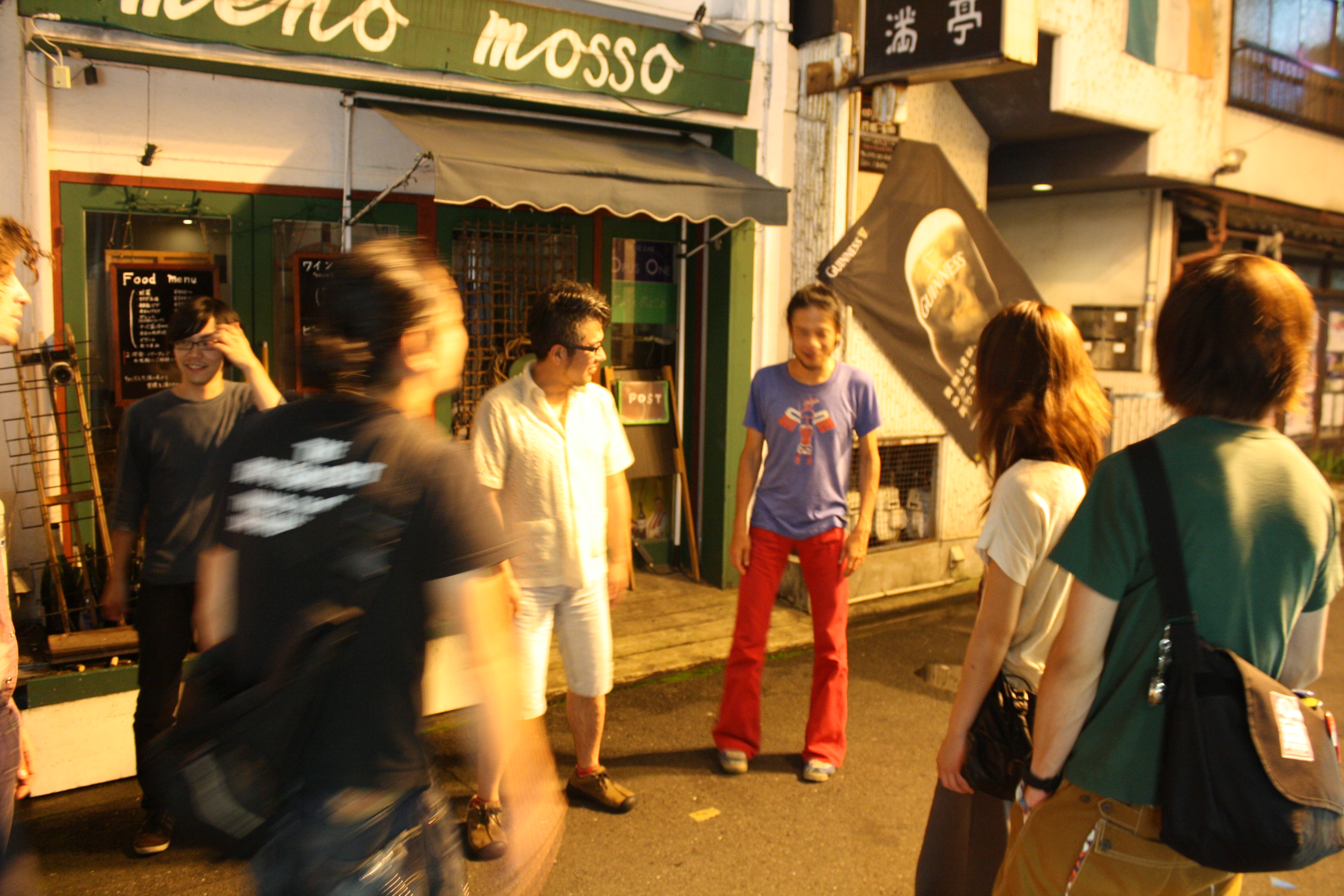 Then we poured into the street for a round of goodbyes, I headed to an internet cafe, and in the morning...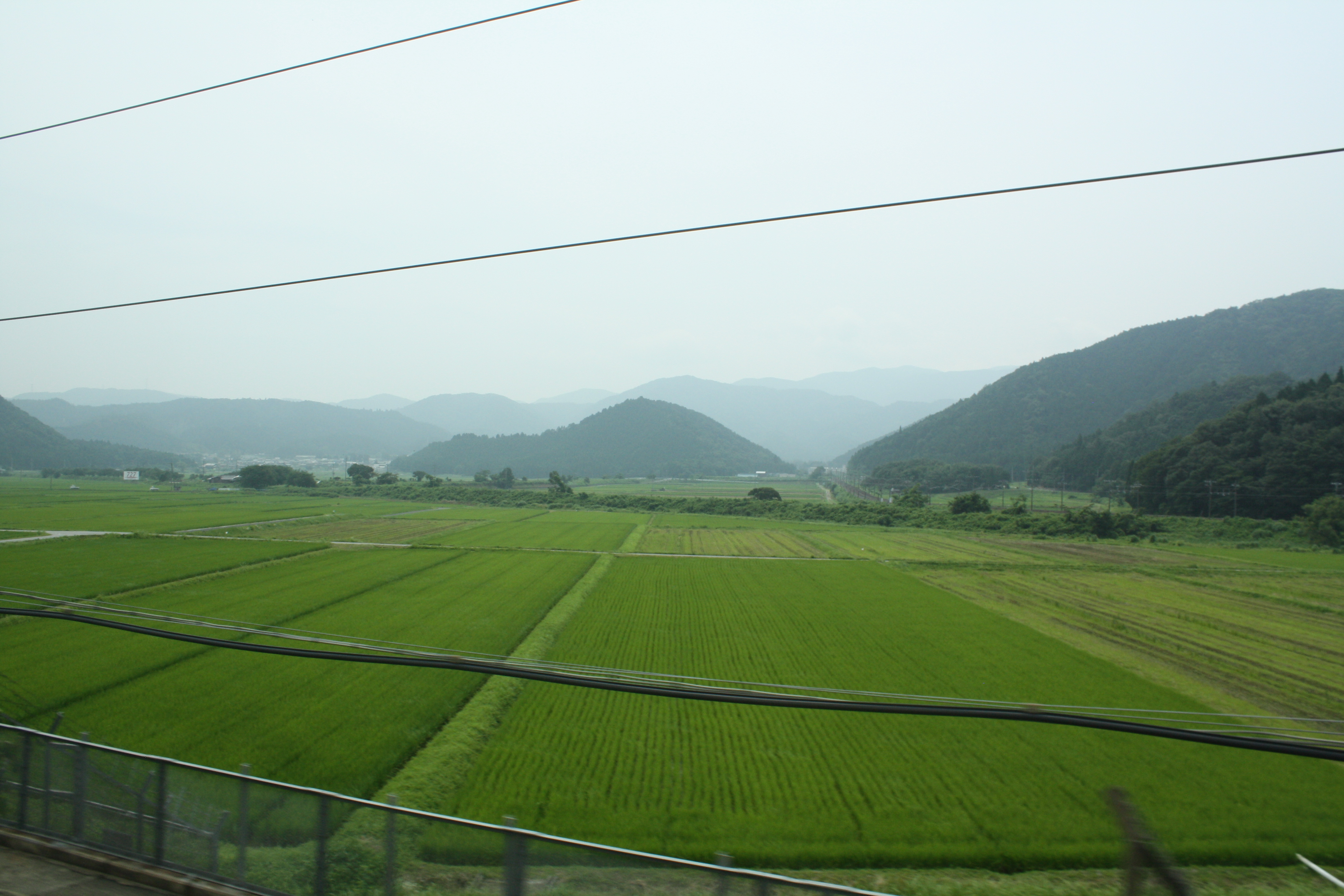 In the morning after the Kyoto show, Ken put me on a Bullet Train back to Tokyo.  We said a round of goodbyes and I embarked solo back to the point which I had launched forward with these amazing spirits.  This experience changed my life, no lie!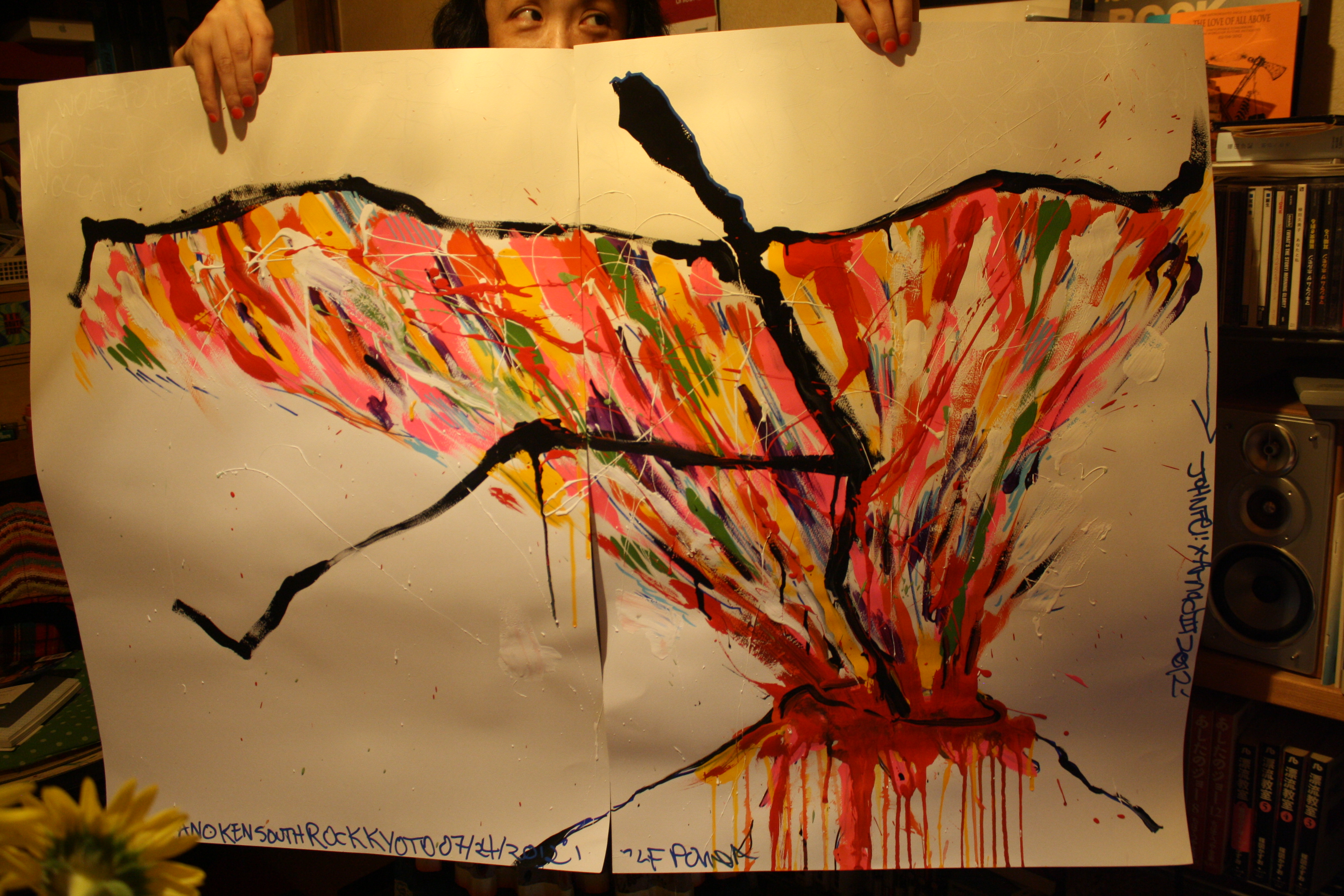 And thus ended the tour for me.  I arrived in Tokyo, went to Chiaki and Ken's house in Shinjuku and delivered the best painting that was done live on stage on the whole tour! (Coincidentally it was done on the last night in Kyoto).  Chiaki was stoked, I was exhausted, exhilirated, ready for more, yet needed some rest.  I thanked the gods for this amazing experience, Chiaki and I kicked it, I took a nap, then it was off to my friends Frankie and Emi's house to begin the next chapter in my Japan Art Tour.  Next to come was a commission for a friend and DJ in Shibuya, and some serious insanity lurking around Tokyo!!! Thanks to Ken South Rock, Chiaki, all the Live Houses, Walter Wlodarcyck, Suichu Blanco and everyone along the way.