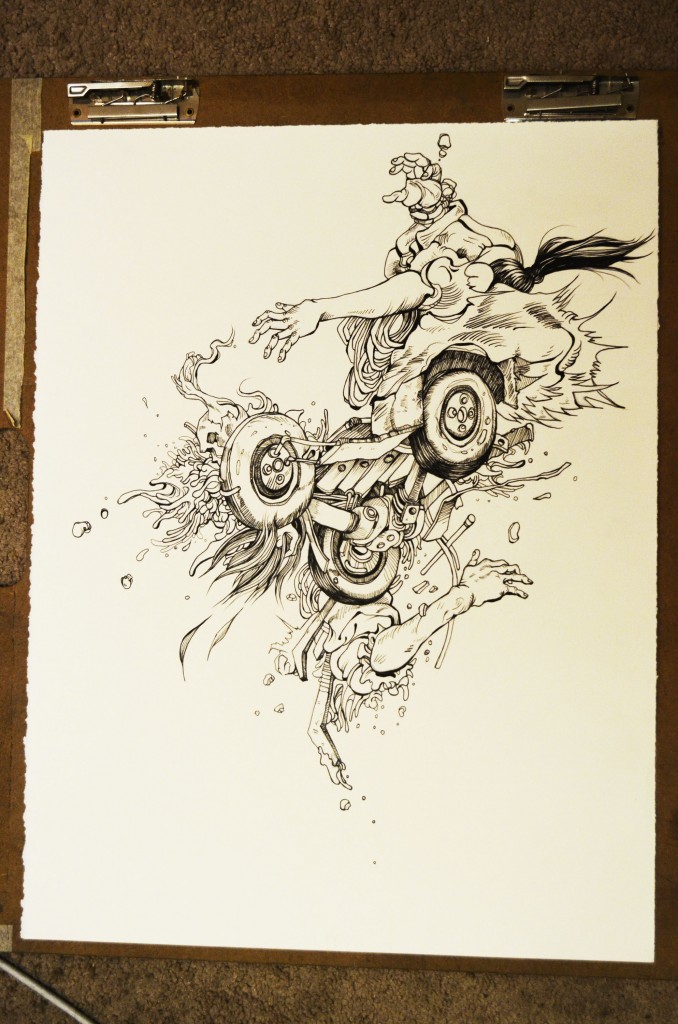 New Astroknot drawing 2013, for Shooting Gallery solo show in 2014 Life is a trip you guys and gals.  Three years ago pretty much to date I was sitting exactly where I am right now working on my website, getting ready for a couple big shows coming up in the spring exactly as I am right now.  I was sober at the time, but a couple relapses away from real sobriety as some would say.  I was digging my heels in and grinding my teeth and typing furiously at press emails and blog posts and copying and pasting show descriptions in art site calendars like FecalFace.com and Impose magazine.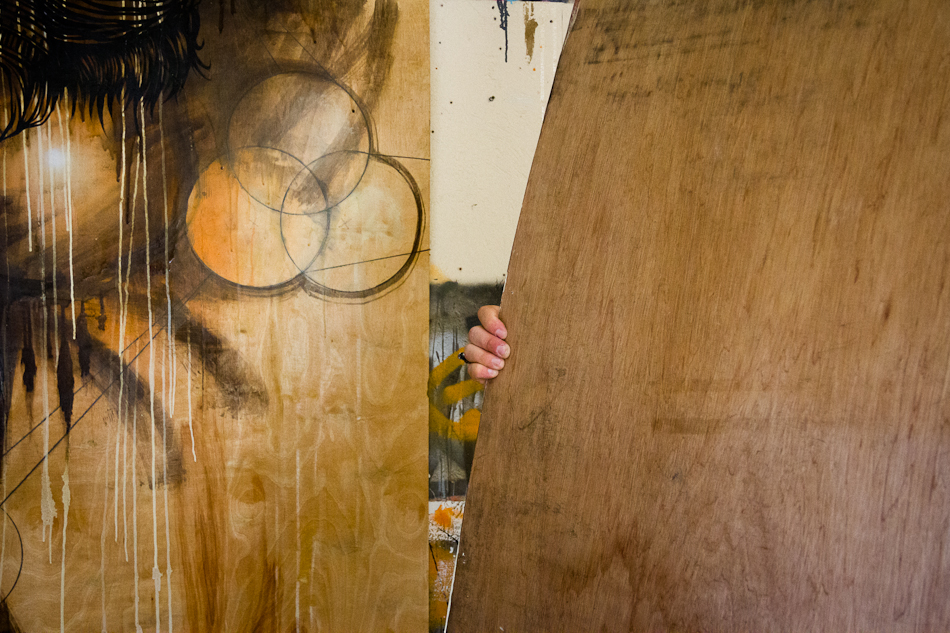 Panels for my exhibition at the SFMOMA Artist Gallery 2013
I was still a virgin to Hi-Fructose and Juxtapoz and was with my girlfriend (now ex-girl) at the time who lived a block from the cafe on Mason & Washington that I am typing from.  I had opened Unstoppable Tomorrow Vol.1 at Old Crow with Chris Burch and D Young V not 20 days before, and was freaking out as my show Past From the Blast was coming up at Queens Nails in just two months.  Life felt electric and on fire, and as I sit here typing this for you to read it still feels electric and on fire, a bit more so now to be honest.  The intensity is different, the short term gratification has given way to long term hustle and a much bigger vision and state of mind, which coincidentally demands a much deeper, and fully sustaining sort of internal electric source and fuel for a much hotter and longer lasting fire.
Piece for Unstoppable Tomorrow Vol.1 in the works...2010
The world and the gods have been good to me as I have continued to dig in my heels, hoist up my sleeves, make, write, draw, copulate, glue, talk, laugh, cry, hunker down, take little breaks, get excited and continue to explore this epic world we live in together.  It really blows me away at how funny this moment is and how special it is as French lounge music plays in the background and the cable car dings and roars by with its San Francisco history soundtrack following it everywhere it moves.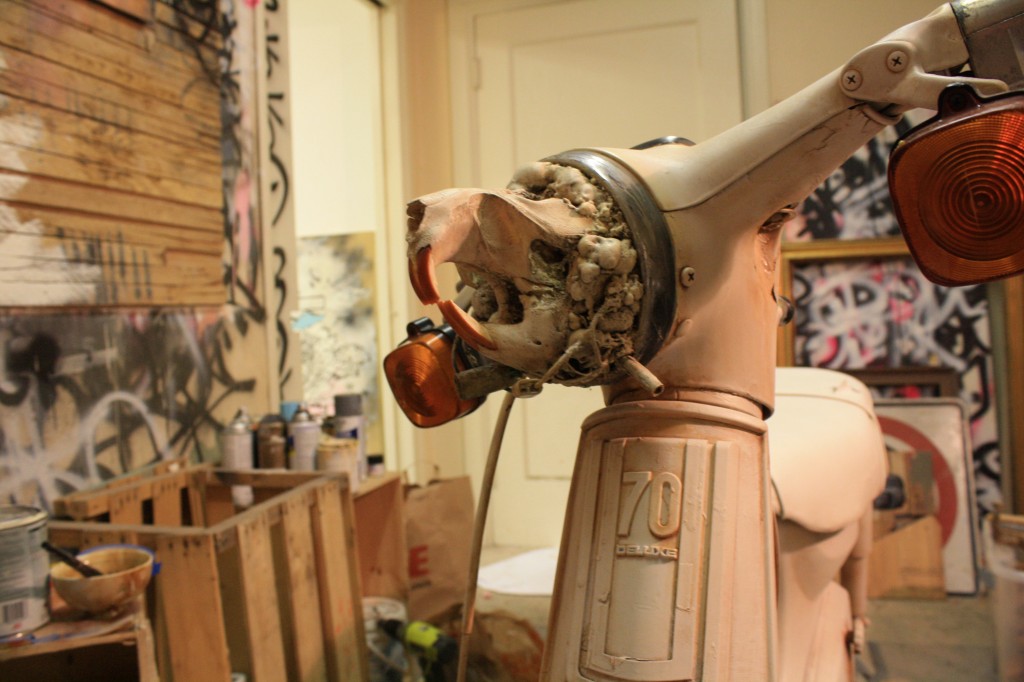 Skull and handle bars detail from The Great Debate Sculpture in the studio 2012
I am really lucky and really grateful to have made it past that moment three years ago.   It proved to be very much a major hurtle, a major proving ground for where my life would go.  I had fought and surrendered my way to a new type of life so different than the one I had become accustomed to for so many years, and it really was those events in 2010 and 2011 and the people who remained in my life and the new ones who became a part of it that shaped the path for where I am going now.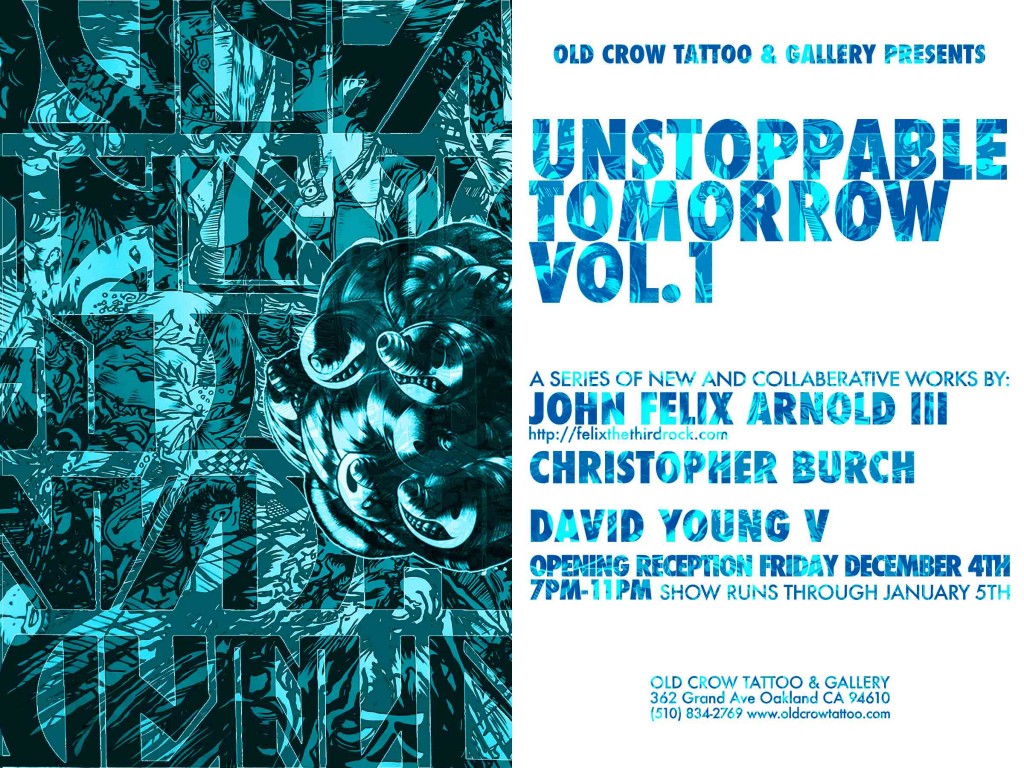 Flyer for Unstoppable Tomorrow Vol.1 2010
I have never had disdain for the holidays, and I am lucky for that.  So as I sit here and sun is going down and I can here the kids outside and the parents in the Chinatown meets Jackson Heights area of San Francisco, I can only imagine how many stories I am surrounded by.  All those stories give me energy.  All those stories to build the fabric of what so many of us create from.  Bus drivers, business women, art school kids, swaggy street kids, skateboarders, old chinese ladies with 20 plastic produce and dim sum filled bags, the crazy man on the block with the cart of hoarded newspapers, yuppies, tourists, wanna be thugs, real gangsters sitting in their blacked out Mercedes' with the windows down dragon tattoos wrapping around their arms with cigarettes in their mouths, new parents pushing strollers, old parents of every race with their grown up kids in town for the Holidays, they all pass through leaving freeze frames of motion and character in my mind.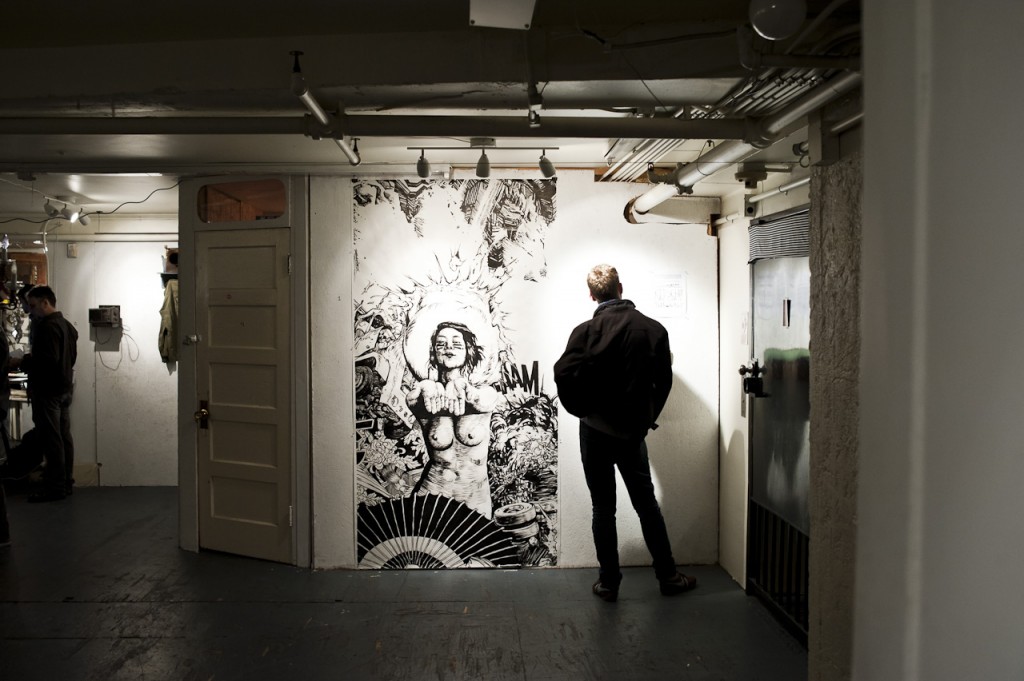 Past From the Blast 2011
This post goes out to the ether.  To the powers at work outside of our tangible vision that make the movements of the universe ebb and flow.  To all the artists in the Bay and New York and Japan, to the South, Europe and beyond. The world is happening all over all the time.  I am glad this moment in the massive fabric of time has happened for me where I can suddenly have a sort of deja vu memory trip.  A moment where I can sit in the same place I was three years ago fighting for my life in a very different pair of shoes, and where I gathered my energy for a great Hadouken and went for it.
Makenzi James from a modeling shoot for painting reference images 2013
It feels good to sit here right now and look back on all that has happened in the last three years and be thankful as Christmas is approaching that I have the capacity to work hard and stay creative and dig deep within myself to contribute what I can to this world of ours.  Much love to everyone! IPD, 57, RTS, The Basement, Screwed Arts, Doppel, and every one that is busting that ass and making it happen. #makeworkson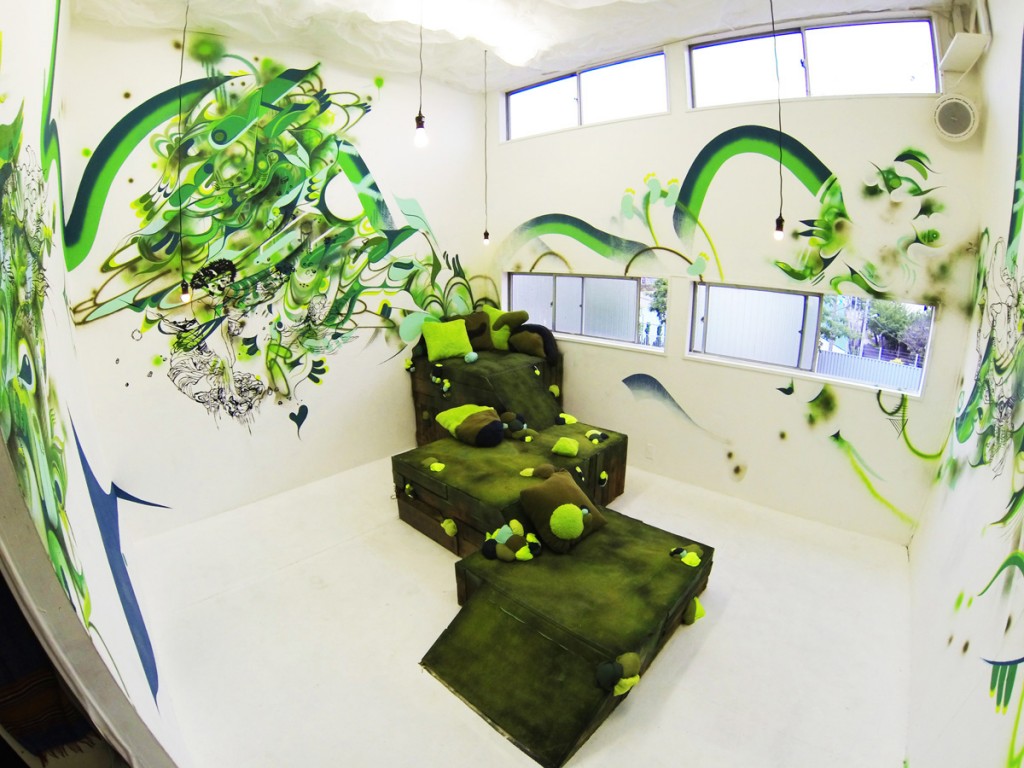 Bright on Time Collaborative installation piece with Koutaro Ooyama of Doppel at Spes-Lab 2013