Really excited as we near March 3rd with Japanther.  I have been working really hard getting everything sorted, four paintings knocked out and about a third of the installation is done.  Might even have a party on it this weekend!!!  Pelts Party Deluxe!  I have also printed two editions of posters for the show.  I have silk screened, signed and numbered official "Past From the Blast" prints to help raise money for materials, Queens Nails, and future projects.  Queens Nails is a non commercial space so in order to help keep it up and continue to bring groundbreaking projects we need to raise some funds once in a while.  The posters are $20 and are, like I said before, signed and numbered.  They are 15"x22" on heavy recycled card stock, and are as follows, edition of 50 silver on black, edition of 15 silver on brown.  If you are interested please contact me at felixthethird@gmail.com or call me at 917 543 5261 and I can arrange to get them to you.  If I have to mail them there is a $5 dollar packaging and shipping fee.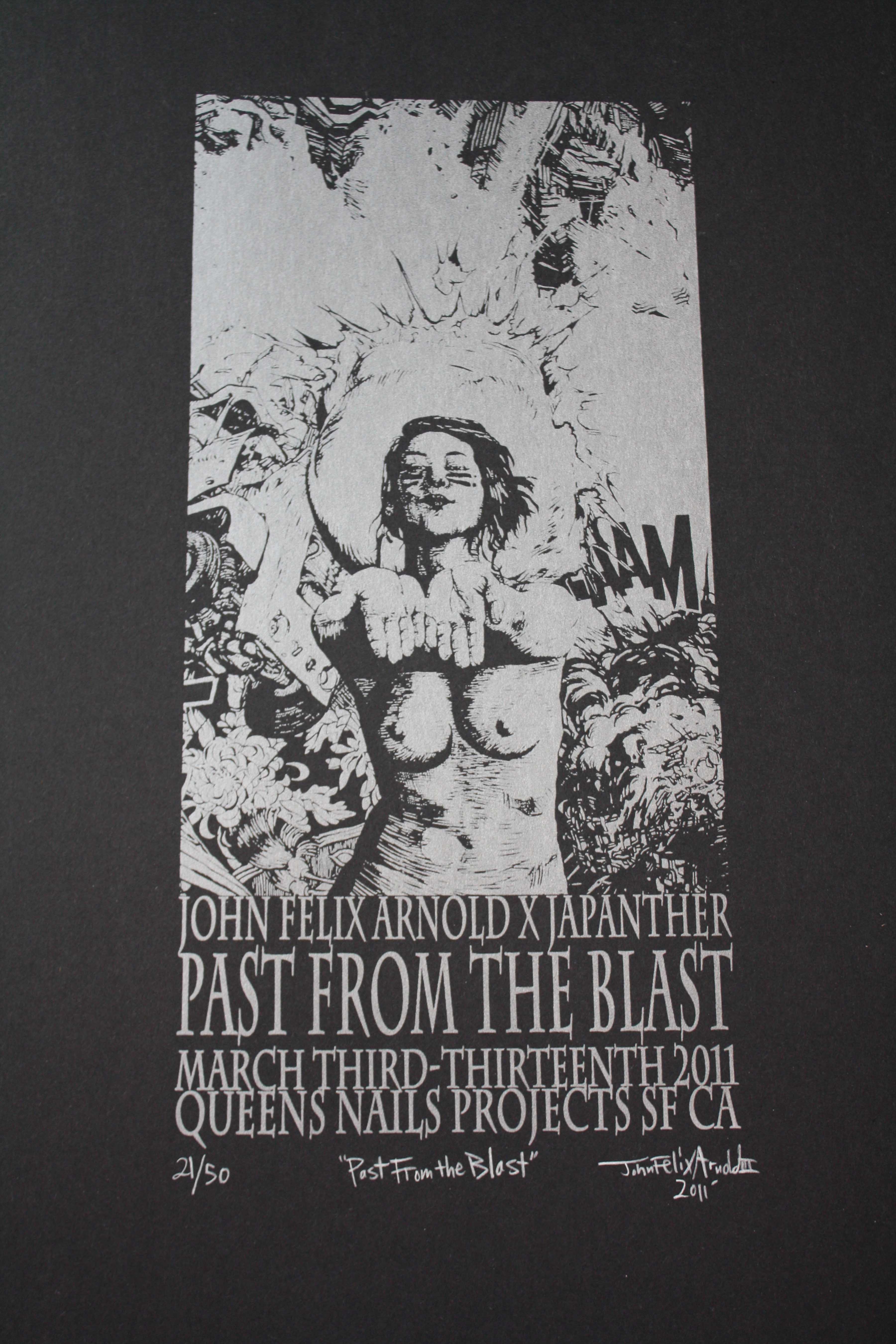 15"x22" Silver on Black, Edition of 50, $20
15"x22" Silver on Brown, Edition of 15, $20
I would like to say a big thank you too Sunny at the Painted Bird, paintedbird.org/ , Anthony at Anthony's Cookies, http://anthonyscookies.com/ , the cats at Self Edge on Valencia, SF, http://www.selfedge.com/ , the cats at Mission Comics & Art, www.missioncomicsandart.com , Chris Burch Artist Extrordenaire at Revolution Cafe, and Johana at Pretty Pretty Collective, http://prettyprettycollective.com/ for all the support and love.  Also thank you to Marsha Shaw at Mission Cultural Center for the great local silk screen facilities and guidance.
Here is the Press Release for the show.
John Felix Arnold Queens Nails Projects Final
And of course the Flyer, I'm sure you'll see them around town here in SF, I'll be in Oakland this weekend getting some new ink and promoting, but if you are outside of the Bay, or in the Bay for that matter, please copy and repost this web flyer anywhere yo like!  Thanks again!
-Felix