It's been a minute since I have put in an update.  Life has been moving along at a sometimes grinding, sometimes hyper, sometimes quickly, sometimes slowly pace. I have been cranking the work along at really solid pace. I have been making amazing realizations and beautiful mistakes to grow from in my process.  And this applies to life making art and life lived outside of making art.  At almost 2 and a half years sober I have definitely learned and found so much of myself deep within and feel that I can walk confidently with humility and compassion through life as best I am able to this point.  I hope this is being reflected in the work I have been creating and feel a deep connection with the new things I have been creating as well as ideas that been permeating my mind in anticipation of big installations and trips and adventures in art I am going to be taking on over the next six months.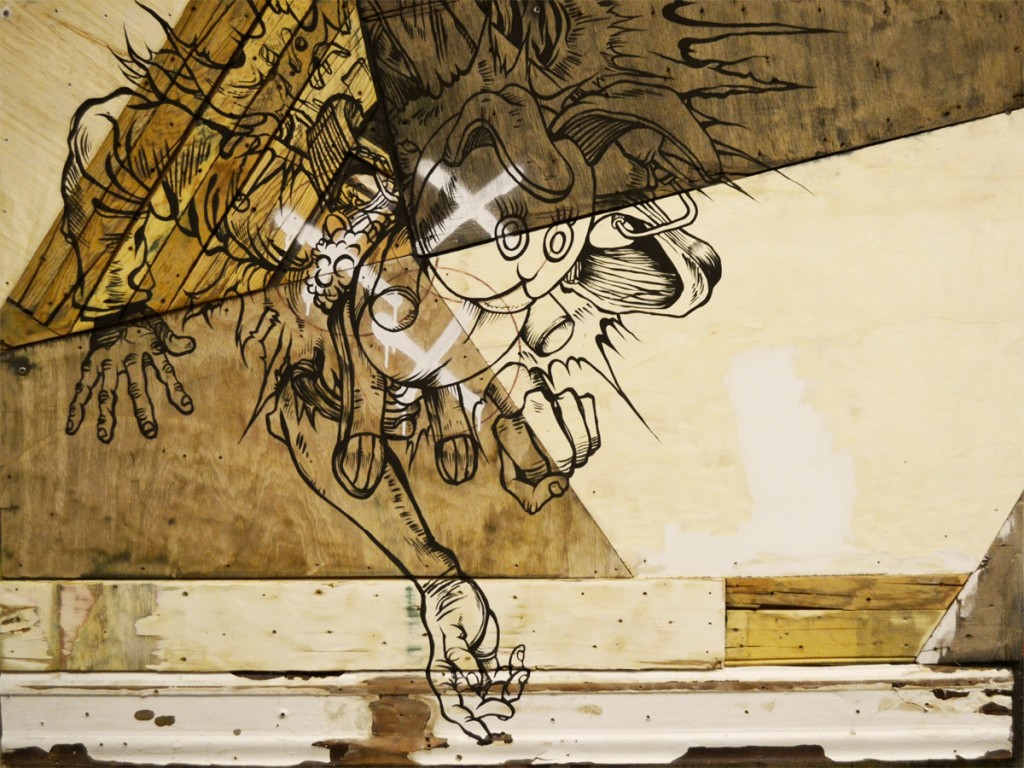 exploding innocence : 4'x3' : mixed media on fabricated found object wood panel
For starters, as I begin the mission to forward into my Superchief Show, I will be putting up an Indie A Go Go fundraiser to raise the proper necessities to go on a cross country guerilla artist adventure collecting bones and bullets, clothes and drift wood, rusty car fenders and window panes, to inevitably build a big and beautiful installation and performance piece setting/environment for the show in April.  I am toying with names like "There Will Be Blood" and "Carnal Carnivorous Cannibalism".  I will be offering prints and drawings and original artwork in my Indie A GoGo campaign so watch out for it! This trip will be epic, and documented thoroughly as I roll across the country kicking up dust.
hot war : 18"x24" : mixed media on wood panel
And the following month it will be time to really get grizzly with the environment I will be creating at Shooting Gallery for my solo exhibition that is thus far named "Pilgrimage".  The name may be changing to "Spring Spots and Walkabouts" or "Grow On Up in the Light".  Anyway, the work for this show is almost two thirds complete, as far as the paintings and drawings are concerned, which is a huge stress reliever because Shooting Gallery is a massive space and I was a bit nervous about filling it, but my tenacious, obsessive, insane work ethic and need to just #makeworkson has really helped my vision to explode into a journey through process and thinking.  In short I am stoked about how the work has come together thus far.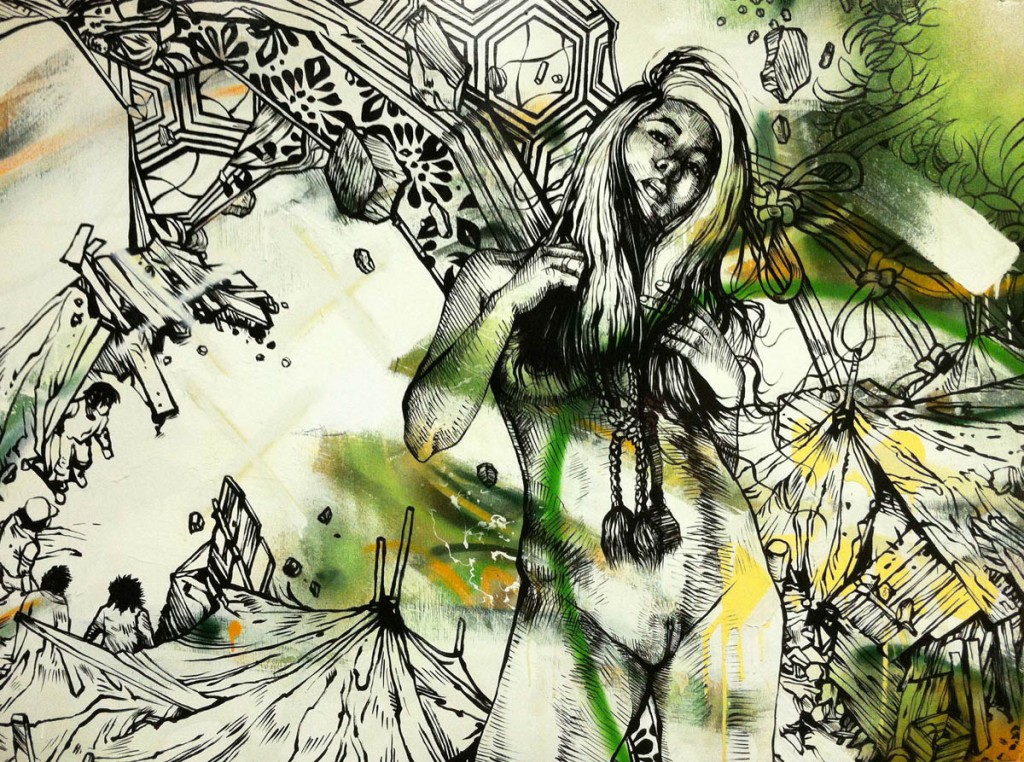 So the end of this update caps off like this!  I am incredibly grateful for everyone in my life thus far, everyone, friend and enemy that has helped shape and mold the person I have become.  Everyone in the Bay Area, New York, NC, Japan, Everywhere!  Seriously, as I walked to work today, in light of all of the recent things in my life that have happened and they are rather intense on every level without having to explain in detail here, I am so incredibly grateful for the shoes I walk in and the people that I get to experience and love daily!  Thank you all for helping this man continue forward with integrity and passion.  I am doing my damnedest!.  MAKE WORK SON!